PRESS RELEASE
Police Products Corporation Introduces the F427M4 Weapons Cleaning System
---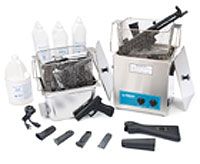 Crest Ultrasonics Corp., the world's largest ultrasonic machine producer, has always had the best built and most powerful ultrasonic firearm clean & lube system available on the market today. They have raised the bar again with the introduction of new table top models that are more powerful, quieter and user friendly.
The new tanks employ Crest's new patented ceramic enhanced transducers with constant power output sweep frequency generators.
The baskets have been reinforced to take more abuse and have a convenient drain position feature that allows the basket to be suspended over the ultrasonic tank or lube pan by simple manipulation of the new handles.
The new tanks have removable electrical cords, are available in 120 or 240VEuro for same price, have new appearance & controls and have carry handles installed for easy transport.
The new heaters heat up faster and come with a lifetime warranty!!!
These features continue to make Crest firearm systems the industry leader in user friendly convenience, performance and safety.
On the industrial tank side, two new models were added to the product line. The F427M4 was designed as a smaller, lower cost system to accommodate the AR15 carbine sized rifles, assault rifles, police carbines, shotguns, handguns & SMG's and is perfect for gun shops and law enforcement agencies. It also has the new Quiet Power ultrasonic generator. The 2F-652HT is a long double tank system designed for high volume long gun/handgun/machine gun cleaning requirements of our armed forces.