Easy on, easy off, easy-to-store: First push bumper bike rack
Setina's push bumper police bike rack streamlines bike theft response and improves patrol car safety during transport in Portland, Oregon
---
Sponsored by Setina
By Andrea Fox for Police1 BrandFocus
Setina's push bumper-mounted bike rack, the first offered by a law enforcement bumper manufacturer, is designed for bike officers, officers that ride and any agency that needs to transport bikes regularly.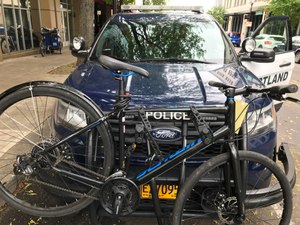 Cities like Portland, Oregon, that have seen considerable growth in cycling over the years, experience higher levels of bike theft and police response to it. According to Project529, which partners with numerous bike-friendly cities and their police agencies to track and recoup registered bicycles, more than 2 million bicycles are stolen each year in the U.S. The project is raising awareness that a bike is stolen every 30 seconds.
The Portland Police Bureau has focused on reducing bike thefts in its bike-rich city through education, awareness and enforcement, according to Officer Dave Sanders, now with the Beaverton Police Department. But PPB patrol units will also seize a stolen bike and return recovered bikes to their rightful owners, which means they often need to figure out bike transports. 
NO MORE DAILY SAFETY CHALLENGE 
In many cities, the integration of cycling into public transit and road traffic is visibly more noticeable with each passing year. In 2020, a Deloitte report indicated that the number of people who bike to work will increase and even double in some major cities by next year.
Portland, a platinum-level bicycle-friendly community according to the League of American Bicyclists, boasts more than 385 miles of bikeways with even more planned. Most of PPB's officers on patrol throughout the city have creatively used their push bumpers to transport bikes.
Setina set out to not only eliminate the need for law enforcement agencies to dispatch additional vehicles for bike transport, but also to address the hassle of rear-mounted bike racks that reduce access to a cruiser's rear cargo – aka, a cop's mobile office. However, Portland's police officers not only have an easier time accessing their vehicle trunks, but also improve safety while transporting bikes.
Daily, PPB manages police issued patrol bikes, prisoner property and the public's abandoned or recovered stolen bikes. Before the Setina police bike rack, it wasn't uncommon for the view from a patrol car dashboard to look this: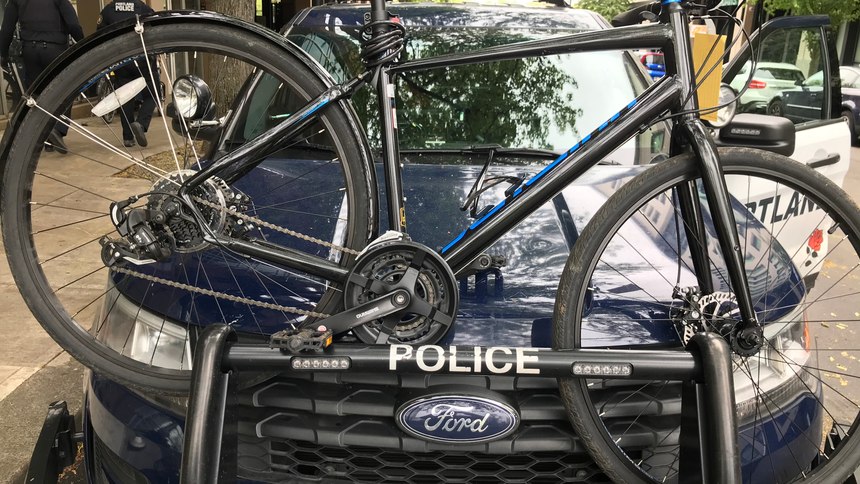 "The bike had a way of obstructing your view pretty significantly when driving," said Sanders.
So, he proposed the solution in Setina's collapsible, adjustable, universal bike rack because it offers a fast, easy and secure solution for bike transport the moment it is needed.
According to Sanders, the front bumper bike rack not only improves visibility while Portland's officers are driving, but also offers them the following benefits:
The folding design enables fast mounting and removal.
Easy bike loading reduces officer hassles.
Mounting one or two bikes – and all sizes – eliminates calls for bike transport and the stalls of waiting for their arrival.
Top quality materials keep bikes still while driving and safe.
"I was very impressed with the quality of this type of rack and the simplicity of it. It's very easy to set up on the front bumper. Anybody can do it. Very durable, strong. Holds up to the conditions," he said.
PPB purchased the bike racks through its Bicycle Outreach Program, largely funded through a federal grant, to prevent bike theft.
"We were able to use the bike racks extensively for stolen bike recovery and scooping up countless stolen bikes in the community," he said.
Bikes now stay still and safe while transported, and Setina's police bike rack eliminates the need for PPB officers to call for a second bike transport vehicle.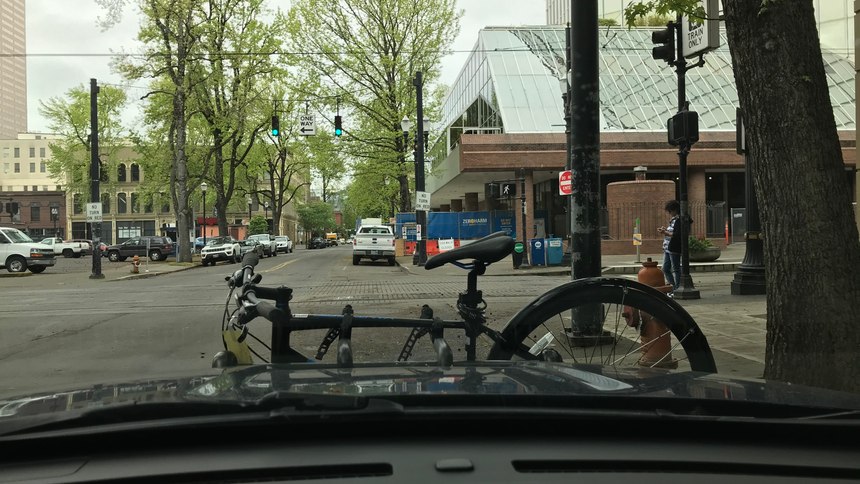 REDUCED OFFICER HASSLES
Prior to taking Setina's front bumper police bike rack on patrol, Portland's officers at times lost bikes in transport, Sanders said.
"If we were transporting a bike without a rack, we'd have to kind of wedge it in that front bumper, but it wasn't very secure," he said. "I had a bike flop off my car using that method."
The old method of wedging the bike rack on the front of the vehicle and allowing it to rest against the front hood also caused scraping and damage to the paint and surface.
Bike transport was also a challenge for PPB's fleet of SUVs, which are narrower than the agency's Crown Victoria patrol cars. While the bureau has hitch-mount rear bike racks, they weren't always practical to carry around and very bulky, says Sanders. PPB officers would leave the rear-mounted racks at the station.
To prevent theft, many modern bikes can no longer be taken apart very easily, like electric bikes and bicycles with locking hubs, but they also preclude officers from disassembling a stolen bike to put it inside a patrol car when it's found. Also, bikes that transport kids or cargo can be longer than standard road bikes.
"So really a bike rack or a truck or a van is necessary, and in Portland we didn't really have access to bigger vehicles. The Setina bike rack allows you to transport any bike. It could be a huge e-bike, cargo bike," said Sanders.
When recovered out in the field, any officer with the Setina rack can transport up to two bikes of any size back to the department, including a suspect's and another officer's.
Visit Setina for more information.
Read Next: Setina Manufacturing introduces the Police Bike Rack

Request information from Setina Manufacturing
Thank You!