PRESS RELEASE
Grey Man Tactical introduces the #207 vehicle rifle rack - rubber clamps + 12.25 X 21 RMP (nut + bolt) package
---
LAFAYETTE, La. – Grey Man Tactical introduces the versatile #207 Vehicle Rifle Rack - Rubber Clamps + 12.25 X 21 RMP™ [Nut & Bolt] Package, retailing for $149.99 MSRP.
Designed to securely store and transport firearms in a vehicle, the #207 Package is a great solution for loose gear in the back seat of any vehicle. Ensuring the firearm and gear remain in place during transportation minimizes the risk of damage to your gear or person.
The Rubber Clamps offer superior security by firmly holding the firearm in position, even when traveling over rough terrain. The design of the RMP™ enables the user to customize their loadout and have essential gear readily available, enhancing both convenience and efficiency in the field.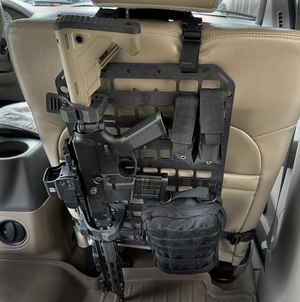 The #207 Package contents include:
QTY 1 - 12.25 X 21 RMP™
QTY 1 - Buckle Loop-Around + D-Ring RMP Strap™ Black [Headrest]
QTY 1 - Buckle Loop-Around RMP Strap™ Black [Seat Bottom]
QTY 1 - QuickFist® Go-Between Clamp - Enlarged [Handguard]
QTY 1 - QuickFist® Original Clamp [Buffer Tube]
QTY 1 - Double Mag Pouch [Pistol}
QTY 1 - Large Utility Pouch
This system utilizes the Rifle Rack - Rubber Clamps that secure onto the RMP™ with the nut + bolt hardware instead of RMP™ Backer plates, bringing the price point lower and offering the most cost-effective preconfigured RMP™ Rifle Rack. Woven MOLLE for mounting the accessories rather than mounting hardware also helps with the overall cost reduction of this package.
For more information on the #207 Package, visit www.greymantactical.com.