3 must-have weapon-mounted lasers for your tactical toolbox
Lasers can be used in different scenarios, day or night. Here are three that can help you tackle all situations.
---
The following is paid sponsored content by Steiner Optics.
By Sean Curtis for Police1 BrandFocus
Research shows a person's ability to bring their focus back to the front sight of their gun under extreme stress might be compromised. Lasers give the shooter the ability to stay focused on the threat—regardless of their stress level.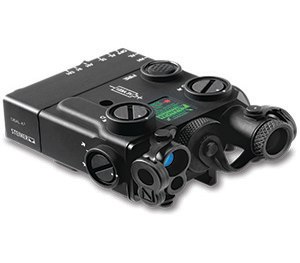 Steiner Optics has three MIL-spec-certified, rugged lasers capable of deploying visible and Infrared (IR) options in the field—giving IR-equipped shooters a huge advantage when mounted on pistols, submachine guns and rifles.
With these units mounted on weapons, shooters have the capability of working in full dark—unseen. Here's more about each and why these weapon-mounted lasers should be in every tactical toolbox.
DBAL-A3: Civilian Dual-Beam Aiming Laser
Mounted on your weapon, the DBAL-A3 is a dual-beam laser used in dark settings and can be activated in place of your visible or infrared (IR) laser. Depending upon the model, this unit can project a red or green visible laser.
It also has the capability to switch to IR operations. With an IR illuminator and IR pointer, the DBAL-A3 truly vanquishes the dark – letting IR-equipped operators light up and designate targets with one tool in varying light conditions.
The visible and IR lasers also are co-aligned within .5 milliradian, meaning once you zero the unit, it is dead-on in either capacity, according to a Steiner spokesperson. 
It also offers a distinct tactical advantage. Imagine a flashlight and laser an enemy cannot see. In dim to dark lighting, the pupils dilate and struggle to collect all available light in order to see.
The infrared vision helps a shooter see, and the advantage increases dramatically when the IR illuminator is activated as it lights up an area with electromagnetic radiation invisible to the naked eye. The IR pointer serves to mark targets without them ever knowing.
The laser features an aircraft aluminum housing and is submersible in water up to five meters (16.4 feet).  It is available in desert sand and black colors and runs on two CR 123 batteries with an estimated battery life of three hours.
Alternatively, the unit has an interface port that allows a white LED light to be plugged in or mounting on a Picatinny rail for quick attachment and removal in a fluid environment to suit changing needs.
CQBL-1: The Close Quarters Battle Laser
Another must-have for your toolkit is the Close Quarters Battle Laser, or CQBL-1.  Smaller than the DBAL-A3, this lightweight unit mounts up to your weapon via a Picatinny rail.
Designed for close-quarters battle (CQB), the unit mounts to nearly any submachine gun.  While the CQB would be an asset navigating tight corners and fatal funnels in a building, a Steiner spokesperson said the CQB is for "any close range gunfight."
The small size and diversity of the CQBL-1 make it a powerful tool. Similar to the DBAL-3, the lasers are co-aligned, making zeroing a one-step process.
The CQBL-1 runs on a single CR 123 battery for three hours and is built with aircraft aluminum housing, enabling it to be submersed in water up to five meters (16.4 feet).  The CQBL-1 mounts up on a standard Picatinny Rail.
DBAL-PL: The Swiss Army Knife of Lasers
The DBAL-PL is the Swiss Army knife of lasers. It offers a green visible laser and a white light. For zero-dark-thirty operations, IR capable operators can deploy the IR pointer and IR illuminator.
Once again, the laser pointers (visible and IR) are co-aligned for ease of setup. This versatility comes in a small package and takes your pistol to the next level, proving the old saying that powerful things coming in small packages.
Running on two CR 123 batteries, the DBAL-PL has an estimated run time of 1.75 hours depending on how many features are active. This unit is available in black and desert tan colors. The DBAL-PL mounts on a Picatinny Rail and also features an HT Mount for quick attachment and removal.
All of the lasers are activated with an integrated push button switch. However, adding a remote cable pressure pad switch enables additional features.
With the remote switch, a single tap gives momentary activation and a double-tap activates for five minutes.
These lasers are emblematic of Steiner's commitment to improve the versatility of the weapon-mounted laser, giving more options to people whose mission it is to operate in all types of lighting situations. These three lasers make the cover of night a force multiplier, greatly enhancing the advantage of IR using forces. 
For more information, visit Steiner Optics to learn about the company's discounts for law enforcement, firefighters, EMTs and military (retired and active duty) through the company's American Hero Program.

Request information from Steiner-Optics
Thank You!