Product Review: Daniel Defense Delta 5
A bolt-action tack driver more than suitable for law enforcement agencies
---
Almost exactly a year ago Daniel Defense released the Delta 5, a bolt-action rifle that was a new direction for the company so well known for its quality AR-pattern rifles.
I wondered how this departure might apply to law enforcement agencies and asked to check one out. I ended up having the Delta 5 for several months and thoroughly tested it.
I asked for the 6.5 Creedmoor version because I feel this round has a proven accuracy and nearly the same characteristics as the (better known to law enforcement) .308 in that engagement range of 50-100 yards so familiar to law enforcement. On the other hand, the 6.5 has a reach the .308 can only aspire to.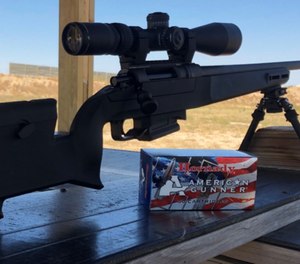 The Details
The gun arrived in a nice plastic case and also contained some surprises. Part of the genius of the Delta 5 is its design to allow easy barrel swapping, enabling you to completely change out the caliber of the gun.
Daniel Defense manufactured the barrels for this system with a collar, allowing users to swap out barrels without having to headspace the rifle afterward. The company included a .308 barrel for me to try this out. It was quick and worked remarkably well. In addition, the package included a section of rail for me to mount an Atlas bipod to the front. This was well thought out.
The 24-inch 6.5 Creedmoor barrel is gorgeous, heavy and cold hammer forged. It features a 1:8 twist with a threaded end configured at 5⁄8×24 TPI (attach suppressor here). The shape of the stock is interesting, this and the texture allowing for a great overall hold in a non-shine, black finish.
The grip is ergonomically contoured and melds into a buttstock that also reflects intelligent design. The length of pull can be adjusted by adding spacers while the comb height can be adjusted and locked in with ease.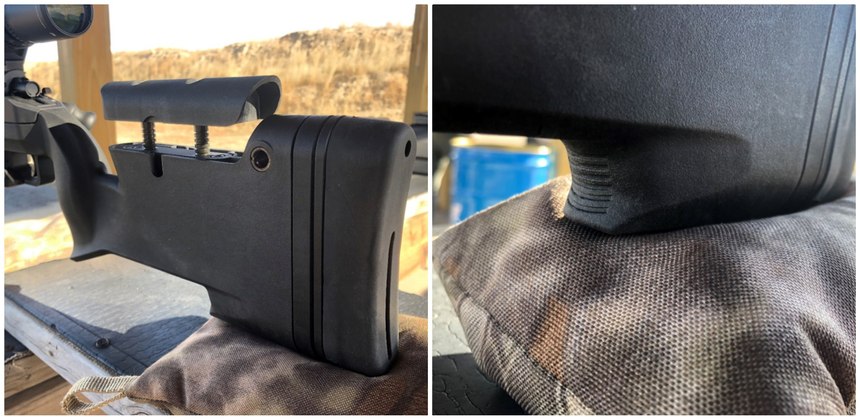 The (adjustable) Timney Elite Hunter trigger felt light and crisp upon first trying it, and the action seemed reminiscent of the Remington 700. The three-lugged bolt is definitely different but ran smoothly with a 60-degree throw. The bolt knob is larger, curved and well-shaped like many of the aftermarket varieties available for sale. The safety is situated like the R700, to the right of the bolt. The rifle is fed by 5-round PMAGs from Magpul and the mag release was mounted ambidextrously on either side of the trigger guard. All the features hinted at a really well thought out platform.
Exceptional Glass
The potential reach of this rifle demanded an incredibly capable optic. The Vortex Razor HD AMG 6-24x50 fit the bill perfectly. This first focal plane scope has a large 50mm objective lens to let in maximum light, but it is paired down to a 30mm tube to shave weight and profile. It's still robust, and the locking, knurled knobs allowed me to set my zero and forget about it. The glass is superior in this American-made product, giving an exceptionally clear view at various magnifications. In addition, the Razor has a lit reticle with multiple brightness settings to help out in those low-light scenarios. No matter how much banging around or shooting I did over a period of months, the Vortex held zero.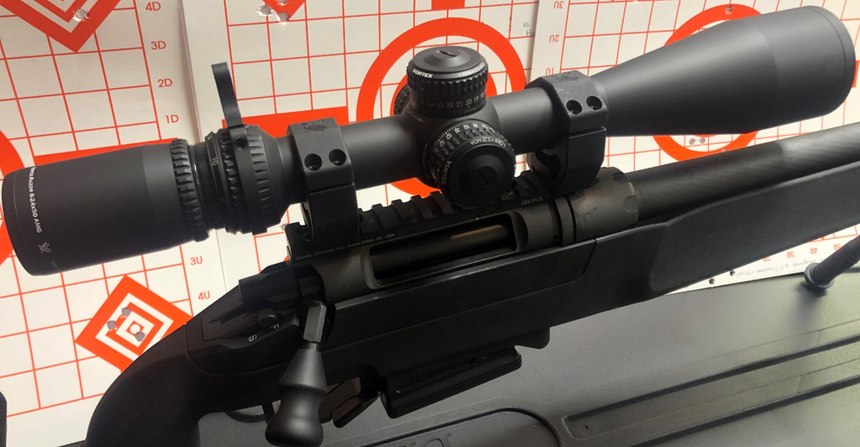 Show-Stopping Performance
I've fired some accurate rifles in my time but this one takes the cake. I say this in conjunction with a caveat: full disclosure, I am no sniper. Despite this, between the Vortex optic and the Delta 5, I was grouping several types of ammunition in half-inch holes at 100 yards. The gun is easily half-MOA on average. I tried several different brands and weights of the 6.5 and found a very common thread of consistent accuracy. While I began at an outdoor range with hopes of reaching out to 1,000 yards, I was eventually pushed indoors by winter's inevitable crush. I finished MOA testing at a 100-yard, indoor range. Shooting three-round groups I achieved the following results:
Browning Long Range Pro 130 grain
.69 .57 .57 Average .69
Hornady Match 147 grain
.35 .54 .80 Average .563
Doubletap DT Longrange 140 grain
.54 .69 1.45 Average .923
Winchester Opentip Range 125 grain
.65 .46 1.62 Average .91
Winchester Match 140 grain
.90 1.05 .67 Average .873
American Gunner Hornady 140 grain
.68 .54 .65 Average .63
Passing Muster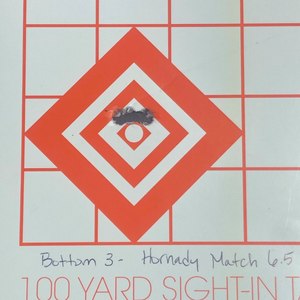 The Delta 5 is outstanding. Little things like MLOK sections in the stock, a bag hook on the butt and the absolute adjustability of the stock are nice touches. At the 50-100 yard distances, the Delta 5 reigns, making button-sized holes – the smallest group (Hornady Match) coming in at just a little over a quarter inch! I had to assume anything over an inch in the groupings was my fault with no wind to factor in. In short, it inspires confidence. The weight with all accessories (unloaded) came in at 13.5 pounds, but the Delta 5 also has QD attachment points for a sling on either side. Measuring the trigger on a Lyman Digital gauge it came in at three pounds seven ounces on average.
All said and done, this rifle would make a fine addition to any team who demands absolute accuracy in their long-distance engagements. With a bipod, or even mounted in a saddle to a tripod, shooters can easily make called shots. The flexibility of caliber can help with agencies who might live in .308 but may be eying that move to 6.5 Creedmoor. The MSRP is $2,199.00 but I saw some online for less (depending on caliber). I only regret not being able to test greater distances.
Special thanks…
Special thanks to Browning Ammunition, Doubletap Ammunition, Hornady and Winchester who supplied ammunition for this testing. Also, a big thank you to Vortex for supplying an amazing scope to wring out the accuracy of the Delta 5. In addition, I'd like to thank Liberty Firearms Institute for continual support with transfers, but they really saved the day by allowing me to complete my MOA testing at their 100-yard indoor range when the weather soured.
Note: In October the company recalled the bolt for a firing pin cross pin. I sent the bolt in and it was back before the next weekend.
Request product info from top Ammunition companies
Thank You!