How to buy firearm optics (eBook)
For the uninitiated, the variety of available firearms optics can be confusing; this guide can help
---
To download your free copy of "How to buy firearm optics (eBook)" Buying Guide from Police1, fill out this form.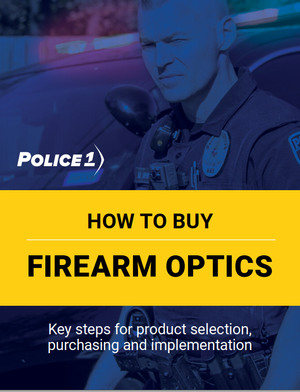 Advancements in firearm sighting systems have steadily enhanced law officers' shooting ability, from the service revolvers of old with machined-in sights to the many iron-sight options currently available for pistols and rifles that include adjustable sights, tritium night sights and fiber optics. Recently, we've seen another leap forward: optical sights for both handguns and rifles, including reflex and holographic red dot sights (RDS), optics with magnification and flip-in standalone magnifiers designed to sit behind an RDS.
Iron sight advancements improved users' ability to see their sights and get them on target quickly but offered no method to change the way their eye saw the sights and the threat. When officers focus on the front sight as they are taught, the threat becomes a blur. Did the suspect drop their weapon while you were taking up the trigger?
In contrast, with RDS, the threat becomes the front sight, making them fantastic for quick target acquisition and allowing the officer to remain focused on the threat. If they drop their weapon, you will see it. RDS offers shooters other advantages as well, including unlimited eye relief, no parallax and the ability to keep both eyes open.
if information gathering, target identification and enhanced precision at long range are most important, low-power variable optics (LPVOs), advanced optical firearm sights, or traditional rifle scopes are excellent choices.
For the uninitiated, the variety of available optics can be confusing. This Police1 guide can help you sort through the noise and choose the right firearms optics for your department's needs.
Included in this guide: 
Key considerations before purchasing firearm optics
Top implementation considerations
Questions to ask vendors
To download your free copy of the "How to buy firearm optics" Buying Guide from Police1 fill out this form.