Meet one of the most reinforced and robust duty holsters Safariland has ever designed
The reinforced area around the trigger guard combined with an almost complete elimination of exterior flex makes this product more secure than anything I have seen for a duty holster
---
Hello from SHOT Show 2023. My day started with a press conference with Safariland, where we were introduced to the new SafariVault family of duty holsters. It is definitely one of the most reinforced and robust duty holsters they have ever designed.
The SafariVault holster was not designed to replace long-standing products like the 7TS. Rather, it is a new design on its own, with full compatibility with the current Safariland platform.
David Higginbotham of Safariland was candid about the fact that this design centered around function, with aesthetics secondary. Some have commented about "strong as a brick," or "it looks like a brick" form factor. It does look larger, but that's only because I wasn't wearing and drawing from it.
The SafariVault is definitely beefed up, which was the goal. The stronger body design makes it much more resistant to the crush forces and pull forces an officer might experience on duty.
The SafariVault design is a clamshell form factor, that is bolted, rather than screwed, together. It uses a similar cradling system that holds the gun via the ejection port and it features a magnetic slide glide that facilitates smoother reholstering.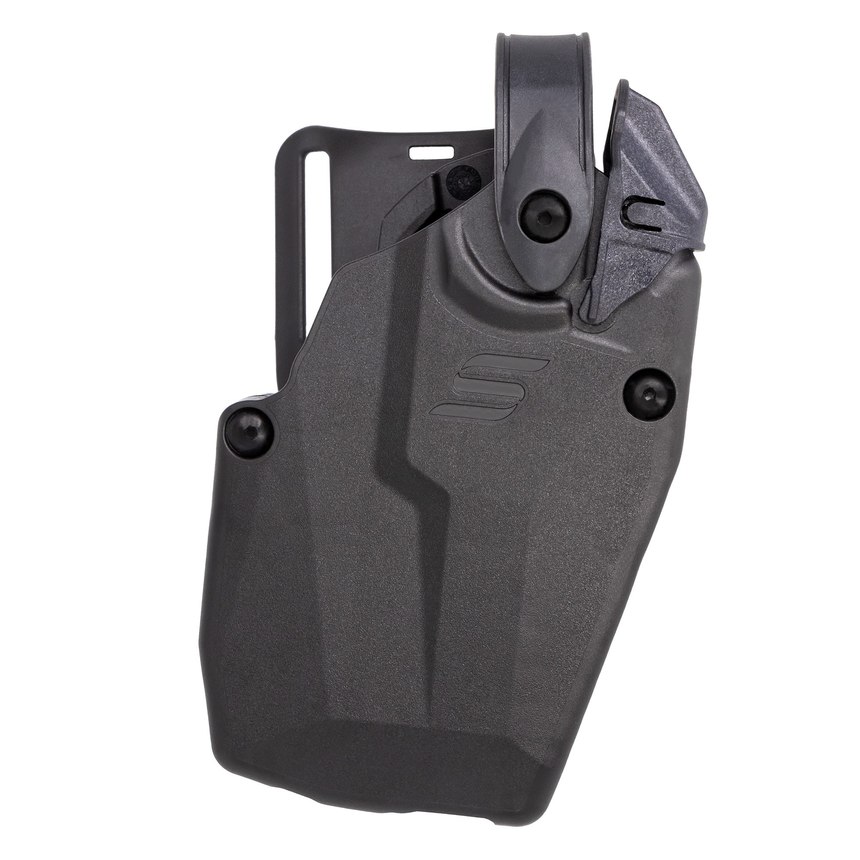 The most noticeable thing for me was the fact the reinforced area around the trigger guard appears to have even tighter tolerances than other models. This, combined with an almost complete elimination of exterior flex, makes this product more secure than anything I have seen for a duty holster. The ALS system looks beefier, but I doubt there is much learning curve between this and the 7TS.
Higginbotham shared with us that they used precision test guns rather than real guns for the testing protocol, which included measuring crush and pull resistance. The testing protocol damaged real guns.
The SafariVault is AXON-ready and has an open bottom for both the muzzle and light. The self-clearing optics cover is new, and it will accommodate more optic style fits.
Since it locks on the ejection port, it works with almost any light that will fit in the holster body. It is an open muzzle design, and it is open under the light also. This allows for threaded muzzles and lets debris fall through.
Who will use the SafariVault? This is an already proven system, with thousands of working officers relying on the parent design every day. I personally know several officers who are thankful for the ALS system, so the step to the SafariVault is a very natural improvement. It's the best-looking brick I've ever seen.

Request product info from top Police Firearm Accessories companies
Thank You!