More than marksmanship: How optics work with your eyesight to enhance your focus on the threat
New handgun and carbine optics from Holosun offer multiple reticle and color options, long-lived battery at a competitive price
---
Sponsored by Holosun
By Warren Wilson for Police1 BrandFocus
I don't advocate using anything but the highest quality – and therefore usually the highest cost – equipment for law enforcement. Cop work is serious business and I've long been a proponent of using established equipment manufacturers. That can make equipment acquisitions difficult since law enforcement agencies and individual officers are rarely rife with superfluous funds and thusly are always looking for that better bang/buck ratio. That usually ends with poor equipment and is the reason we administrator types insist on equipment policies which specifically state which brands are allowed.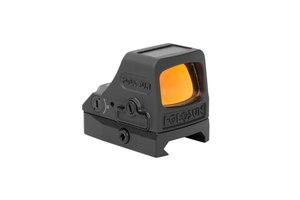 Over the last few years, a few companies have changed my view on that somewhat. Holosun is a perfect example. Some of the advantages all Holosun optics provide is a nearly ridiculous battery life (20,000 to 100,000 hours) supplemented by integral solar power operation, "Shake Awake" technology, adjustable or automatic brightness levels, great durability and cop-friendly pricing.   
Holosun
Just a few years back, Holosun started making waves with their 407c and 507c Micro Red Dot Sights (MRDS) for pistols. The 407 is a dot-only optic (or) unit while the 507 has the option of both a dot and/or the 32 MOA halo. Because of this reticle combination, Holosun's reflex optics are often mistaken for holographic sights. Aaron Cowan of Sage Dynamics was kind enough to review the daylights out the 507 here in 2018. He did the same with the 508T which is essentially the same optic but with a titanium body. A 508T is the optic currently riding on my current duty pistol and I've had good luck with it.
Holosun wasn't satisfied with that, though. They have introduced a 508T Version 2 which has a more squared shape to further enhance ruggedness and a side-loading battery compartment which means the user doesn't have to dismount the optic for annual battery changes. If you would prefer a fully enclosed optic, consider the Holosun 509T. Rifle shooters don't need to feel left out. The 512 offers all the features you need in an enclosed reflex carbine optic with an integral rail mount.
407K and 507K
Now, here's the really big news: While many of us have been busy focusing on the MRDS for our duty pistols, Holosun was cramming all of the features we want into a package small enough for subcompact single-stack pistols like the Sig P365 or Smith & Wesson Shield. These new 'K' models are micro versions of the 407 and 507 with the same features. They're also waterproof and they have an integral rear sight. These products have made carrying an optic-enabled off-duty or backup pistol a reality.
Why red dots? Because science and stuff
There's a lot of science behind why red dot or reflex sights help us shoot better. I recommend you read Aaron Cowan's White Paper on the subject. His exhaustive research and excellent work in producing this document has made it the default manual for many pistol dot training programs across the country, including mine.
The layman version is this: We have three focal planes to manage with traditional pistol sights. Humans can only focus on one plane at a time. On which plane do we focus? Many of you just heard your academy firearms instructor's voice yelling, "front sight!" Front sight focus is helpful and more often than not, taught for precision shooting, but what does that little caveman who lives inside all of us want to focus on? The threat (target), of course. In fact, due to the human eye's physical reactions to stress, a person may not even be capable of a hard front-sight focus when marksmanship is needed most. That effect is so powerful that many cops who are involved in shootings don't use or at least don't remember using the sights on their pistols.
Rule #4
Meanwhile, target identification is obviously more important than marksmanship. Target identification requires that we focus on what we may need to shoot, obviously. The phenomenon in which a shooter changes focus rapidly between the front sight and the target is called, "eye sprinting." We firearms instructors discourage the behavior, but it is quite necessary in order to identify one's target and focus on the front sight while firing, isn't it?
One can see how confusing and contradictory these principles are. One of the benefits of Miniature Red Dot Sights (MRDS) is they allow us to accurately aim our pistol while maintaining focus on the threat. There is much more science involved than that and I highly recommend you read Cowan's white paper.
Not all red dots are red…nor are they all dots
The term "Micro Red Dot Sights" has become a bit of a misnomer because not all of the reticles are red and they're not all dots. In fact, my favorite for defensive purposes it the 32 MOA "halo" (circle). This feature is particularly helpful for those with astigmatism. People with this affliction, like myself, tend to see dots as starbursts and that can make shooting with red dots difficult. That's where the halo feature really shines. The halo also makes it easier to locate the reticle for people who haven't completely refined their pistol presentation yet and allows the shooter to merely place the circle around the target before firing.
Many manufacturers also make a green reticle which is generally more visible in bright sunlight. Very few, however, make one in gold. Why gold? Shooters with color deficiencies can see gold much better than red or green. Holosun has some gold reticles in their lineup and will be adding more in the near future.
Coming to a department near you
My department has allowed officers to carry red dot-equipped pistols for a few years now. Very few have chosen to do so because of the prohibitive costs of the approved equipment brands. I've been testing two Holosun units on my duty pistol for the last year and we will be adding them to the approved equipment list in the coming months. Considering the quality-to-cost ratio of Holosun optics, I'm certain we will be seeing quite a few more red dot-enabled duty pistols on the firing line very soon.
About the author
Warren Wilson is a lieutenant with the Enid Police Department in Oklahoma. He is a former SWAT team leader, current firearms instructor and writer. He has been a full-time law enforcement officer since 1996.

Request information from Holosun Technologies
Thank You!