PRESS RELEASE
Alien Gear Holsters announces newest Rapid Force Duty Holster available for purchase
---
POST FALLS, Idaho - Alien Gear Holsters, designers and manufacturers of American-made holsters and a wide range of firearms accessories, announces the Rapid Force™  Duty Holster for Compact Lights precision designed to fit SIG Sauer's P320 full-size, compact, and X-frame pistols with compact weapon lights installed is now entering distribution channels across America. These innovative holsters are available in left-hand or right-hand configurations, and with a basket-weave or matte exterior finish. The holsters are also designed to secure the popular P320 pistol with—or without—a light.
The new Rapid Force Duty holster for SIG Sauer's P320 C/F with compact lights continues the award- winning features of the Rapid Force line, including the versatility of Alien Gear Holsters' Quick Disconnect System (QDS) that allows the user to easily mount—and dismount—the holster on a variety of Alien Gear Holster configurations. The holster's ergonomic design permits rapid draw and an adjustable push button and swipe lever will accommodate any size hands.
This new Rapid Force holster is manufactured with durable engineered polymer and has been field tested and found to exceed current holster manufacturing test specifications.  Internal channels and an open bottom design also allow dirt and water to pass through the holster and not interfere with the firearm's performance. This new holster has undergone rigorous testing in snow, water, gravel/sand and extreme temperature conditions. The new Rapid Force Duty Holster for Compact Lights also provides maximum trigger protection and has a specific designed light channel for compact pistol lights, including SIG Sauer's Foxtrot2 light. The interior design of the holster also permits the use of SIG P320 pistols with suppressor sights and threaded barrels.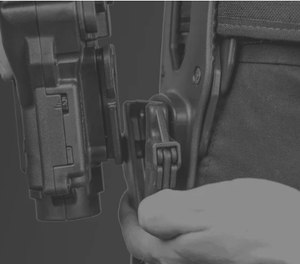 For more information on Alien Gear Holsters and the Rapid Force line, visit www.aliengearholsters.com. Join the conversation on Alien Gear Holsters' Facebook page, Instagram, and YouTube.
About Alien Gear Holsters:
Alien Gear Holsters, a division of Tedder Industries, is based in post Falls, ID and manufactures everything exclusively in its state-of-the-art facility. Founded in 2013, Alien Gear Holsters are the most comfortable concealed carry holsters on the planet. Any planet. Alien Gear Holsters manufactures durable leather and lightweight neoprene composite holsters complete with fully swappable, plastic shells that are interchangeable with any inside and outside the waistband gun holster styles.
Rapid Force™ Duty Holsters protect the firearms utilized by First Responders. Engineered to meet the needs of active law enforcement and military service members, Rapid Force Holsters offer a secure Level 2 or Level 3 retention, provide a fast and intuitive draw, and are extreme durability.
Using state-of-the-art 3D modeling, precision injection molding, and specially blended polymers, Alien Gear Holsters produces top-quality holsters and is proud to employ military and law enforcement veterans, competitive shooters, and firearms enthusiasts to ensure that our mindset matches yours. Additional details are at: www.aliengearholsters.com.