PRESS RELEASE
Alien Gear launches new Photon Holster for retail customers
---
Carry Without Limits with the new Photon Holster
POST FALLS, Idaho — Alien Gear, the leader in holster innovation and customer service, is excited to announce the launch of their newest holster, the Photon. This revolutionary 4-in-1 design provides the perfect solution for retail customers who are looking for a versatile and customizable holster to meet all their needs.
Designed to be the best product for consumers and professionals, the Photon holster features an ambidextrous draw, can be configured for both IWB or OWB carry, and accommodates lights, optics, and high sights. This makes it the most customizable holster on the market, and perfect for individual needs.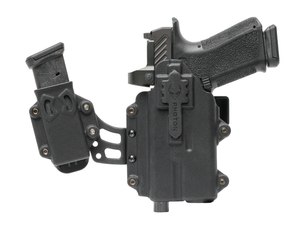 "Our R&D and product team worked tirelessly on this new product design to ensure it meets the needs of an ever-changing market. With its innovative design and customizable options, the new Photon holster is sure to become a favorite among gun owners everywhere," said Shawn Hostetter, CEO of Alien Gear.
The Photon holster is also perfect for retailers who are looking for a product that can meet the needs of their customers without carrying multiple products. With its 4-in-1 design, the Photon holster provides a game-changing solution that meets the needs of a variety of customers.
"At Alien Gear, we understand that our customers are looking for a product that is not only high-quality but also meets their unique needs and preferences. That's why we have designed our new Photon holster to be customizable and easy to use, making it the ultimate holster for retail customers," said Hostetter.
The new Photon holster will be available at all major retailers, including sporting goods stores and firearms dealerships, starting May 2023. For more information on pricing and availability, please contact your local sales representative.
Alien Gear is committed to providing the best customer experience and support, ensuring every customer is satisfied with their purchase.
For more information on the new Photon holster or to learn more about Alien Gear, please visit: aliengearholsters.com.

Request more info from Alien Gear
Thank You!