Review: XR920 from Shadow Systems
Why build a pistol with a shorter barrel, slide and sight radius set on a longer full-size grip frame? Here's why
---
It is impossible to deny Glock's influence on the global firearms industry. In just a few decades, the Glock went from being a fairly obscure Austrian service pistol to one of the dominant handguns in the world's military, law enforcement and civilian markets. As Glock's popularity has grown, so have other designs based on Glock's operating system. One such design is called the XR920. 
The XR920 is made by Shadow Systems in Plano, Texas and is an addition to the company's compact MR920 and full-size DR920. In fact, it is a hybrid pistol mating the MR920 compact slide to the DR920 full-size frame.
The XR920 has been available for several months and was previously available only with Shadow Systems' patented optics mounting cut. This cut allows for a good many open emitter optics to bolt directly to the slide without an adapter plate. But optic designs are changing and some companies are now selling closed emitter sights.
Shadow Systems started receiving requests from customers for an adapter plate to use the Shadow Systems optics cut with these new closed emitter designs. Since many of the existing optics mounting systems on the market are intended to be used with open emitters, some sort of adapter plate is often needed. Shadow Systems experimented with adapter plates but ultimately decided to go with a dedicated optic mounting cut for closed emitter optics. Some versatility is lost going this route but it is best in terms of overall durability.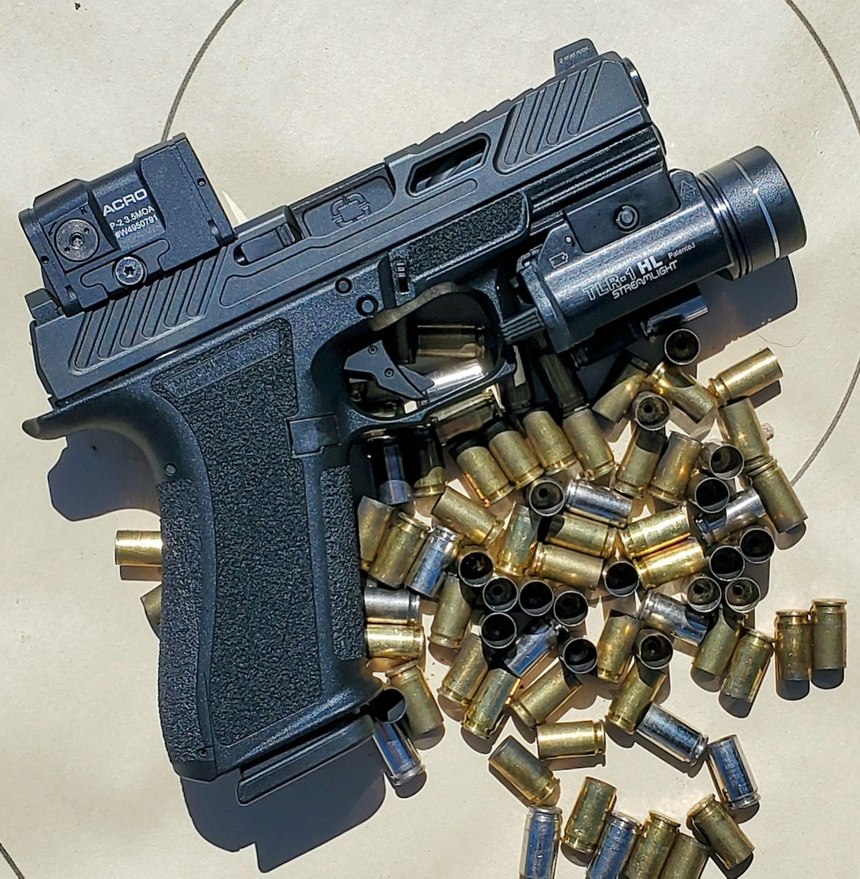 The XR920 with the Aimpoint ACRO P-2 attached. (Andrew Butts)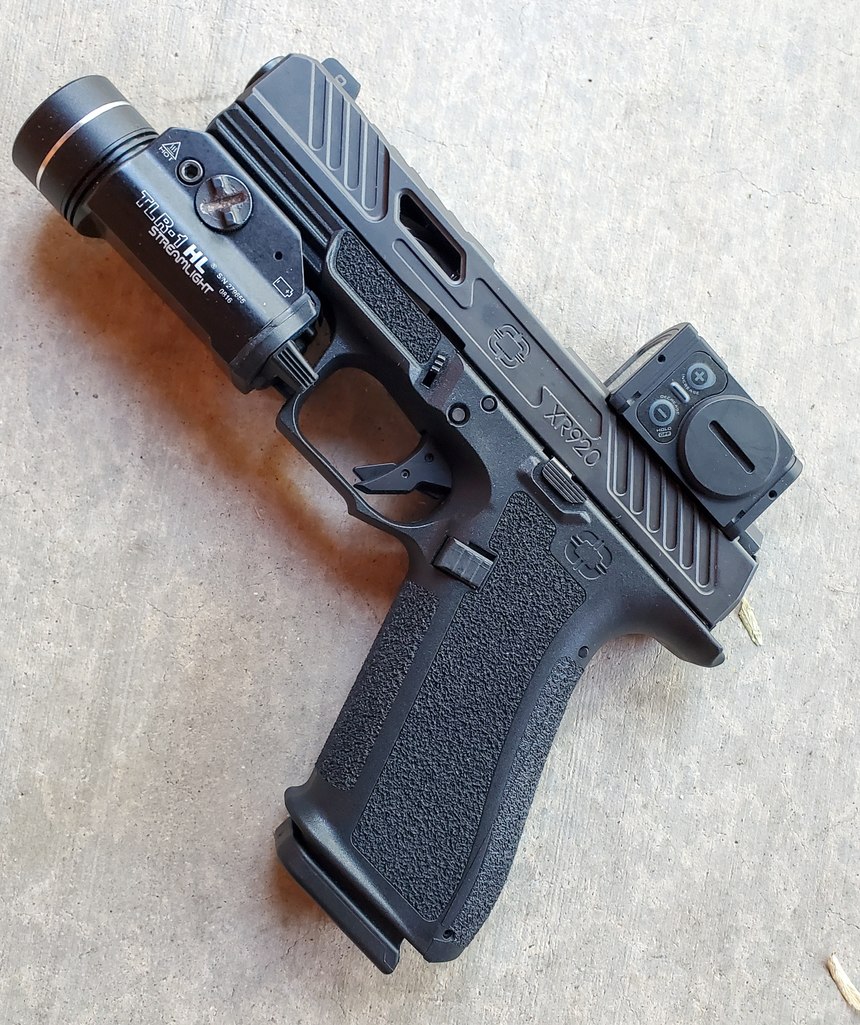 The XR920 with the Aimpoint ACRO P-2 attached. (Andrew Butts)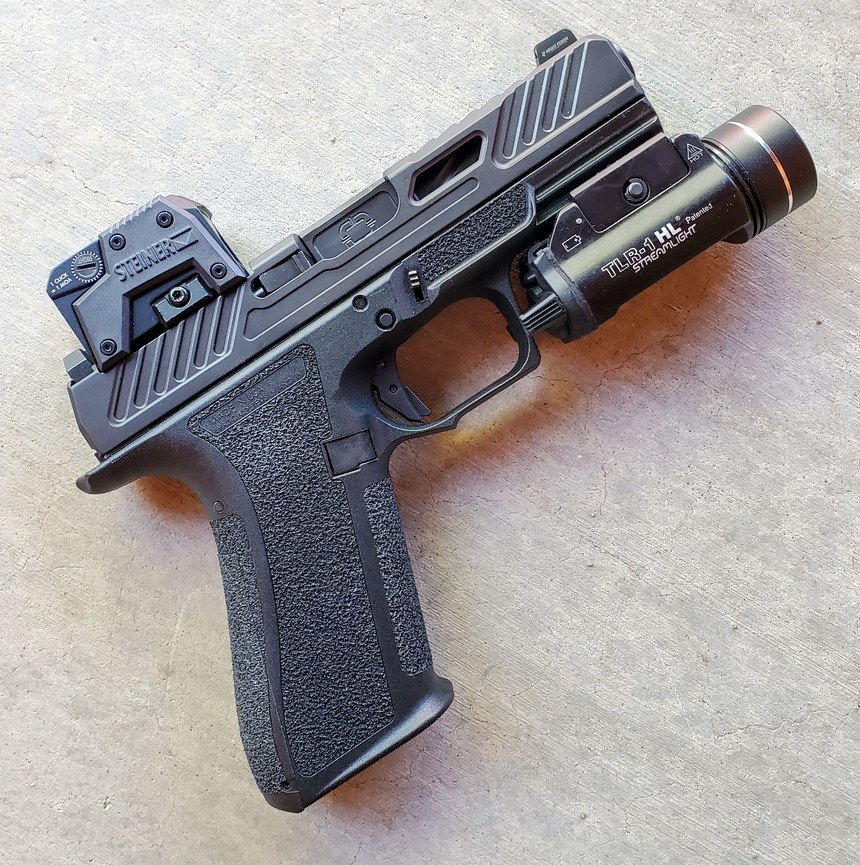 The XR920 with the Steiner MPS attached. (Andrew Butts)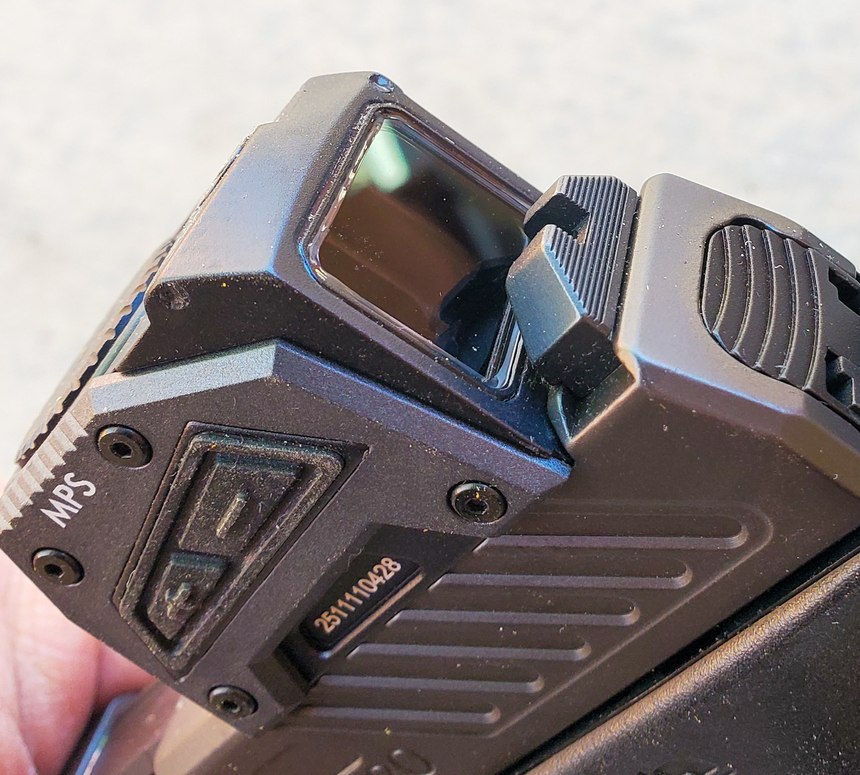 Closed emitter body by Steiner. (Andrew Butts)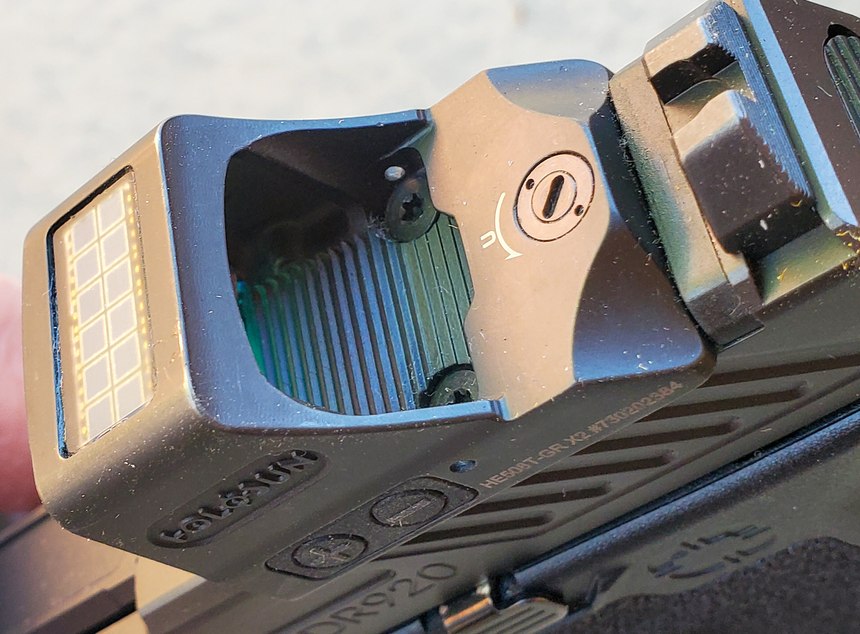 Open emitter sight by Holosun. (Andrew Butts)





Let's take a moment to discuss closed emitters
Before we continue, it may be appropriate to mention what a "closed emitter" is.
Many of the original small optics used for handgun applications are what are referred to as "open emitters." This means that the small illumination module that projects the reticle onto the viewing window is essentially exposed to the elements. This may not be a problem in some urban areas but it can be a concern in dusty areas or areas with a cold damp climate.
Companies like Holosun, Aimpoint and Steiner are now selling small optics with an emitter that is completely housed inside the sight by adding a rear window. So what's the problem? Most open emitter designs attach to the pistol via two screws set down through the top. Closed emitters seal off the area that normally allows screw access. Most closed emitter manufacturers are going to a clamp design similar to what's used on rifle optics. 
One such closed emitter design is the ACRO P-2 from Aimpoint. Based on feedback from the earlier P-1, the battery was changed from a small 1225 to a larger 2032. This greatly increases battery life without radically charging the overall size or shape of the optic. The P-2 is built for simplicity. No auto-adjust brightness modes, no auto sleep modes nor auto-shutdown modes. Set, forget and leave it alone. As long as the user remembers to change the battery periodically the ACRO should provide years of reliable service. Click here for more info.  
Steiner's closed emitter MPS (micro pistol sight) is a new product on the market. It shares a similar mounting base to the Aimpoint. The MPS ships with a built-in timer that turns the sight off after 13 hours. This auto-off can be deactivated but it should be noted that deactivating the auto-off also cancels the max brightness setting to help prolong battery life. Small and light, the MPS will hopefully prove to be a good addition to the growing pistol optic market. Info is available here.
Back to the XR920
Why build a pistol with a shorter barrel, slide and sight radius set on a longer full-size grip frame? There are a couple of reasons:
The issue of sight radius becomes a non-issue with the use of a slide-mounted optic. The full-length grip makes the gun more comfortable for shooters with larger hands and allows for 17-round magazines to seat flush. Reduction in barrel length (and the resulting loss of bullet velocity) is not likely to be a concern since many of the available duty loads are tested for terminal performance in four-inch barrels. 
A shorter slide means a gun that may be slightly more comfortable when spending hour after hour after hour seated in a patrol vehicle. Or maybe the best reason to combine the short top and full bottom is simply that it looks cool.
For test and evaluation, the above red dots were used with the XR920. As expected, the mounting cut fit these optics securely. No loosening of the clamping screw nor shifting of the optic fore and aft from recoil was noted. The additional mass added to the slide by running an optic caused no reliability issues.
Shadow Systems has become a recognized contributor to the police firearms market. Information on availability and pricing for both departments and individual officers is available here. 
Starting a red dot program
Lots of red dot options are available and choosing an optic and/or starting an optics program can seem like a daunting task. Police firearms instructors or departments looking to implement a pistol optics program may want to consider the Red Dot for Duty Pistols course offered by the National Law Enforcement Firearms Instructors Association. This 16-hour class includes lectures on equipment selection, policy and training considerations, and user installation and maintenance. Live fire topics include zeroing, training techniques and low light considerations. Find more information here.
[RELATED: Is it time for your agency to move to red dot sights?]
XR920 SPECS
Caliber: 9×19
Action: Striker fire
Weight: 23 oz (Combat); 22.4 oz (Elite)
Frame: Textured polymer
Length: 7¼ inches (unthreaded)
Height: 5¼ inches
Barrel: 4.0 inches unthreaded. 1/10 rifling twist 
Capacity: 17+1
AIMPOINT ACRO P-2 SPECS
Weight: 2.1 oz (without mounting solution)
Reticle: 3.5 MOA dot
Illumination: 6-day, 4-night vision modes
Battery: CR2032. 50,000 hours 
STEINER MPS SPECS
Weight: 2.05 oz.
Reticle: 3.3 MOA dot
Illumination: 6-day, 2-night vision modes
Battery: CR1632. 13,000 hours with auto shut-off
NEXT: Review: Multi-role and duty-role 920 pistols from Shadow Systems

Request product info from top Police Sights and Scopes companies
Thank You!