Review: Smith & Wesson Shield Plus
The big story of the Plus is the baker's dozen magazine capacity
---
It's funny how we tend to see things developed in our lifetimes as the ultimate in technology. Do you remember in 2012 when Smith & Wesson introduced a micro pistol just about an inch wide with a 7/8-round magazine capacity, excellent sights and grip, as well as the ruggedness to actually shoot it enough to get good with it? Then, in 2017, Smith & Wesson introduced the Shield 2.0. The upgrades included a slightly more aggressive grip texture and an improved trigger.
To me, the Shield was a perfect gun to carry when I was running or working out at the gym. Still, I always felt the need to carry an extra magazine. Studying as many After Action Reports (AAR) of shootings as possible over the years has taught me that even citizen defenders often need a dozen or so rounds to solve the most serious problem one will likely face in their lifetime. Law enforcement shootings often require even more capacity from their carry guns since we intentionally insert ourselves into troublesome situations. Even that nine-rounds of capacity doesn't give me a lot of comfort, so when I'm wearing my normal every day, off-duty attire, I generally carry an M&P 2.0 Compact with 15+1 capacity and an extra magazine. That may be changing, though.
Plus
Since the original Shield's introduction, Smith & Wesson has released models with Performance Center enhancements, 2.0 versions and a few with four-inch barrels. I snagged one of each as they were introduced.
This year, Smith & Wesson transformed the Shield into a micro-compact striker-fired, high-capacity pistol. Smith & Wesson was kind enough to send me a 3.1" model for review. The Shield Plus comes with one flush-fitting 10-round magazine and one extended 13-round magazine. They are very close to the size of the original 7 and 8-round magazines; respectively. In fact, the Plus is nearly indiscernible from the original Shield frame.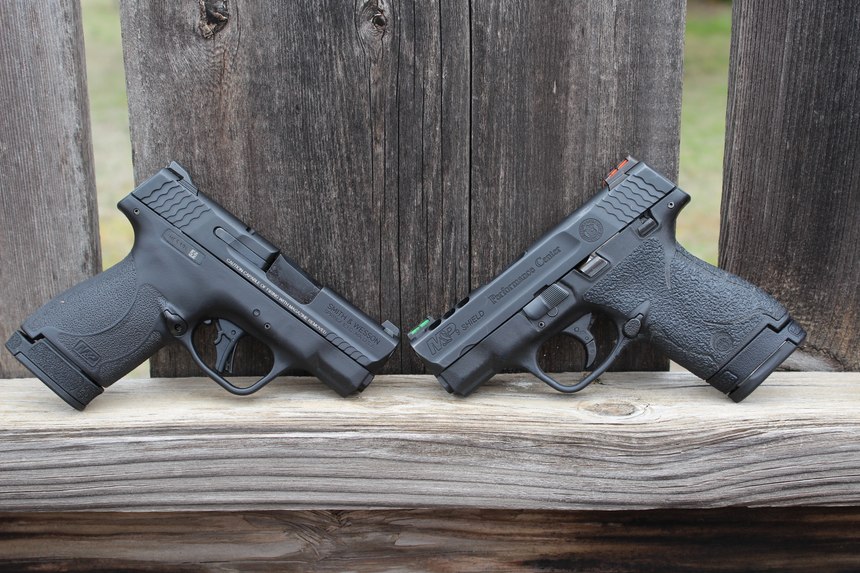 The Shield Plus can use the same holsters as the previous models of Shield. (Photo/Warren Wilson)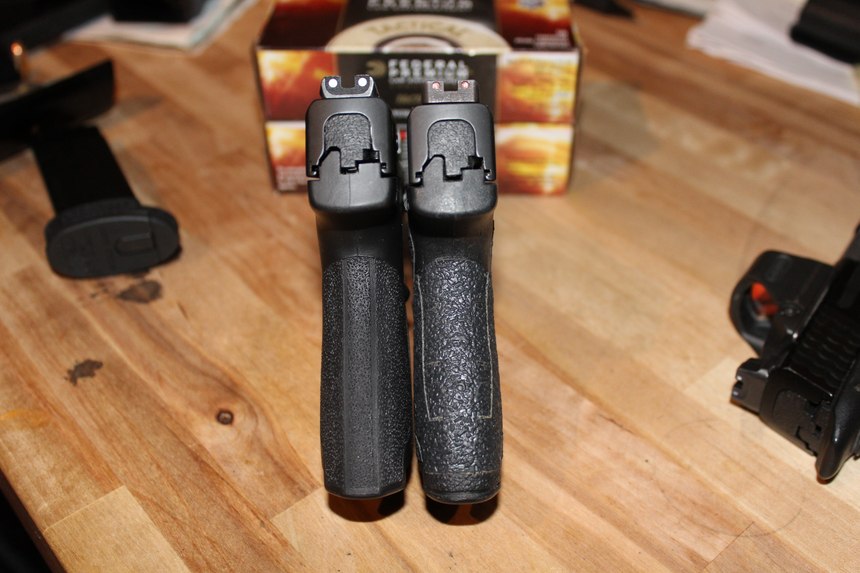 The difference in grip width between the classic Shield and the Shield Plus is all but imperceivable. (Photo/Warren Wilson)

Capacity isn't the only upgrade with the Shield Plus. It comes with an excellent flat-faced trigger. (Photo/Warren Wilson)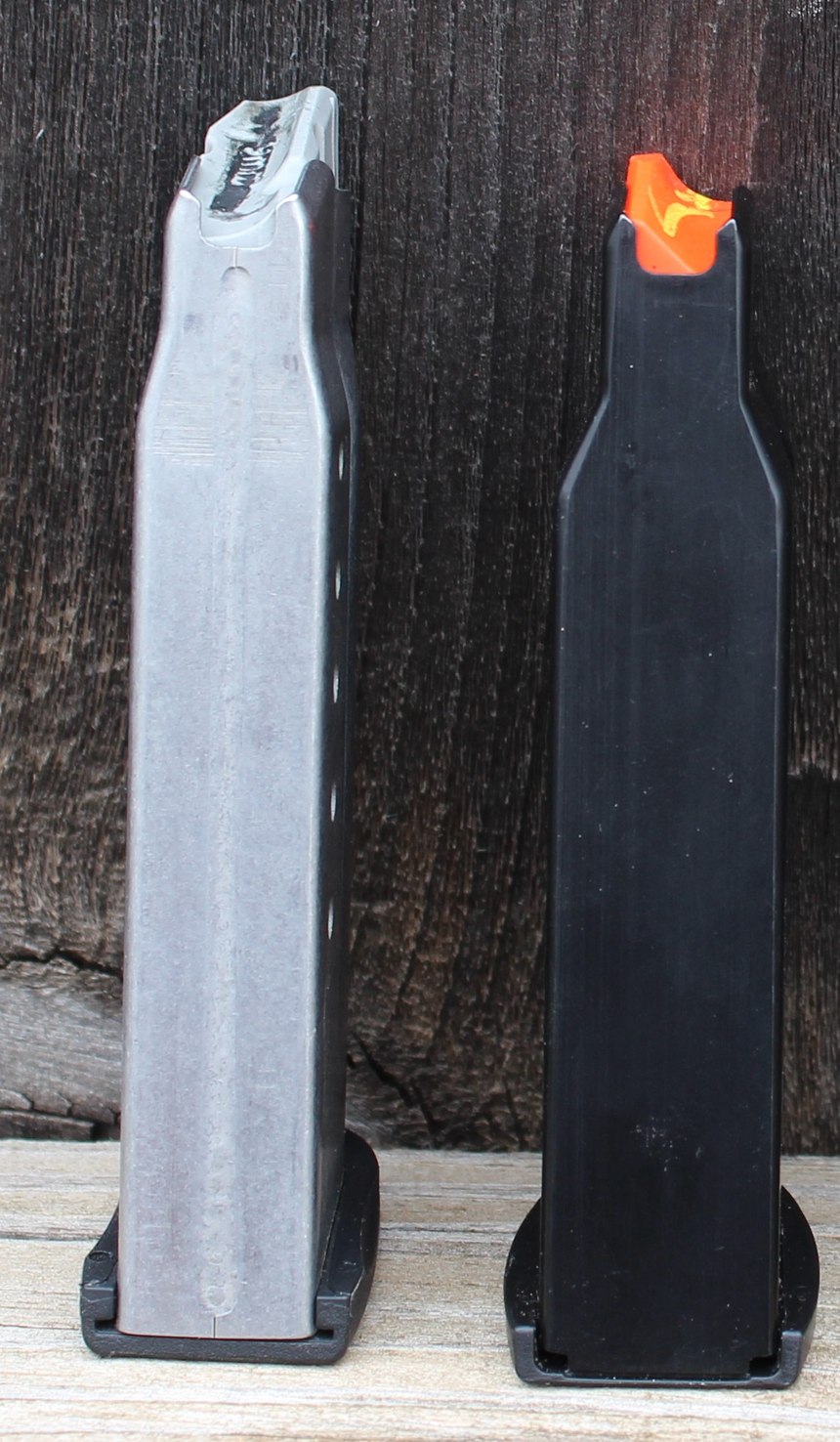 Left to right: Classic Shield 7-round magazine, Shield Plus 10-round magazine. (Photo/Warren Wilson)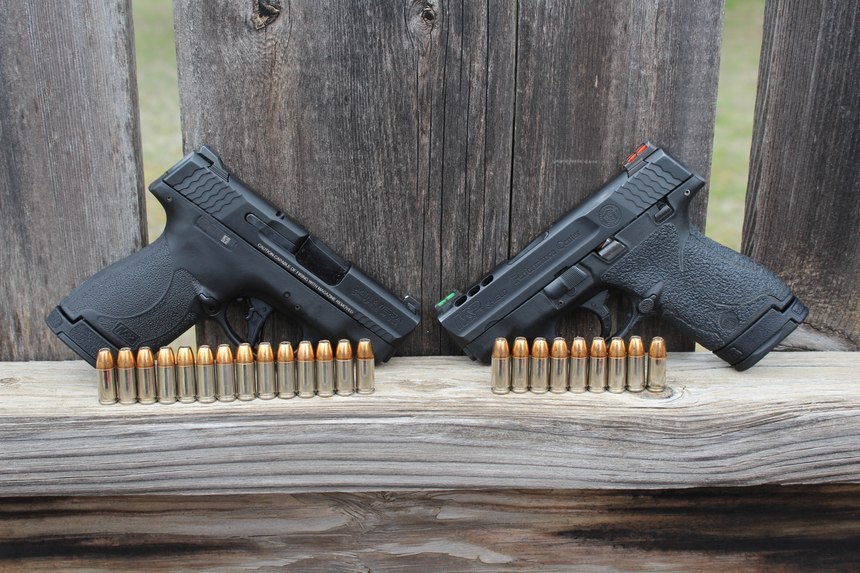 The big news with the Shield Plus is the dramatic increase in capacity. Its 13+1 capacity makes this micro-compact pistol very potent for off-duty and back-up roles. (Photo/Warren Wilson)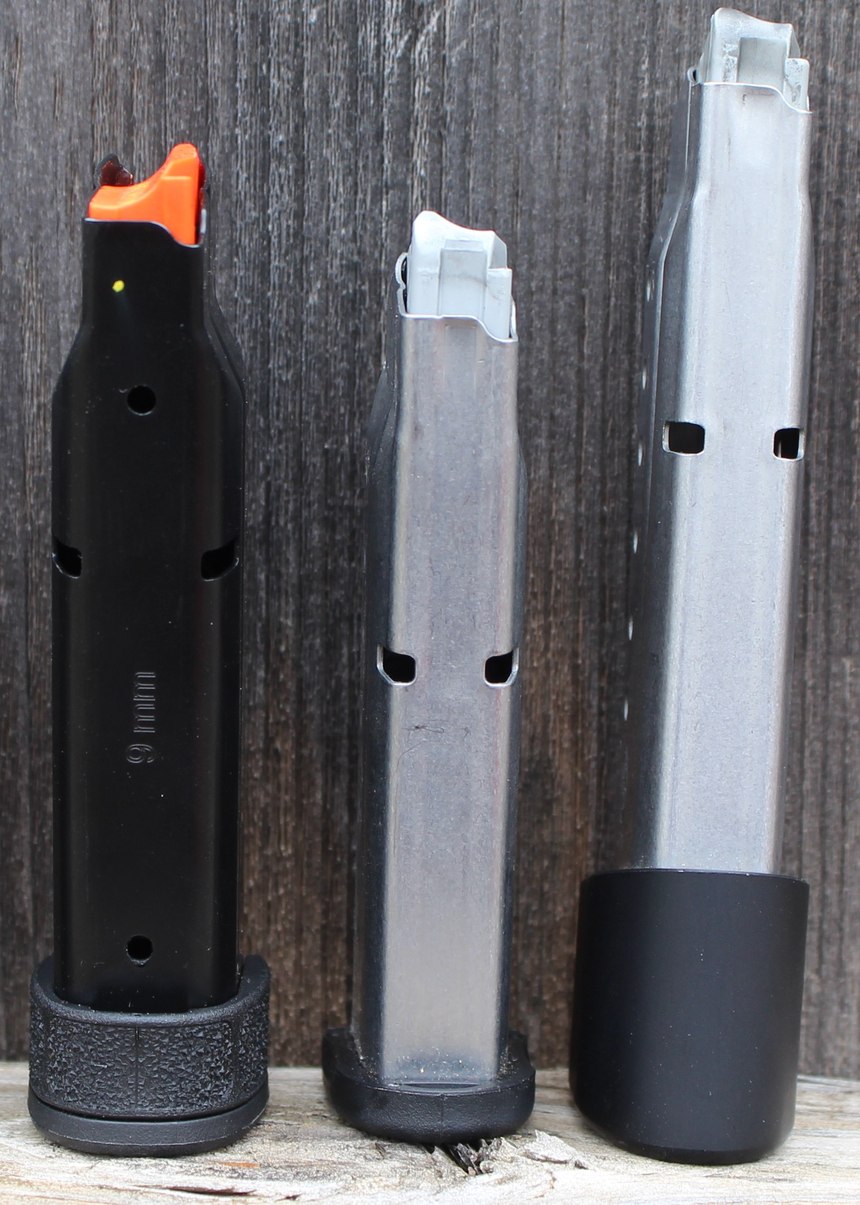 Right to left: 13-round Shield Plus magazine, 7-round classic Shield magazine, 8-round classic Shield magazine with aftermarket +2 aftermarket extension. (Photo/Warren Wilson)






Plus Plusses
The big story of the Plus is the baker's dozen magazine capacity. There are other pluses to the Plus, however.
Grip texture is a touchy topic for some. There's a bit of a dichotomy between a texture that allows for a good purchase on the handgun and one that is painful when carried next to the skin. The Shield Plus has that "Goldilocks" texture that accomplishes both missions well.
Another improvement is a reversible magazine release button that is raised just enough I can activate it without adjusting my grip.
The second-best upgrade of the plus is the flat-faced trigger. I tested the pull weight at 5.0 pounds at the tip of the trigger and 5.5 pounds at its center. It has a better feel to it compared to my other Shields, at least partially due to the flat-faced trigger.   
Options
The Shield model I requested is what I believe will be the most purchased version. It has the 3.1" barrel, no manual safety, standard three-dot sights. This standard version comes with the option of a manual safety and night sights.
The Performance Center models have the option of optics-ready milling with an included Crimson Trace red dot sight, manual thumb safety and ported barrel and slide. The Performance Center models all come with a four-inch barrel and fiber optic iron sights.
Range time
Features mean nothing without actual live fire. Two other shooters and I fired 200 rounds of "pot luck" 9mm ammunition (Blazer Brass, Independence and Speer Lawman) through the pistol to verify the sights and reliability. As expected, the Shield Plus shot near-perfect point-of-aim/point-of-impact from common defensive distances out to 25 yards.
When I test a pistol, I always chamber a round and then top off the magazine prior to firing. It's an important test as it simulates how the pistol will be required to perform in a defensive situation in the condition most people will carry it. Often, a gun hot off the presses will not properly function in this condition without a little break-in time. The Shield Plus had no such issue.
The big test is always how a pistol performs with proper defensive ammunition. I had a few boxes of 124 grain Remington Golden Sabre and quite a bit of my favored carry ammunition: Federal 124 grain HST +P. Three other shooters and myself fired 60 rounds of Golden Sabre and 50 rounds of HST through the pistol sans drama, i.e., no stoppages. The other shooters were impressed with the size versus capacity of the Shield Plus. The grip area of the Plus is only around .1" wider than the original Shield while maintaining perfect compatibility with current holsters already on the market.
Good things coming
The Shield Plus is, in this guy's opinion, the best of the micro-compact defensive pistols for several reasons.
The first is that it uses the same holsters of its predecessor, which has had almost a decade on the market, and they are readily available.
The second is its variety of options. One can choose barrel length, Performance Center sights and trigger, manual safety or almost anything else you can imagine.
Go to Smith & Wesson's website to see which options fit your needs. For a base MSRP of $553, the new Shield is indeed a Plus.  

Request product info from top Police Firearms companies
Thank You!