5 options for safely securing your firearms at home
Taking a gun belt off at the end of your shift and storing it on the top shelf in a bedroom closet is not an acceptable or responsible way to store a firearm
---
The administrative penalty for a police officer losing a firearm can be quite severe and can range from suspension to financial penalties to termination of employment. In severe cases, criminal charges may result. 
Most departments have some type of policy or directive requiring that officers safeguard assigned items like firearms, radio equipment and body armor. Care and use directives outline cleaning and maintenance guidelines and may also cover how such equipment must be stored while not in use. These policies can range from simple directives forbidding firearms from being left unattended in vehicles to more specific instructions on how and when firearms and sensitive items must be stored and secured when not in use.
In most cases, the proper way to store an issued firearm is in a holster firmly attached to the belt. This method works well in many circumstances and helps keep track of said firearm at all times. This is an ideal but possibly unrealistic scenario.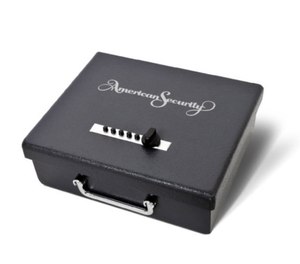 So, what do armed professionals do when they wish to store firearms and related accessories in a way that keeps them secure from unauthorized access or theft while staying within department policy?
Many secure storage options are available. Below are a few suggestions that should make shopping easier.
Omitted are such items as cable locks and trigger locks since these, in most cases, do little or nothing to prevent an actual theft. Cable locks are easily defeated and likely have proven to be little more than an annoyance to those who have used such devices. 
1. PISTOL LOCK BOX
The least expensive method is a locking pistol box. Several models are available. Some use key locks while others have magnetic or push-button latches. Keep it simple and avoid electronic or battery-operated locks that may fail at an inopportune moment. Pistol lock boxes work well in the short-term but will not stop a determined thief. Bolt the box down in a closet or cabinet (or even inside a vehicle if allowed by policy) for the most effective use of the pistol box.
Pistol boxes from Liberty Safe and American Security represent some of the better options on the market.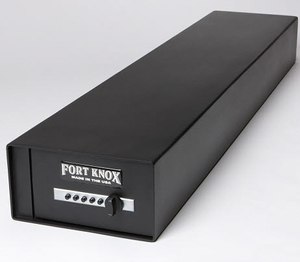 2. RIFLE LOCK BOX
Comparable in design and construction to the pistol lock box, the rifle lock box (sometimes called an under bed safe), is available in several sizes. Some options will hold just one rifle while others are big enough to hold two rifles and one or two handguns. Like the pistol box, the rifle lock box should be bolted in place for the best security.
Good options for the rifle lock box include products from Fort Knox, V-Line and SnapSafe.
3. LOCKING FIREARMS CABINET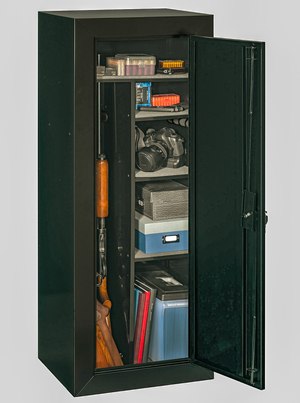 An option that provides good storage capacity but not as much security as an actual gun safe is a metal firearms cabinet. These are constructed of fairly thin and light sheet metal and are locked with some type of key lock or hasp. The gun cabinet is probably best used to lock up nonlethal items such as body armor or camera and communication equipment.
The GCB-18C locking cabinet from Stack On is a good example of a firearms cabinet, as are several of the cabinets made by SecureIt. 
4. MODULAR GUN SAFE
For large storage needs in confined spaces, a modular safe from Zanotti Armor or SnapSafe may be worth considering. A modular safe comes as a kit and is assembled by the purchaser. Since they come in pieces, modular safes can be placed in attics or basements or similar areas that might make installing more traditional safes difficult or impossible. Modular safes are also a good option for apartment dwellers who may not want to install a more long-term option.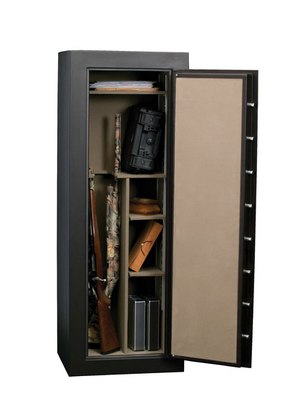 5. GUN SAFE
Gun safes come in a variety of sizes and with varying degrees of protection. At a minimum, a gun safe should meet the Underwriters Laboratory Residential Security Container testing standards.
A good option is a gun safe like the Liberty Safe Fatboy. Liberty recently updated its door-locking systems with flat locking bars instead of round pins. The flat bars are steel plates that extend and retract. Liberty's inhouse testing has shown these new flat bars are quite a bit stronger than the round pins used previously.
The Fatboy is big enough to hold several long guns, as well as pistols, duty belts, body armor and other bulky equipment. A built-in electric outlet provides the capability of charging radio and computer equipment while being stored.
Built like Liberty's Franklin safe line, the Fatboy offers good storage capacity and respectable theft and fire protection at a price that's not too far north of what some other companies charge for their entry-level safes.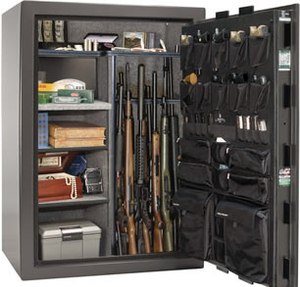 Taking steps to safeguard deadly force equipment is a task we should all take seriously. Taking a gun belt off at the end of shift and storing it on the top shelf in a bedroom closet is not an acceptable nor responsible way to store a firearm.
Care must be taken, but you don't have to break the bank. If you choose wisely based on storage needs and budget, you should have no problem meeting most departmental requirements.

Request product info from top Police Handguns companies
Thank You!