Beretta APX A1: Reporting for duty
I would trust my life to this handgun, and I can think of no higher endorsement
---
By Todd Fletcher
Back when I started my career as a police officer, my first department-issued handgun was a Beretta. I was utterly disappointed to discover it wasn't the venerable Beretta 92. Instead, it was the little-known and rarely issued Beretta 96D. For the majority who have never heard of the Beretta 96D, it was a double-action only .40 S&W that looked and felt a lot like the 92. I put tens of thousands of rounds through that pistol trying to become a competent shooter. I must have done enough to impress the department rangemaster because he eventually sent me to firearms instructor school using that Beretta 96D.
When I was asked if I wanted to review Beretta's latest law enforcement duty handgun offering, I jumped at the opportunity to get my hands on Beretta's APX A1. Beretta may have the longest history of any firearm manufacturer in the world. Founded in 1526 – that's 497 years ago for the mathematically challenged – Beretta has been in continuous business making firearms and firearm accessories for military and law enforcement use. Remarkably, Beretta has been owned by the same family throughout its history. In the mid-1980s, the Beretta 92 was selected as the United States military's standard-issue handgun and was issued as the M9 Pistol.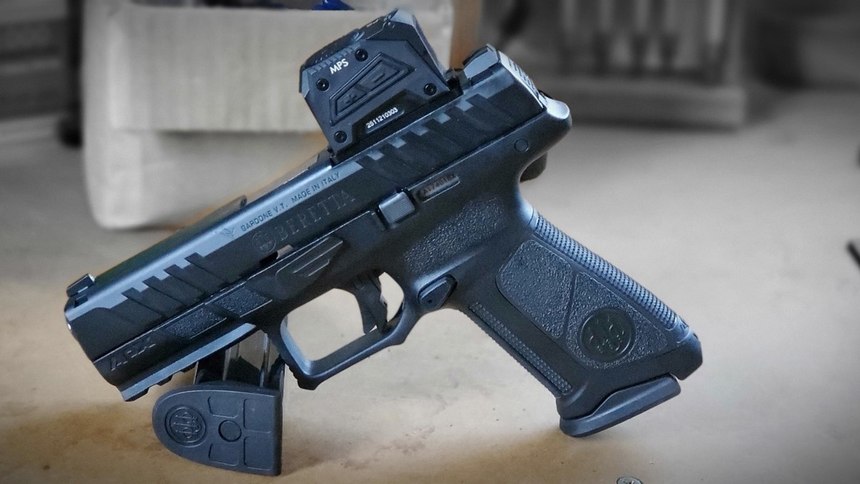 According to the company's literature, the Beretta APX A1 takes the proven ergonomics and reliability of the APX family to the next level with integrated features derived from feedback from military, law enforcement and tactical shooters. It aims for the highest levels of performance, safety and quality for any shooter in the field. In fact, the Beretta APX passed every stringent test of the US Army MHS program and is used by professionals on the ground in more than 20 countries.
When you first examine the Beretta APX A1, the first thing you notice is how good it feels in your hand. The grip texture feels good without being overly abrasive. The 360-degree texturing is right where your hands need the greatest amount of grip. This shape and texture of the grip provide a Goldilocks baby bear feeling of being "just right." Combined with the interchangeable back straps and the enhanced beaver tail, the Beretta APX A1 maximizes surface contact for a natural shooting position and better recoil management.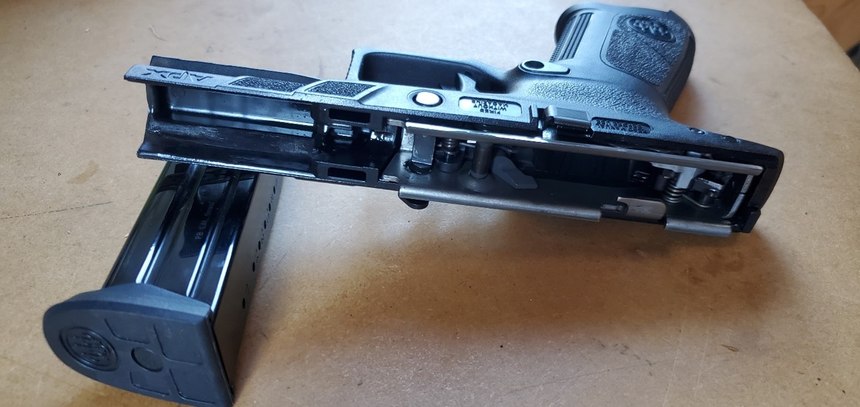 The next thing you notice is the aggressive slide serrations on the front and back sides of the slide. I really grew to appreciate the aggressiveness of the cocking serrations, especially with wet or gloved hands. They aided in working the slide, conducting press checks, loading, unloading and doing malfunction drills.
For those of you who have your arms mounted backward, the magazine release is reversible and easily set up depending on the operator's needs, while the slide release lever is fully ambidextrous. Most handguns have the magazine release positioned where I must completely change my grip on the handgun to reach the magazine release. Imagine my surprise when I discovered the magazine release on the Beretta APX A1 was perfectly positioned so that I could maintain my grip and hit the magazine release. As a result, reloading the Beretta APX A1 is lightning fast.
One of the enhancements I typically make to my own handguns is magazine cutouts on the bottom of the grip to make stripping a stuck magazine quick and easy. I was delighted to see the Beretta APX A1 included this great upgrade. When clearing malfunctions, these can help the shooter diagnose and fix problems quickly. Speaking of magazines, the Beretta APX A1 comes standard with 17-round steel magazines that drop free quickly even when empty. You will never worry about having to strip an empty magazine from the magazine well with this handgun.
When you pick up the Beretta APX A1, you'll notice it's built like a tank. The slide is thick, stout and feels substantial. This handgun feels overbuilt for a 9mm leading me to believe it should be dependable and durable. In fact, when you field strip the Beretta APX A1, you will notice the full-length rail where the slide runs on the frame. This thing is solid and should be ultimately reliable.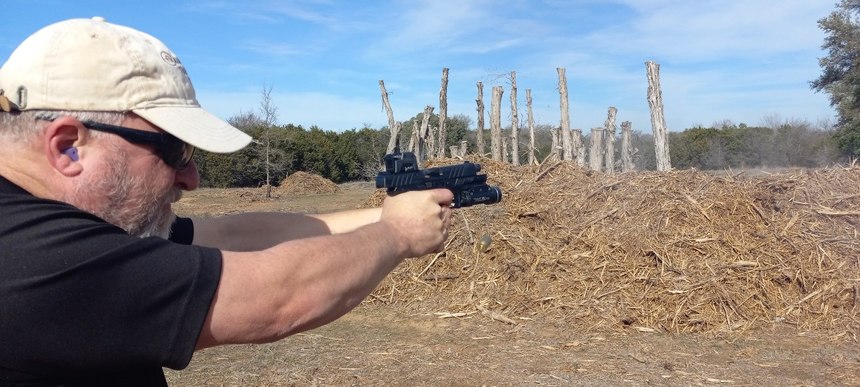 The Beretta APX A1 comes ready for pistol-mounted optics with plate kits available for Leupold, Aimpoint, Trijicon and several others. This allows users to quickly mount all the common duty-capable optics. Even without an optic, the black serrated rear sight and tritium front sight gives a nice, clean sight picture in any lighting condition.
After giving it a once over, I checked the owner's manual and lubed it as directed. This was the first, and last time, the Beretta APX A1 was lubed or cleaned. I figure that most law enforcement officers are terrible about lubing and maintaining a handgun, so I test potential duty handguns under those same conditions.
Beretta was nice enough to send me the Beretta APX A1 with the Steiner MPS optic already mounted. I hadn't had much experience with the Steiner MPS optic and was eager to see how it performed. The tough construction of the Steiner MPS was a good match for the Beretta APX A1, and the fully enclosed emitter was protected from my abuse of the APX A1. The Steiner MPS features crisp, clear glass without any of the distortion or magnification that can be found on other optics.
On the range, I found the Beretta APX A1 to be as accurate as any of the currently available duty handguns. I'm not one to put a handgun in a vice and shoot it from 25 yards to test its mechanical accuracy. This is tedious and boring. Instead, I'm interested in seeing if a duty gun can maintain a high level of combative accuracy running at combative speed with a variety of ammunition and still be reliable and dependable. Most quality duty handguns on the market can shoot more accurately than me. However, I have found that not all of them are reliable while running as fast as I can shoot accurately.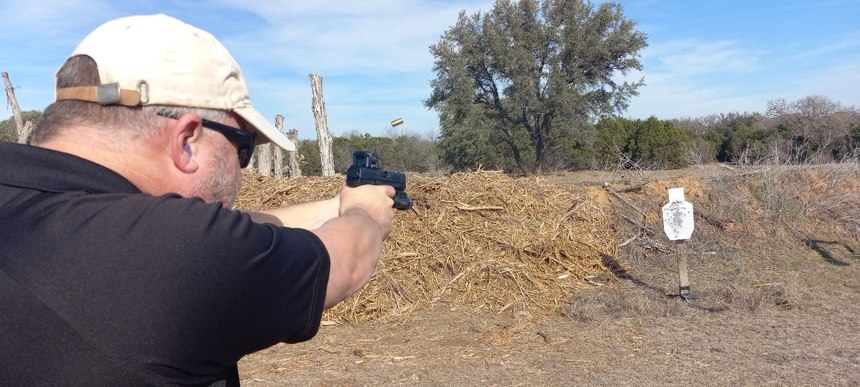 It ran reliably with a mixture of 115, 124, and 147 grain ammunition including training and duty ammunition. Even with magazines containing a mixture of ammunition weight and bullet types, the Beretta APX A1 ran flawlessly without a single hiccup. The only malfunction I had with this handgun was with one round of my reloads where a primer that wasn't fully seated found its way into a magazine. This is no fault of the Beretta APX A1, but I mention it in the interest of full disclosure. I would trust my life to this handgun, and I can think of no higher endorsement.
During this evaluation, I ran it hard and fast to see if it could stand up to abuse and tested it for accuracy to see if it lived up to its accuracy standards even when dirty. It never disappointed me. In fact, after more than 600 rounds, testing it for accuracy, then running it fast causing it to be nearly too hot to hold, the Beretta APX A1 never skipped a beat.
The Beretta APX A1 is everything law enforcement officers are looking for in a duty gun. Reliable and durable. It's accurate and easy to operate. It feels good in your hand, the controls are perfectly placed, and it can stand up to the abuse of any law enforcement officer. The APX A1 will help Beretta continue to carry on their tradition of producing high-quality firearms for another 500 years. 
About the author
Todd Fletcher is the owner and lead instructor for Combative Firearms Training, LLC providing training for law enforcement firearms instructors from coast to coast. He has over 25 years of training experience as a firearms and defensive tactics instructor. He retired after more than 25 years as a full-time police officer and over 31 years of law enforcement experience.
Todd is a member of the International Defensive Pistol Association (IDPA) and the United States Practical Shooting Association (USPSA). He is a member of the International Association of Law Enforcement Firearms Instructors (IALEFI) and the International Law Enforcement Educators and Trainers Association (ILEETA), and was selected as the 2022 ILEETA Trainer-of-the-Year. He can be reached at Todd@CombativeFirearms.com.

Request information from Beretta USA Corp.
Thank You!