Everybody wins with law enforcement equipment trade-ins
You can be sure your retired weapons wind up in the right hands
---

By Warren Wilson for Police1 BrandFocus
Cop shops need to be the most efficient stewards of the public's money that we can. At the same time, we need the best, most effective equipment to complete the mission of public safety. Quality emergency equipment is expensive and this is an area where departments can't compromise. These competing principles make budgeting and purchasing extremely difficult for law enforcement agencies. Still, there are ways to maximize our budgets without sacrificing safety and it is our responsibility to seek out and utilize these programs whenever possible.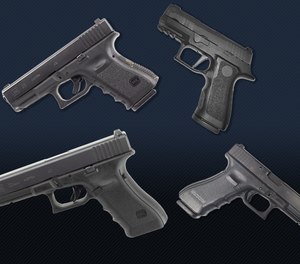 Witmer Public Safety Group Trade-In Program
I've had a lot of luck doing business with Witmer Public Safety Group. You'll recognize their law enforcement side as the OfficerStore.  They have items in stock when others don't and have a palpable concern for public safety. WPSG isn't the largest company out there, but they've built relationships with so many other companies that their product buying power is second-to-none. And their pricing is more than just competitive. In fact, in the last year, I started including them in many agency purchasing bid processes and have been very pleasantly surprised by the results and by the service provided by our Witmer representative. I was also surprised to see they sell firearms, paint-marking cartridges, custom-engraved handcuffs, and trauma supplies. I recently discovered their law enforcement equipment trade-in program.  
Take the concern out of trading in  
All departments have old, but still valuable, equipment like firearms. Many departments, at this point, no longer use revolvers, some older auto pistols, .40 and .45 caliber pistols or even shotguns. Still, agencies tend to keep them stored away somewhere with no idea what to do with them. Some departments eventually destroy these guns, but that's just an irresponsible waste of taxpayer money. These firearms may have outlived their law enforcement service but are still quite viable for secondary markets. How can Witmer help us with this?
WPSG will take these firearms as trade-ins on new firearms or even other equipment. Some might be concerned where these firearms will end up. That's a valid concern. Witmer has a network of reputable federally licensed firearms dealers they use for these transactions. They also have an officer buy-back program, so officers can lawfully purchase their duty weapons upon retirement or even if their agency is just changing their standard-issued firearms.
Make space in your evidence room
Departments also have the ability to sell firearms which have been turned over to them by the courts. Often, when stolen firearms are seized, it's after the insurance company has paid the victim. Therefore, the gun belongs to them. Those companies, however, often just sign the guns over to the agency to avoid the complexity of disposing of them legally. Those guns usually languish in the evidence room for years. Evidence storage has become an area of great difficulty for law enforcement agencies in recent years. As crime goes, so does evidence storage. The OfficerStore trade-in program provides a graceful, simple solution for this problem as well.
Ordering is simplified on more than firearms
Witmer Public Safety Group will set your department up with a free account and an exclusive portal with pre-negotiated pricing for simple ordering on almost everything your agency needs, not just firearms. The WPSG trade-in program is a great way to boost your department's budget while unclogging your evidence room and safely disposing of old equipment. How to proceed? What equipment do you have and what do you need? Reach out to an OfficerStore law enforcement specialist and find out what your options are.
Request information from OfficerStore.com
Thank You!