Firearms review: Why the Kahr CW9 is now my everyday carry
Why Kahr Arms' least expensive gun is their best gun ever
---
I tested the Kahr CW9 in black carbon fiber. This is an easily concealable, self-loading, inexpensive 9mm with outstanding ergonomics. After completing this review, I purchased a CW9, and now it is my EDC.
As you might have guessed, I don't take the decision to swap out my EDC gun lightly. I believe that the CW9 Black Carbon Fiber (CW9093BCF) is the best gun for off-duty use they have produced. It's not my fault that it is also their least expensive gun.
CW9 specifications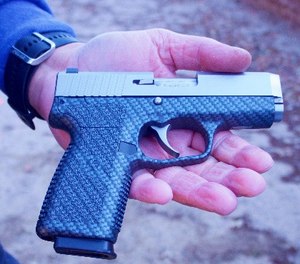 The CW9 comes in 9mm, 40, or 45, but I recommend it in 9mm. With recent improvements in cartridge design, the 9mm really works in a compact gun. The CW9093 models have a 3.6" barrel and OAL of 5.9" and they weigh 15.8 ounces. They are skinny and flat at .90" wide.
The CW9 has a textured polymer frame, just like all their other models. This model has a black carbon fiber print, whose pigment appears deep in the material, giving it a 3D appearance. The grip has much deeper texture than other Kahr models.
I'm not sure if the source of the polymer is different for the carbon fiber model, but it seems that this particular model is "tackier." I knew it as soon as I handled this gun. It's not the grip pattern, it's the material itself. It feels more like the grips on my mountain bike than the PVC pipe feel of most other polymer guns.
The design behind Kahr
Kahr uses computer design and manufacturing extensively. It uses a mechanical locking system similar to the Browning design. The barrel tilt and camming action is not particularly steep compared to other compact guns. As the design of slides and barrels get shorter, the barrel generally has to tilt a little bit more to accommodate the recoil action. Kahr has incorporated subtle ramping on the top of the barrel and geometry that produces soft recoil and smooth slide travel. This translates to a slide that is easy to manipulate and less wear for longer service.
Understanding the Kahr trigger cocking system
Kahr pistols have a trigger cocking system that could be considered "double action," except that it needs a partial cycle of the slide to cock.
The trigger of most Kahr pistols has a learning curve. Let me start over: As I tested this gun, my friend brought out his fine collection of the premium Kahr firearms. He carries them; from the miniature 9.97 oz P380 to the P45. All of the triggers have a very long reset due to the trigger cocking mechanism. It is smooth and very consistent, but long.
Compared to the inventory of Kahrs we shoot regularly, my CW9 has the best trigger. Yup, I said it. The MSRP $495 gun has a trigger that resets better.
How Kahr kept costs down
How did Kahr make this gun cheaper?
First, the barrel has standard rifling whereas the expensive models use polygonal rifling. There are some advantages to having polygonal rifling. First, it's common for velocities to be slightly higher in any given cartridge. Second, they generally are more accurate.
All of the models in this series and similar designs use stainless, single stack magazines. This model only came with one 7-round magazine, which is part of the cost savings. I promptly bought two more. The 7-round has a little finger shelf, which is great for bigger hands. This gun is so grippy that none of our testing team had problems acquiring a consistent grip, even with the flat based 6 round mags. 8+1 magazines are available also.
One of the benefits of using conventional rifling is the ability to shoot lead bullets. Since I pour my own bullets and do a lot of reloading, I actually have several guns that I have converted to conventional rifling. I didn't have to do that here.
Rather than use extensive slide markings, the CW Series have simple roll stamps. I didn't even notice. You won't either.
The CW Series has very few machined rounded surfaces on the slide. The more expensive Kahrs are "melted" a little more, using contouring, rather than machined flats. Although I think the aesthetics of the CW Series are better, simply because they look a bit more utilitarian, rounded contours don't tear up holsters as readily.
The CW Series has pinned front sights, rather than dovetailed ones. There's no doubt about it: dovetailed sights tend to be a little sturdier, but the manufacturing process has more steps. Pinned sights are generally cheaper.
I do like the 3 dot sights that came on the gun. The rear sight is sturdy enough for emergency racking, and they are easy to acquire for combat purposes.
Expect a break-in period
Kahr is quite up front with one thing: Their guns have a break-in period, which is 200 rounds. On one Kahr I tested a couple of years ago, the groups went from off the paper to less than 2.5" at 25 yards during the break in. They all seem to do this, but shoot well after the break-in period. This gun shot well out of the box.
I ran some simple combat drills with my CW9. From a Badger Ordinance IWB, I found I could quickly acquire my grip and pick up the front sights. The gun operates simply. The safety is in the DAO-style trigger. The only external control is the slide lock, which also functions as the barrel pin for disassembly.
Behind the scenes
It's easy to disassemble and reassemble. Like most other semi autos, field stripping breaks down to the slide, frame and spring assembly. This is all owners will need to know for the duty life of the gun.
As an armorer, the gun is fascinating under the hood. First, most of the fire control parts are accessed through a side plate on the frame. Second, the striker assembly is unique in the gun industry. I have maintained enough inventories in my career to predict the long life of this gun.
There are a couple of things you need to know before I sign off here. I can flat out hammer targets with this gun, running bullet weights from 115-124 grains. It fits in my pocket when I use a Sticky MD-4 in tactical pants. It runs my reloads without a hiccup using 124 grain plated Berry RN bullets.
I have a great respect for Kahr Arms guns, and I find this humorous. You see, their least expensive gun is their best gun ever.

Request product info from top Police Handguns companies
Thank You!