These red dot sights for both pistols and rifles offer advantages for situational awareness, shot accuracy
Aimpoint's discounts for LEOs also offer its reputation for quality at a price within reach
---
Sponsored by Aimpoint
By Sean Curtis for Police1 BrandFocus
As the advantages of using red dot optics for law enforcement become more evident and more agencies begin to adopt the technology, the market will become crowded with options. While nearly every law enforcement entity out there has budgetary concerns, police leadership is always better choosing quality over quantity in the high-liability, potentially life-saving category of firearms. Aimpoint has been providing law enforcement with trusted aiming solutions for years. With a reputation for durability and battery life, Aimpoint has solutions for long guns like the PRO (Patrol Rifle Optic). They also have innovative red dots for handguns like the Acro P-1. Combine these and other options with Aimpoint's Individual Officer Program where individual active and retired law enforcement officers can make discounted purchases and you have a winning combination.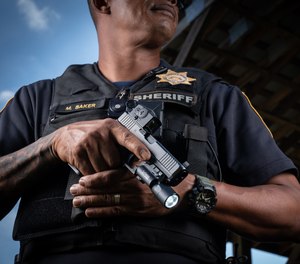 Advantages of a red dot system
The advantages of switching officers to a red dot system have been apparent for a while. By removing the need for iron sights, shooters no longer have to try to navigate three focal planes: target, rear-sight, then front-sight focus. We revert millions of years back to a simpler equation, target focus with a red dot confirmation. On top of that, the need to close one eye is eliminated, allowing the brain the benefit of more information to process during scene, threat and target assessment. In short, cops get better situational awareness. These two benefits alone should lead to better shot placement, higher overall accuracy and fewer mistake-of-fact shootings. Finally, the glowing dot allows for extremely fast target acquisition, an immeasurable benefit in life and death scenarios.
Tough, functional and easy-to-use
The Patrol Rifle Optic has earned a stellar reputation with many law enforcement agencies over the better part of the last decade. The unit is everything a patrol officer needs in an optic – tough, functional and easy to use. The PRO features a 2 MOA red dot and true 1x magnification, meaning officers are able to quickly acquire their dot and establish fast sight picture. The PRO allows officers to shoot with both eyes open and gives them the benefit of ten brightness settings starting with four capable of being used with night vision devices. The much-lauded run time from the DL1/3N battery is three years constant on a setting of seven. This is the kind of reliability officers depend on for a ready-to-go optic which does not need to be activated in a sudden crisis like those encountered in law enforcement. 
In addition, with the optic on and the lens caps closed (clear in the rear, black in the front) the PRO still enables shooters to engage with an occluded optic technique. The unit comes with a QRP2 rail grabber mount with AR15 spacer, allowing it to quickly and easily screw on to standard Picatinny Rail. Whether cased in the rear of a patrol vehicle or locked in a long gun rack, the PRO is always prepared to serve.
Downsized for pistols
Miniaturizing the same technology for pistols was a challenge but the Acro P-1 proves an excellent option to law enforcement agencies who want to take advantage of the same benefits in a micro red dot. Heightened situational awareness, quicker target acquisition and transition and target-focused shooting, the Acro P-1 delivers. Unlike any other option in this size on the market, the Acro utilizes a fully enclosed emitter, meaning it is ruggedized and capable of handling the rigors of duty service. 
The Acro P-1 uses a 3.5 MOA dot that has ten brightness setting, four of which are compatible with night vision. Another benefit Aimpoint built into the Acro is the ability to change the 3V, CR1225 battery without removing the optic from the pistol. There are available mounting plates for many common handguns makes and long gun options too. The Acro P-1 is recoil tested with 20,000 rounds of .40 S&W and has outstanding submersion and temperature tolerance ratings. 
One Stop Shopping
Law enforcement leaders are challenged with making decisions that will serve their agency well into the future. Buying quality optics for officers is quite simply an investment in saving lives—lives of constituents and lives of officers. With this supreme responsibility in mind, Aimpoint continues to provide duty-proof targeting options for cops on the street while advancing the latest in technological advantages. Not only do they offer an Individual Officer Program for active and retired law enforcement officers and other first responders, they can provide training to departments with no obligation for purchase, making a good deal even better.
Visit Aimpoint for more information about its IOP.
Read Next:  What I learned from attending a red dot sights train-the-trainer course

Request information from Aimpoint, Inc.
Thank You!