Why this firearm manufacturer takes a different approach to red dot sight systems for law enforcement
Walther Defense Division provides a unique platform, custom ergonomics and transition training for a more comprehensive red dot system experience
---
Sponsored by Walther
By Victor Masters for Police1 BrandFocus
As law enforcement officers, we rely on each other's expertise, training and experience day in and day out to go home safely at the end of our shifts. So, it is only natural that we would trust that same expertise, training and experience from a company that has recruited the best of our fellow officers to develop the next generation of law enforcement firearms and accessories.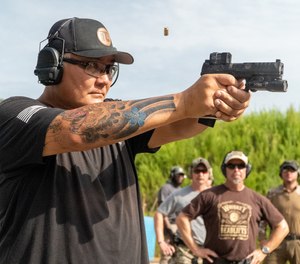 Walther's commitment to law enforcement led directly to the development of the Walther Defense Division. The Walther Arms Defense Division is a cadre of highly trained and experienced law enforcement officers from across the country who bring decades of law enforcement experience to the team. Their expertise has been put to use by providing Walther engineers with invaluable input as part of the research and development of Walther pistols and accessories specifically designed for the rigors of law enforcement.
Police work is constantly evolving, and so too are the training, equipment and expectations of law enforcement officers nationwide. Gone are the days of an officer walking a beat carrying a revolver, a nightstick and a pair of handcuffs. In their place, semiautomatic pistols, TASERs, body cameras, tablets, smartphones and other technology meant to improve speed and efficiency have all become commonplace.
Many of these changes come as a result of new and updated technology, which is often born from military and private sector research and development. Technology such as pistol rails, pistol-mounted lights, lasers, night sights and duty holsters capable of meeting durability and retention requirements of law enforcement officers nationwide have all led to the development of red dot sight systems for law enforcement duty use.
The evolution of red dot sights
RDS systems are not new by any means. Going back several decades, RDS systems could be found on military and law enforcement rifles, and they have been popular for years with competition pistol shooters.
RDS systems on pistols were mainly utilized by competition shooters for their ability to increase speed, target acquisition and accuracy. Up until a few years ago, seeing an RDS system on a duty pistol being carried by a uniformed law enforcement officer would have been a very rare occurrence, often reserved only for SWAT operators. Today, it is not uncommon to see patrol officers carrying a duty pistol equipped with a RDS system and, in some cases, entire departments mandating their use.
So, what changed to make law enforcement adapt such a technology?
Red dot sights offer many benefits, including improving speed and accuracy that can potentially increase officer safety and lead to fewer mistake-of-fact shootings. Law enforcement agencies nationwide have recognized the benefits of RDS and have begun making the change from iron sights to RDS. Reducing liability, increasing confidence in firearm proficiency and increasing accuracy for both new and veteran officers are all positive outcomes for agencies that have switched to RDS pistols like the Walther PDP.
Departments that have adopted RDS systems for duty pistol use have taken the first step toward embracing a technology that provides their officers with the tools necessary to effectively protect themselves and members of the public. This change requires officers to adjust to the ergonomics of the duty weapon to accommodate the red dot sight as well as undertake training to successfully adjust from using iron sights to red dot sights.
Why a proper mounting platform, ergonomics matter
Rather than modifying the RDS to fit the pistol via modifications or adapters, the Walther Defense Division designed the PDP pistol slide specifically for RDS systems. This development provides the end user with a pistol specifically designed to accommodate an RDS versus the other way around. The angle of the grip is also designed with the RDS in mind to allow for a proper grip to quickly adapt to the RDS.
A proper pistol mounting platform to secure the RDS system to the pistol slide makes a world of difference when it comes to accuracy and reliability. If the RDS system is not rugged enough and not able to be properly mounted to a pistol slide to withstand the rigors of being drawn from a holster, the slide racking repeatedly and the elements, then even the most expensive RDS systems will become unsafe, unreliable and unusable.
Having a firearm such as the Walther PDP, manufactured with a proper mounting platform and ergonomics built specifically for an RDS system, can mean the difference between life and death for law enforcement officers and civilians alike. It can also speed up the transition for those moving from traditional iron sights to RDS systems.
RDS training is crucial
As with any new technology, the Walther Defense Division recognized the need to do more than just offer new and innovative products. Training plays a crucial role in all aspects of law enforcement. Officers transitioning from iron sights to RDS systems require initial familiarization training and qualification with the new system.
The training is so crucial that the National Law Enforcement Firearms Instructors Association (FLEFIA) recommends that any officer transitioning to an RDS system undergo a minimum of 16-20 hours of initial familiarization training.
With the invention of iron sights, shooters moved away from the traditional form of aiming based on just aiming their weapon in the direction of the target and focusing on the target, not the sights. Iron sights required us to focus on our front sight with the target being an obscure out-of-focus thing in the background. While this may be an effective way of shooting when one has time to slowly get their sight alignment correct, in a real life-or-death situation where even a fraction of a second counts, quickly acquiring the target and rapidly firing accurate rounds downrange and on target to stop a threat is of the utmost importance.
RDS systems move us back to focusing on the target and not the sight. This transition can initially be a frustrating change for officers switching from iron sights after years of doing it the opposite way. The Walther Defense Division understands that frustration and has worked to incorporate ergonomics specifically made for RDS systems into their pistol designs for law enforcement. The Walther ergonomics on pistols like the PDP are built around allowing the officer to rapidly acquire the target, pick up the red dot and accurately put rounds downrange on target, from their initial shot all the way through their follow-up shots.
With that training comes the need for experienced RDS system instructors and train the trainer courses that are offered by Walther Defense Division law enforcement instructors. Departments that allow an officer to skip or shoot the qualification course without any formal RDS training or transition training are setting up both the officer and the agency for failure and potential lawsuits.
Because RDS is  a relatively new technology for law enforcement duty use, it is imperative that departments have a firearms cadre that includes instructors certified to instruct their fellow officers on how to properly use an RDS system. Additional considerations include the department's policy (or lack thereof) for RDS system use, curriculum for an RDS system transition course and ongoing training specifically geared toward RDS systems, such as system failure drills, malfunction drills, etc.
Making a successful transition
Having a pistol like the Walther PDP, specifically designed by law enforcement officers for law enforcement officers, allows officers and their agencies to be assured that they are using a high-quality firearm specifically built for RDS use with their safety in mind. A frame built specifically for an RDS system, the specific angle of the grip and other ergonomic considerations were all designed with input from veteran law enforcement officers with the best interest of their fellow law enforcement officers in mind.
The incorporation of RDS training from qualified firearm instructors like those at the Walther Defense Division, who assisted with the creation of the PDP for RDS systems, further ensures that departments and officers that choose the PDP are provided with the proper resources and training to make the successful transition from iron sights to an RDS-ready duty pistol.
Visit Walther Defense Division to learn more about the elite individuals who provide valuable advice and expertise to Walther.
Read next: Why this Florida agency made the switch from .40 caliber to a 9mm Walther
About the author
Victor Masters is an active-duty police officer for a municipal police department in western Washington. He began his career in 2010 with the U.S. Border Patrol in El Centro, California. He has served as a patrol officer, forensic artist, intelligence agent and public affairs agent. Since 2016, he has been assigned as a public information officer and recruiter.

Request information from Walther Arms, Inc.
Thank You!