PRESS RELEASE
Convert Your Handgun into a PDW with the KPOS Pathfinder
---
More and more shooters are purchasing personal defense weapons (PDWs) as part of their overall defense plan.  The PDW style weapon comes under the government classification of SBR and requires paperwork and a federal tax stamp. FAB Defense allows you to convert your pistol into a personal defense weapon without the cumbersome federal restrictions and tax stamps. In less than 10 seconds, FAB Defense KPOS Gen 2 Pathfinder allows shooters to convert their handgun into a PDW without any modifications to the pistol. The innovative design, of the pistol-to-carbine conversion featuring a folding stabilization tube in place of a stock, is the product spec that gives it a non-NFA rating.
The FAB Defense KPOS G2 Pathfinder provides shooters with the tactical benefits of other KPOS conversion systems— without having to go through all of the paperwork and additional expense. The compact design fits select full-size handgun models from popular brands such as Glock, Sig, Beretta, CZ, Jericho, FN and Springfield. The conversion accessory features 6061 T6 billet-hard anodized aluminum frame and includes folding backup sights and a VTS handguard for added control and accuracy at longer distances.
The FAB Defense KPOS Gen 2 Pathfinder is the perfect setup for shooters who are looking to increase the capabilities of their handgun in a new way—all legally. The KPOS G2 Pathfinder is easy to attach to you weapon, no tools needed. It is the ideal accessory for those who are interested in learning to use a PDW for the first time.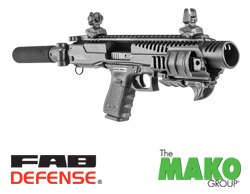 The Mako Group is the exclusive U.S. distributor of the best tactical equipment and weapon accessories that have been proven in combat. Products designed for the Israeli Defense Forces, Israeli Security, and Israeli Police by Meprolight, FAB Defense, Front Line Holsters and RTS Target Systems, are fully available to the U.S. market. Please "like" The Mako Group on Facebook and follow us on Twitter to stay up-to-date on the latest news and products.