Upgrading your AR-15: 8 features you should consider
Numerous options abound for customizing your AR-15 to your needs – this firearms expert details some of the choices
---
By Warren Wilson for Police1 BrandFocus
The AR-15 rifle in its many forms is the default long gun of law enforcement. It is capable of handling the many varied threats faced by today's cops. Part of the reason the AR is so versatile is its modularity. The only part which is necessarily universal in this rifle is the lower receiver and some of its internal parts. Other than that, almost every part of the rifle is customizable to fit a department purchase or an individual officer's needs.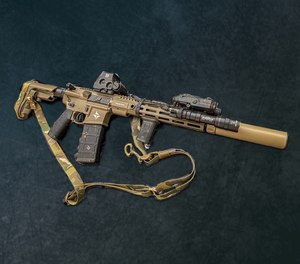 There are three accessories or modifications considered to be absolutely necessary in a law enforcement carbine: Light, sight and sling. There are certainly other upgrades that can be helpful, but these three are must-haves in my opinion. We'll start out looking at the variety of options in these three staples and then look for some accessories that have the ability to enhance the performance of the both the officer and his or her carbine.
This is the golden age of tactical equipment. A good example of that is the variety of high-quality, powerful weapon-mounted lights (WML) on the market. The two most common WML manufacturers used on law enforcement duty pistols and rifles are Streamlight and Surefire. These two companies have so many options between them I guarantee you will find something that will fit your needs. There just is no excuse not to have a light on a law enforcement pistol or long gun anymore. 
Although, iron sights on an AR make a perfectly acceptable sighting system, optics make the AR-15 more effective. In this day and age, there's little reason not to add an optic of some kind. The most common choice for AR optics is the simple Red Dot/Holographic sights (RDS). Most law enforcement confrontations happen at short distances and the RDS makes for a quick sighting option. A possible enhancement to the RDS is a switch-to-side magnifier like this EOTech. This combination gives an officer the best of both worlds – quick sighting for close up and magnification for distance shooting – with a simple flip of the magnifier.
I've seen newer officers buy three-point slings, then single-point slings and finally settle on the more traditional two-point slings. In fact, I've seen it more often than not. I always encourage new officers to just start and end with a high-quality two-point sling because that's where they'll end up anyway. Two-point slings will do everything an officer needs to do without the complications incurred by the other two systems.
There is one particular issue I see with slings I don't feel gets enough attention. A two-point sling which is looped large enough to fit over an officer with body armor is also large enough to snag on everything in your patrol vehicle when you're in a hurry. Okay, maybe not everything, but I have about a 100% chance of snagging my sling on something when I'm in a hurry. The solution for this is simple. I like high-quality rubber bands commonly referred to as "Ranger Bands" for this problem. Just thread the band through the sling and fold it up into the band. When you need it, a light tug lets the sling expand and off to work you go.
Many departments and individual officers are wisely choosing short-barreled AR pattern rifles and with suppressors for close quarters work. There have been some serious inner ear injuries incurred by cops who were forced to fire unsuppressed AR carbines inside of a confined area. It doesn't happen every time, but it occurs often enough that suppressors are a good idea. When it comes to suppressors, Surefire makes one of the better systems out there.   
Among the many areas where AR-15 customization can be useful is grips, stocks and rails. Everyone is built a little differently and making your AR fit you is imperative. Handgrips, vertical and angled foregrips and hand stops can all help you do that. Rail sections allow you to add lights and lasers to your rifle.
One area where I see officers try to skimp is ammunition. Cheap ammunition is the primary sources of problems with function and zero that we see on the range. There's no need to buy match quality ammunition for practice and qualification, but there's no reason to buy the cheapest thing on the market that goes bang, either. I've had good luck with Federal/American Eagle for practice and qualification and Federal or Speer for duty ammunition. I'm particularly fond of Federal HST and Speer Gold dot in any caliber they're offered in. Those two rounds have been consistently performing in real-world encounters for a few decades now. Another less common accessory is spare parts. It's a good idea to have a basic lower parts kit on hand.
Modular and Adaptable
As you can see, I'm quite the fan of the AR-15 carbine for law enforcement. The biggest reason is because of its adaptability and modularity. We see a lot of folks struggle with shotguns and pistols, but almost anyone can shoot a properly-fitted and equipped AR-15 well. If you're one of the cops who hasn't entered the AR realm yet, I encourage you to do so. With the right accessories and some practice, you'll have one of the most effective force tools available to law enforcement today. 
About the author
Warren Wilson is a lieutenant with the Enid Police Department in Oklahoma. He is a former SWAT team leader, current firearms instructor and writer. He has been a full-time law enforcement officer since 1996.
Request information from OfficerStore.com
Thank You!