What did you do during lockdown? I built a rifle.
Despite my passion for firearms, I had never built my own rifle
---
While SHOT Show 2021 has been canceled, Police1 columnists will still be writing about their favorite fireams gear and gadgets. In this article, Sean Curtis details how he built his first rifle during lockdown.
2020 has felt like a series of kicks in the teeth for our profession in America. I'm not on the front lines anymore but I still have a vantage point that allows me to see what is happening in our country as it pertains to law enforcement. The stress of palpable vitriol from a growing segment of the public added to the omnipresent tension induced by the growing pandemic.
My family and I have locked down a couple of times this year, each experience less pleasant than the last. I had to conceive a plan that would tide me over during these trying times. Like thunder, the answer struck me! What if I slowly purchased parts and then built a rifle to while away the hours at home? Surely this would bolster my sanity.
Despite my passion for firearms, I had never built my own rifle. I had been assembling the tools to do so, but a lockdown finally seemed like the perfect excuse.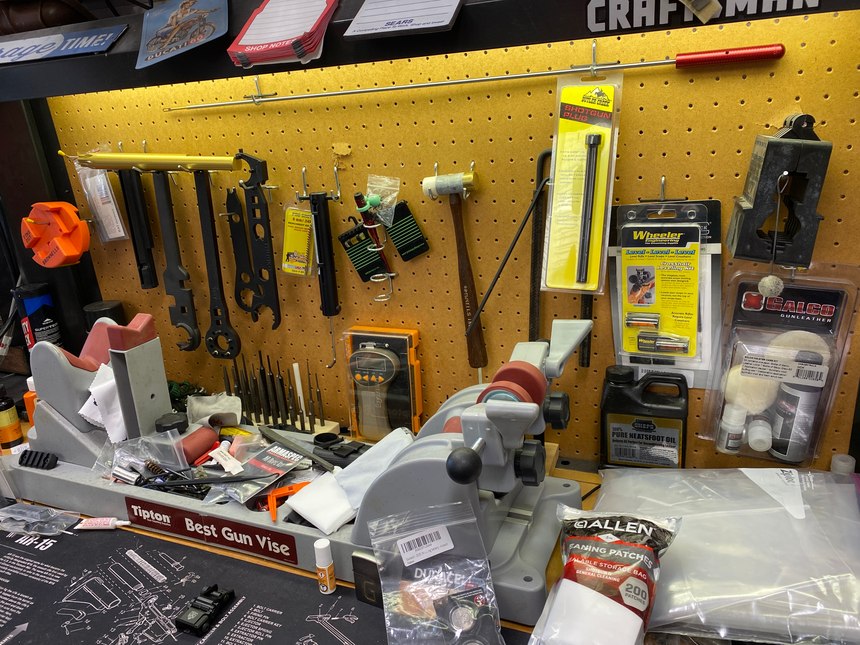 I got an AR-15 lower from Aero Precision and picked up a matching upper to go with my lower. I got an optic from Vortex to mount on the rifle and with a brace from SB Tactical, I had all the parts needed to complete my build.
Enter the expert
I had been through an armorer's course years ago but building a rifle (in this case, an AR pistol) from a pile of parts was something I wanted help with. I had wisely chosen Aero Precision's M4E1 lower and all the other accoutrements. I say "wisely" because friends recommended Aero's kits for their simplicity and no-hassle matching up of parts. I wanted to minimize my struggle, not add to my stress.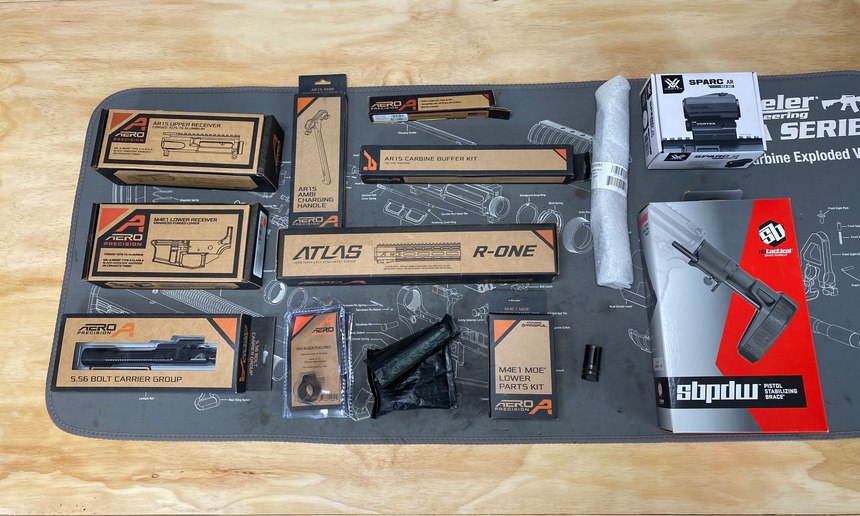 Colorado officer Chris Brown, a friend and neighbor who works uniformed patrol, knows a heck of a lot more than I do about building guns and he agreed to help when the time came.
It was December by the time I had everything ready to go. The wretched year was almost at an end. Chris came over on a Saturday and walked me through the assembly. Parts and ammo were as scarce as hen's teeth, so I was glad to have everything pulled together when I did. Over the course of a few hours, I learned the entire process. A lot of it was really simple, and a few areas were really tricky. Thankfully, Chris gifted me with the benefit of his experience.
Upper
We started with the upper and pretty quickly had the barrel mounted up. The barrel nut was super easy to install.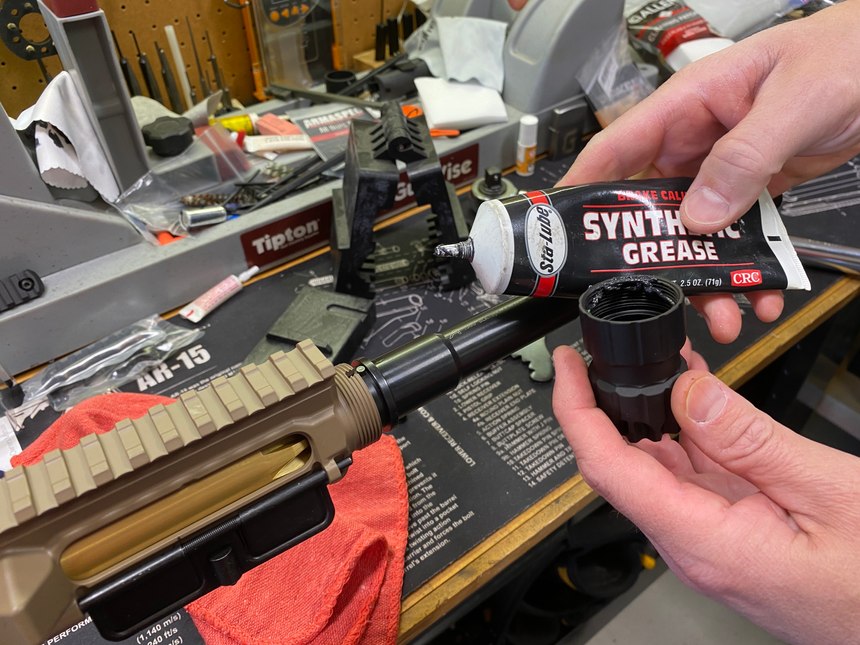 The gas block and gas tube were trickier. Specifically, getting the angle of the gas tube on the inside of the upper, where it mates with the bolt carrier group (BCG), correct was crucial.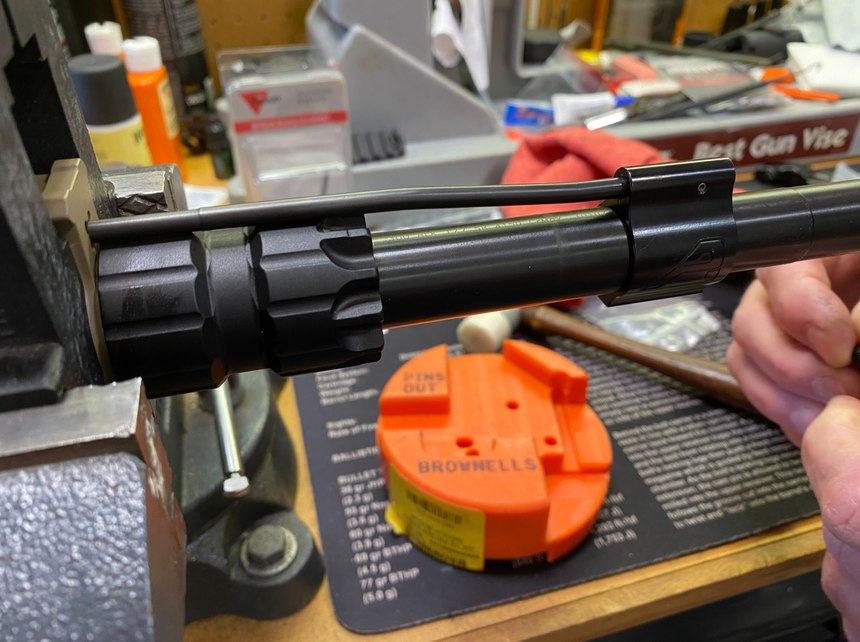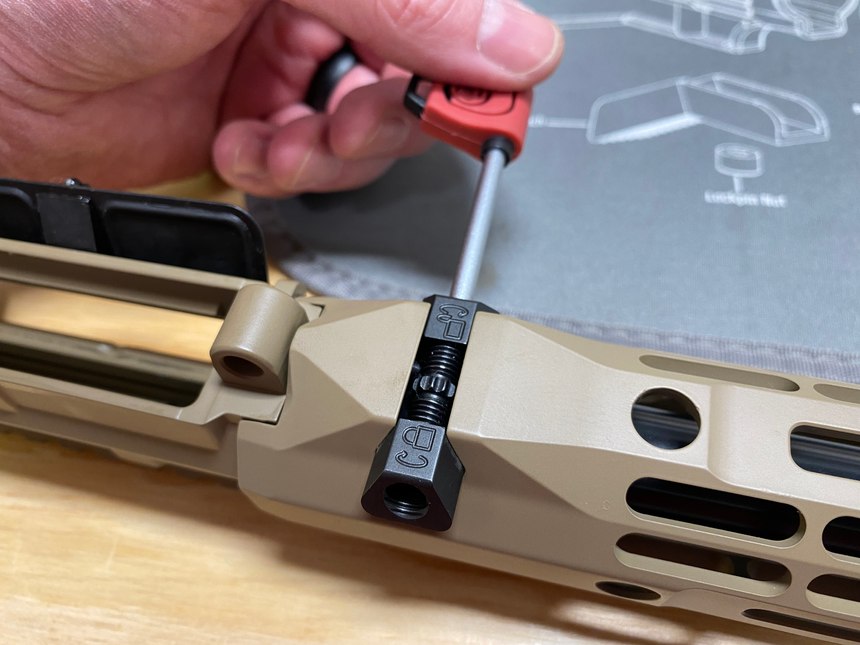 After accomplishing this, we installed the R-One handguard. Man, this was so easy and slick because it is impressively engineered. In addition to that, the handguard has great features like MLOK and QD points besides the obligatory Picatinny on top.
With the muzzle device (birdcage) mounted, the BCG and charging handle were installed making the upper complete.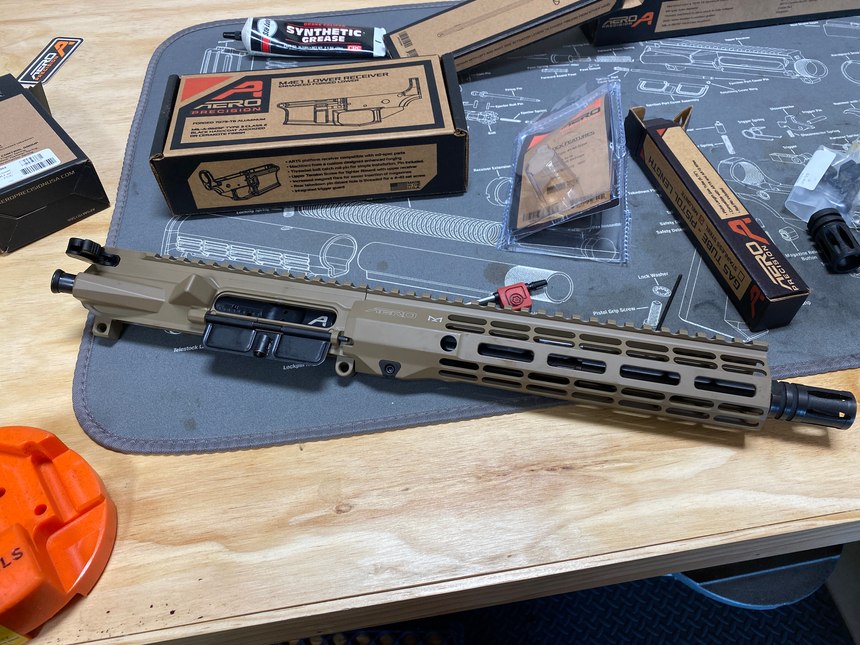 Lower
The lower was a little more challenging with tiny pins, detents and springs constantly threatening to launch across the garage to never be found again. I had an Oops Kit full of springs and other parts for just such an occasion but thankfully didn't need it.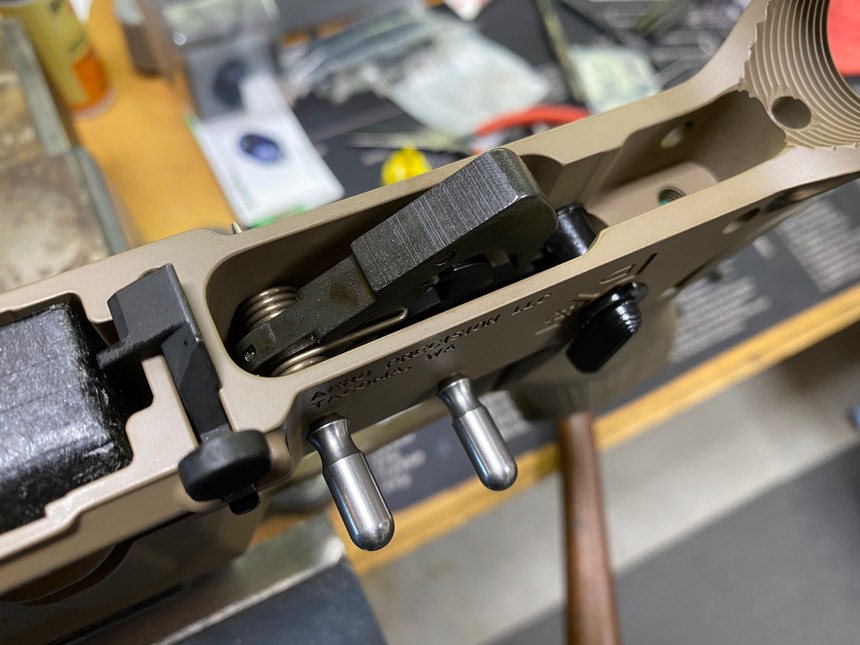 After making it beyond the pivot pin, we installed the trigger and hammer. Some special tools greatly aided with keeping things lined up for this process.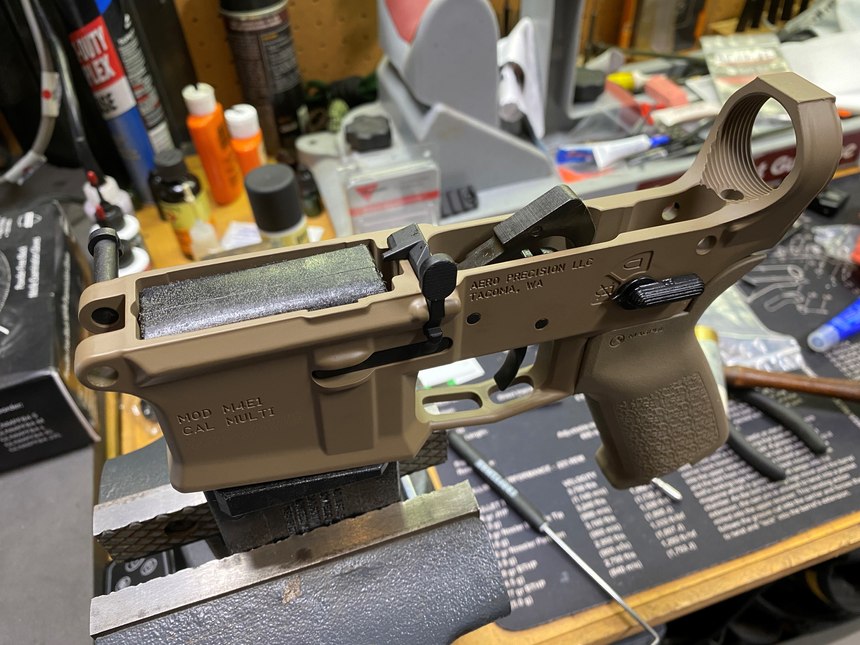 Next, the mag release, bolt release, fire selector and grip were added. Since this is an AR pistol, I chose the PDW brace from SB Tactical. This mounted up nicely and allowed me to shorten the overall length of the weapon for storage.
When this was complete, I mounted the upper and lower together. They mated perfectly with no slop, gap, or rattle.
The last piece was a SPARC Red Dot from Vortex Optics. With this mounted to the rail, I realized we were done and marveled at how quickly the whole thing came together.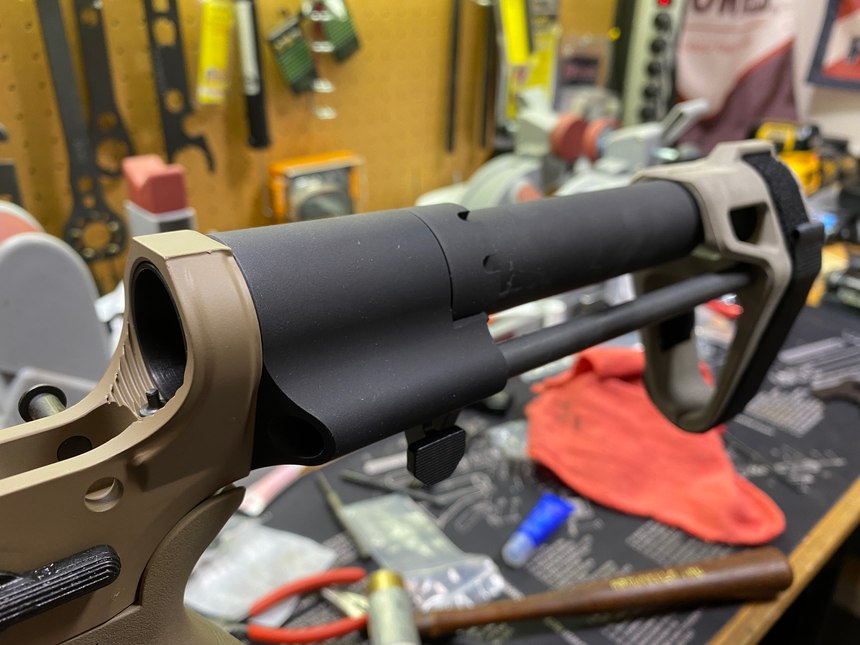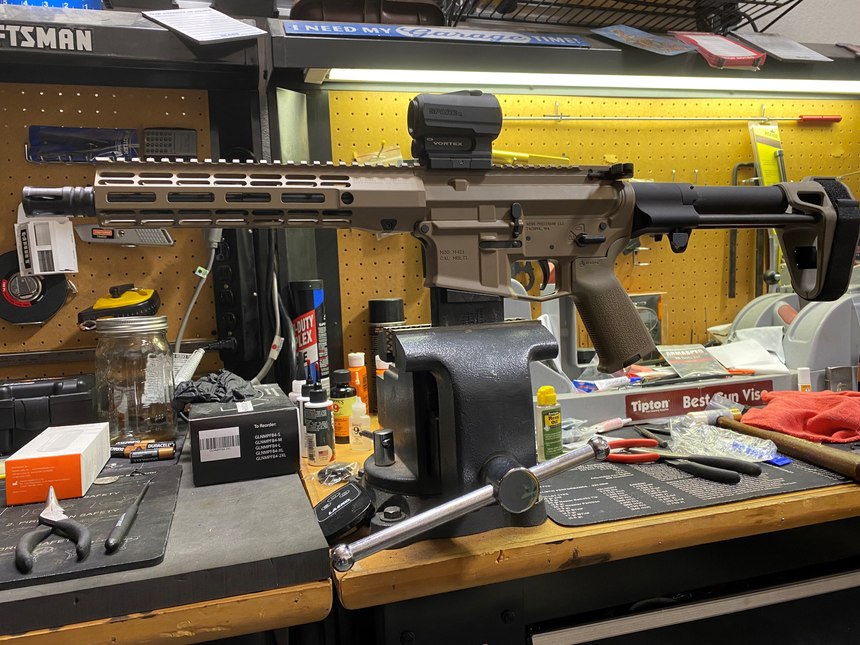 Testing
Even with an expert helping me, I still wondered about pulling the trigger on a firearm I assembled.
Setting it in the CTK Precision gun rest at the range, I began the zero process for the optic. All the crazy pressure of this year came down to one ultimate moment. I pulled the trigger. The gun fired and cycled flawlessly. There is a pretty amazing smell when you fire a new gun, this was no different. In the end, the fit, finish and performance were outstanding! I had built a .300 BLK AR pistol and I loved the results.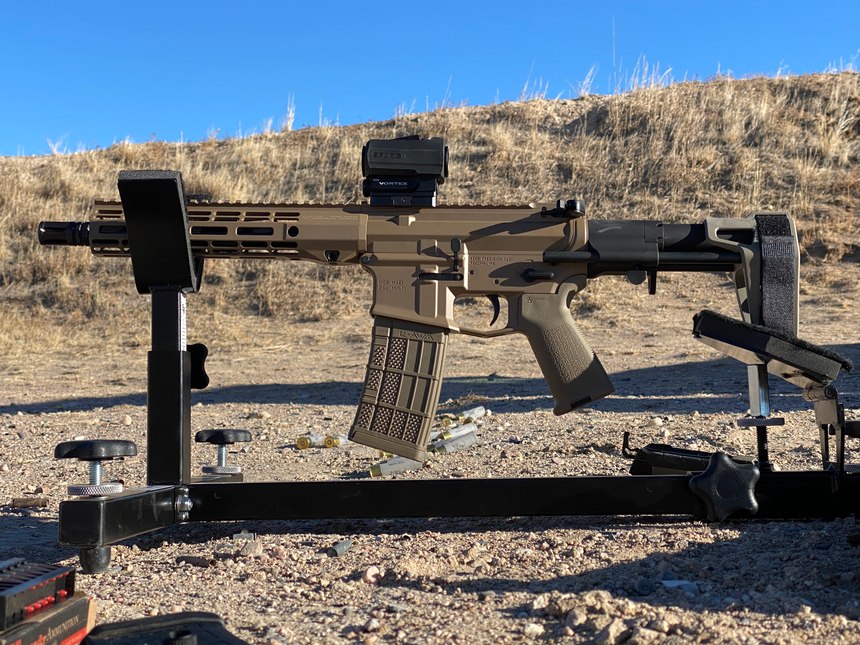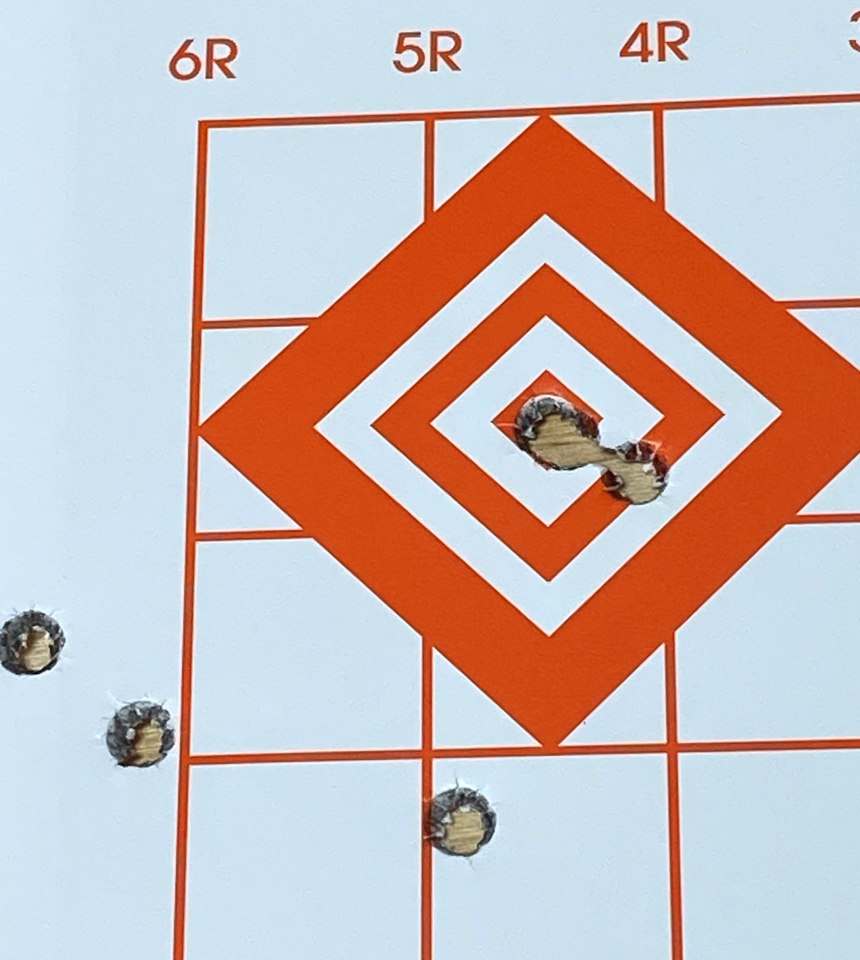 Aero Precision has some really cool kits that are tantamount to hoplophile Legos. With the right tools, you can put them together in a few hours and the assembly is very enjoyable. The process reduced my stress, and the end result gave me peace of mind for the uncertain future ahead.