PRESS RELEASE
Baltimore County's Mickle and McCampbell Take 3rd win at 2010 FNH USA/Leupold Long Range Precision Shooting Competition
---
(McLean, Va.) - Nate Mickle and Rich McCampbell of Baltimore County Police Dept's SWAT team once again nailed down the winning score in this year's FNH USA/Leupold Long Range Precision Shooting Competition in Ft. George G. Meade, Md. The team also won the competition in 2007 and 2009. Mickle and McCampbell won this year's event with a total aggregate score of 195.
In the "Everyone Loves an Underdog" department, Travis Booth and Gene Mullins from the Maryland DOC Special Operations Group captured second place, with a score of 193, using circa 1980s rifles with wooden stocks and their own personal scopes. "It just goes to show what hard work, physical skills and technical knowledge can do for a team; these guys really impressed the veteran operators," said match director, Sgt. Dan Weaver.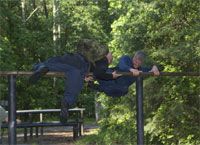 First prize winners each received FN A3G rifles and $1,000 gift certificates from Leupold and 2nd prize winners received FN A1 rifles and $800 Leupold gift certificates.  Third prize winners, Colin Renick and Justin Green of the U.S. Capitol Police, took home FN SPR rifles and $600 Leupold gift certificates.
 
With a score of 422, Darren Crandell of the Montgomery County Police Dept. edged out Gordon Campfield from San Diego by only one point to win the title of Top Individual Shooter.
Other highlights included:
The Poker Run: This stage included a 3.5 mile run-and-shoot while carrying related shooting gear. The team with the best poker hand – bullets striking a ¾ X 1" playing card coupled with the best time – won. The Washington D.C. Metro Police team took top honors in this event.
Obstacle Course and Urban Assault Phase: Competitors negotiated an obstacle course with one team member carrying a dummy rifle and the other, a 22 lb pack. It includes rope climbs, low crawls, wall climbs, and other difficult obstacles. After the team made it through the obstacle course, they picked up their real rifles and equipment and ran ¼ mile to Range 9, a 10-position urban assault course with rooftop shots, window and doorway shots and other situational shooting positions. Match winners, Mickle and McCampbell of Baltimore County, took top honors in this event for their speed and accuracy.
Approximately $3,500 was raised for the match's primary beneficiary, Special Forces Association (http://www.specialforcesassociation.org). SFA provides logical assistance to Wounded Warrior beneficiaries and their families. Another $1,600 was raised in the name of a recently fallen state trooper, Trooper Wesley Brown, by raffling a Leupold scope.
FNH USA is the sales and marketing arm of FN Herstal, S.A., Belgium. Its corporate mission is to expand its global leadership position in defense, law enforcement and commercial markets by delivering superior products and the finest in training and logistical support. Visit www.fnhusa.com to view the entire line of FNH USA products and services. FNH USA, P.O. Box 697, McLean, VA, 22101, U.S.A.