PRESS RELEASE
Beretta Trident Program Receives Sporting Classics' Award of Excellence
---
ACCOKEEK, MD - Beretta and Sporting Heritage Corp. are pleased to announce the Beretta Trident Program has received Sporting Classics' Award of Excellence for Shooting Sports.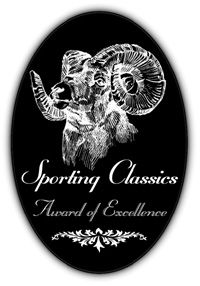 The award will be presented to Cav. Ugo Gussalli Beretta and Jonathan D. Sherrill, President of Sporting Heritage Corp. at the Safari Club International convention in Reno, Nevada on Friday, January 28 at 11:00 am. The presentation will take place in the Beretta Booth (#2015).
Each year the editors and writers of Sporting Classics magazine present Awards of Excellence across several categories to manufacturers, craftsmen and organizations whose innovative products or programs enhance or enrich the sporting experience.
The Beretta Trident Program received the Shooting Sports Award of Excellence, recognizing the Program's groundbreaking efforts in providing sportsmen and women with an objective rating system for hunting and shooting sports venues.
"We are honored to have the Beretta Trident Program recognized by Sporting Classics for the Program's contributions to bringing quality assurance to hunting and shooting experiences through its unique rating system and also as a valued resource for the shooting sports industry," said Jonathan D. Sherrill, President of Sporting Heritage Corp.
About The Beretta Trident Program
The Beretta Trident Program is a unique, quality rating-system that provides an objective assessment of the complete guest experience at a sporting venue.

Branded by Beretta, the Trident Program is the first of its kind and requires venues to undergo a detailed and specific assessment of every area that can impact the guest experience. Tridents are awarded to designate the venue's level of excellence – similar to the Michelin® Star program for fine dining.

The program will ultimately provide consumer confidence in the quality of the field sports, accommodations, and guest services when making a reservation with a Beretta Trident rated venue.
The Beretta Trident Program was conceived and developed by Sporting Heritage Corp, a field sport consultancy. SHC is responsible for conducting the evaluations, executing the brand qualification process, and ongoing quality assurance.  For more information please visit www.berettatrident.com