PRESS RELEASE
Charles "Tate" Moots of the FNH USA Rifle Team Takes Second Overall at the 2011 Sniper's Hide Match
---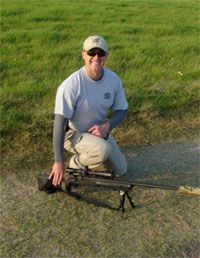 (McLean, Virginia) – Charles "Tate" Moots of the FNH USA Long Range Precision Rifle Team took second place overall with a score of 1305 of a possible 2300 points at the 2011 Sniper's Hide Cup in Kingsville, Texas. The overall match winner was Geordie Richardson of Weatherford, Texas, with a score of 1385/2300.
Moots fired an FN SPR A5M bolt-action rifle with a prototype chambering of 6.5 Creedmore, stoked with Hornady match ammo and topped with a Leupold 6.5x20 ERT scope. Moots also carried an FNX-9 pistol for the handgun stages in the match.
Moots emerged as the top finisher in the exciting Helicopter Stage, which required each competitor to engage a ground target from a flying helicopter with an FN SCAR 17S, and upon landing exit the aircraft and fire a five shot group with their precision rifle. The stage winner was slated to receive an SCAR 17S donated by FNH USA as a prize. Moots, in a great show of sportsmanship immediately donated his SCAR 17S rifle back to the match organizers so it could be awarded to a fellow competitor by random drawing.
Moots, an employee of the U.S. Department of Energy in Albuquerque, New Mexico, was among five members of the FNH USA rifle team in the competition. Other team members and their order of finish included Dave Neth of Emmitt, Idaho (31st) Jason Thompson of Coshocton, Ohio (32nd) Ben Voss of Warrenton, Missouri (43rd) and Justin Daley of Brunswick, Ohio (44th). The FNH USA rifle team is unofficially known as "Team Claw" in recognition of the massive external claw extractors on their FN SPR bolt-action rifles.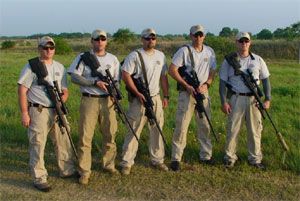 "The goal of the team was to place an FNH USA shooter in the top five of this competition, the 'Super Bowl' of long range shooting," said FNH USA rifle team captain Ben Voss. "With Tate's second place finish, we accomplished that goal. Tate shot three very good days and that is what it takes to win an event like this. It is a marathon, not a sprint."
"The entire team did very well in my opinion, and we look forward to competing again soon," concluded Voss. "Even if we all did not place in the top five, we all still enjoy shooting in these events and meeting fellow competitors."
Stage distances at the match ranged out to 1000 yards (yes, that's more than a half-mile!) and were based on real-life tactical situations. The three-day event ran from April 7 to 9 and was sponsored by Sniper's Hide, an internet-based rifle marksmanship information site, and was hosted by Rifles Only, a nationally known rifle marksmanship training provider. The match drew a total of 63 competitors from among the nation's best long-range rifle marksmen in the civilian, law enforcement and military communities. The 65 available slots at the match are normally filled in a matter of seconds via real-time online registration.
FNH USA is the sales and marketing arm of FN Herstal, S.A., Belgium. Its corporate mission is to expand its global leadership position in defense, law enforcement and commercial markets by delivering superior products and the finest in training and logistical support.