PRESS RELEASE
Del-Ton Officially Sponsors 3-Gun Shooter, Michael Chambers
---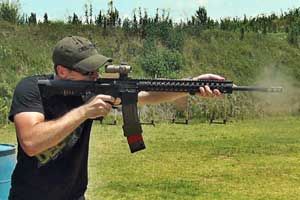 ELIZABETHTOWN, NC - Del-Ton Incorporated is pleased to announce its sponsorship of rising 3-Gun competitor, Mike Chambers.

Mike is shooting a Del-Ton custom configured AR-15 style modern sporting rifle with a 20" government profile barrel; PRI adjustable gas block; VLTOR rifle modstock; 15" Troy TRX Extreme Handguard, and JP trigger.

Relatively new to 3-gun competition, Mike - an Oklahoma native - is moving up the ranks quickly. At Superstition Mountain, he took 4th in the Limited Division and only weeks later, took an extremely close 2nd in Tactical Iron at the Midwest 3-Gun Championships in Fayette, Mo.

"I grew up the country, mostly outdoors and spent lots of time with .22's and shotguns," said Mike. When a friend introduced him to USPSA competition pistol shooting, he caught the bug and quickly moved into the 3-Gun shooting arena. "What draws me to 3-Gun is the remarkable skill set required to master all three firearms. When it all comes together for you, there's no better rush in the world," he added.

"We want to be part of supporting the growth of shooting sports and sponsoring an up and comer such as Mike, is a good way for us to be part of it," said Tony Autry, President and CEO of Del-Ton Incorporated.

About Del-Ton Incorporated
Del-Ton Incorporated is a manufacturer of AR-15 style modern sporting rifles and an online supplier for parts, upgrades, accessories, optics and custom rifle kits. Based in Elizabethtown, NC, all rifles and components for Del-Ton products are made in the U.S.A. and Del-Ton rifles carry a lifetime warranty for the original purchaser. Visit www.del-ton.com for detailed product information.