PRESS RELEASE
FNH USA Introduces First Conversion Kit for SPR Rifle
---
McLean, VA – FNH USA, LLC is proud to announce the availability of its new a Tactical Box Magazine (TBM) Conversion Kit for the FN SPR precision bolt-action rifle.  This new kit allows SPR owners to quickly and easily self-install upgrades such as higher capacity magazines and an ambidextrous magazine release button by using simple hand tools.
"We are pleased to offer this new TBM Conversion Kit," said Ken Pfau, FNH USA Senior Vice President for Law Enforcement and Commercial Sales.  "It was developed specifically for owners of the original SPR, which came with 4-round Detachable Box Magazines (DBMs).  The 'drop-in' capability of this kit not only takes the guesswork out of performing the upgrades themselves, but it also gives them an opportunity to economically upgrade their rifles to better meet their current shooting needs."
The kit contains one magazine bottom metal, one 10-round magazine, one 5-round magazine, new action screws and instructions for installation.  A 5/32" hex bit and inch/pound torque wrench are required for installation but are not included in the kit.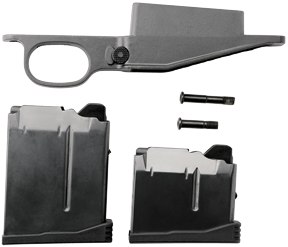 As part of a grassroots campaign to spread the word about the kit's launch, four top gunsmiths from around the U.S. specializing in custom long-range precision rifles were sent samples and asked to install and use the kit themselves:  American Precision Arms of Jefferson, GA, Crescent Customs of N. Kansas City, MO, Custom Blue, LLC of Newcomerstown, OH and Short Action Customs from Wellington, OH.
"Short Action Customs received two FN TBM kits," said Mark Gordon, President.  "We installed them on full-custom SPR builds and are very impressed.  They are strong, functional and ambidextrous kits that expand the capabilities of the original SPR DBM.  The magazines are well made, they fit great and offer shooters more features than other magazines on the market. Furthermore, no additional modifications to the action are needed to get these magazines to work, unlike other kits.  The FN TBM will be our Detachable Box Magazine of choice when upgrading or building a custom FN SPR."
"The FN TBM kit, as a direct conversion with little to no fitting required, is a major plus for my customers," said Tim "Moon" Roberts of Crescent Customs.  "The magazines are extremely well made and the design of the follower makes feeding flawless.  Its double stack design also makes for a very short 10-round magazine, which is a big plus for tactical competitors.  In addition, the ambidextrous magazine release is a very nice feature to accommodate the left or right-handed shooter.  Overall, this is a very nice conversion kit with a very affordable price tag."  
"The FN TBM kits are long overdue and I'm happy to finally see them hit the market," added Jered Joplin, president, American Precision Arms.
Kits are available now and are sold exclusively through the FNH USA E-Store, Brownells and Midway USA (item number 62655-01, MSRP $449). 
For more information on FN rifles and rifle accessories, visit www.fnhusa.com or the FNH USA Facebook Fan Page.
FNH USA, LLC is a U.S. subsidiary of FN Herstal S.A., a global leader in the development and manufacturing of high-quality, reliable firearms for the military, law enforcement and commercial markets. A pioneer in innovative firearm technology since the days of John M. Browning, the company supplies a variety of products to customers in more than 100 countries worldwide. Based in McLean, VA with manufacturing operations in Columbia, SC, FNH USA is responsible for all U.S.-based sales and marketing efforts.