PRESS RELEASE
Forster Offers Reloading Dies For New 300 AAC Blackout (300 BLK)
---
use if there is a picture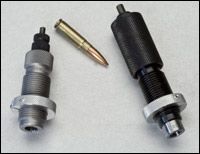 end picture
Forster Products has announced that its precision reloading dies are now available for one of most dynamic tactical calibers: the new, compact, high efficiency 300 Blackout (300 ACC). Forster is one of the first die manufacturers to offer the new caliber for the AR platform and some bolt action rifles. Both seating and sizing dies for 300 BLK are available from Forster including Forster's full length sizing die, Bench Rest Seater die, and Ultra Micrometer seater die. Forster has finetuned the internal dimensions of the dies so they're slightly smaller than the original 300 ACC specs.
300 Blackout (300 BLK) is a high performance, compact round developed by Advanced Armament Corp. as a method of launching 30 caliber projectiles from the AR platform without a reduction in magazine capacity and while retaining compatibility with the standard bolt. Some bolt action rifles area also now being chambered for the 300 BLK. The 123 grain supersonic option matches the ballistics of the 7.62 X 39mm AK round and generates substantially more energy substantially more energy than either the 5.56mm M855 or 6.8 SPC TAP 110. A subsonic 220 grain round is also available for use with a suppressed AR.
For more than seventy years, Forster Products has developed and manufactured precision reloading equipment for shooters who are passionate about accuracy, repeatability and reliability. The product line includes Forster's patented case trimmer system, the acclaimed Co-Ax(R) Reloading Press, and five different kinds of precision reloading dies in a broad caliber selection.