PRESS RELEASE
Fort Collins Police Department selects SIG SAUER Electro-Optic for Patrol Rifles
---
Colorado-based Police Department to Issue ROMEO4 Red-dot Sights
NEWINGTON, N.H. — SIG SAUER, Inc., announces that the Fort Collins "Colorado" Police Department has selected the SIG SAUER ROMEO4™ as its new duty optic.
The ROMEO4 red-dot sight was chosen by the Ft. Collins Police Department after an extensive, multi-week testing and evaluation period. The testing, which included individual officer evaluations, resulted in the department's decision to replace its previously issued red-dot optics with the new model from SIG SAUER.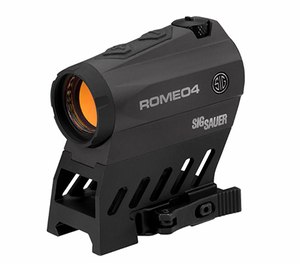 The Department has completed the 30-day transition period for each officer and the ROMEO4 is currently being used in the field. The optic's performance during testing, ease of use, size, low-light application capabilities and quick target acquisition continues to earn the ROMEO4 high marks by multiple officers.
"The selection of the ROMEO4 by the Fort Collins Police Department and the other agencies is a testament to the fact that the SIG SAUER brand is coming full circle as 'The Complete Systems Provider™.' Our Electro-optics line complements our acclaimed roster of firearms and is another example of the type of quality products SIG SAUER offers," said Tom Jankiewicz, Executive Vice President of Law Enforcement Sales for SIG SAUER.
Unlike holographic aiming systems, the ROMEO4 utilizes a proprietary ultra-efficient red LED illumination system for superior daylight visibility with extended run times. The extremely strong and lightweight aircraft-grade CNC aluminum housing ensures a lifetime of reliable service. The SIG SAUER ROMEO4 red dot is designed to remain parallel to the bore of the firearm regardless of the viewing angle. This intuitive design also allows users to keep both eyes open during operation.
For extended use, the ROMEO4 features the SIG SAUER Motion Activated Illumination System (MOTAC™). This unique system activates through motion-sensing technology, powering up illumination when the unit senses motion and powering down when the red-dot is not in use to extend battery life. Additional features available on the ROMEO4 include a dual reticle option, allowing officers to toggle between a 2 MOA red dot and a circle dot (2 MOA Circle-Dot/65 MOA).
Each ROMEO4 is fully supported by the company's Infinite Guarantee™.
SIG SAUER® INFINITE GUARANTEE™
We will repair or replace your SIG SAUER product in the event it becomes damaged or defective, at no charge to you. If we cannot repair your product, we will replace it with a product in perfect working order of equal or better physical condition. It doesn't matter how it happened, whose fault it was, or where you purchased it.
Please note that our Infinite Guarantee excludes coverage for intentional damage, misuse, cosmetic damage that does not affect the performance of the optic, loss, theft, or unauthorized repair or modification. All electronic and Tritium components are covered for 5 years from manufacturing date, please see website for full details.
For more information and to see the entire lineup of SIG SAUER Electro-Optics visit http://www.sigoptics.com/. Follow SIG SAUER on social media, including Facebook at www.facebook.com/sigsauerinc, Instagram at www.instagram.com/sigsauerinc, and on the SIG SAUER YouTube channel at www.youtube.com/user/sigsauerinc
About SIG SAUER, Inc.
SIG SAUER, Inc. is The Complete Systems Provider™, leading the industry in American innovation, ingenuity, and manufacturing. SIG SAUER® brings a dedication to superior quality, ultimate reliability, and unmatched performance that has made it the brand of choice among responsible citizens, and many of the world's most elite military, government, and law enforcement units. SIG SAUER offers a full array of products to meet any mission parameter, from handguns and rifles to silencers, optics, ammunition, accessories, and ASP (Advanced Sport Pellet) airguns. The largest member of a worldwide business group of firearms manufacturers that includes SIG SAUER GmbH & Co. KG in Germany and Swiss Arms AG in Switzerland, SIG SAUER is an ISO 9001: 2008 certified company with more than 1,400 employees. For more information on SIG SAUER, any of its products, or the SIG SAUER AcademySM, log on to www.sigsauer.com.

Request more info from SIG SAUER Inc.
Thank You!