PRESS RELEASE
President George W. Bush Receives Beretta SO10 EELL Shotgun at SCI
---
ACCOKEEK, MD - Beretta presented President George W. Bush with a custom-made SO10 EELL Shotgun before a crowd of nearly 3,000 at the  final dinner for the 38th annual Safari Club International Convention in Reno, Nevada.
Dott. Franco Gussalli Beretta whose family owns the nearly five-hundred year old company – Beretta, presented this very special 20-gauge over-and-under to President George W. Bush in of appreciation for his leadership during his time in office as Commander in Chief and for his unflagging support of Americans' rights to keep and bear arms.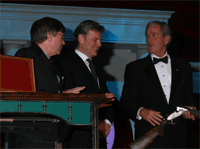 "My family and I are very proud to be able to present President Bush with this Beretta shotgun", said Dott. Franco Gussalli Beretta.  "Several years ago my father gave a shotgun to President Bush's father at the Safari Club Convention- now I am honored to have the privilege to present this shotgun to the 43rd President of the United States, George W. Bush".
The shotgun was made exclusively by master craftsman at the Beretta firearms factory in Gardone Val Trompia, Italy. It is inlaid with 24 carat gold and features traditional quail hunting scenes on both side plates.  The top lever is adorned with the number "43" and the bottom of the receiver shows the Presidential Seal.  President Bush's initials and an image of his dog are also engraved on the gun. More than five hundred hours have gone into the engraving of the shotgun. The stock and fore-end are carved from the finest walnut.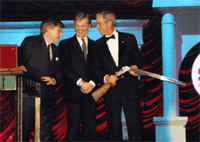 The SO10 EELL Shotgun was presented to President George W. Bush by Dott. Beretta. A custom Italian leather gun case with handmade gun accessories, as well as a Damascus steel knife with engraving and wood matching the gun, were presented to President Bush by Mr. Peter Horn, Vice President of Beretta's U.S. retail sales corporation.
Beretta, established in 1526, is the oldest industrial dynasty in the world tracing its roots through 16 generations of continuous family ownership. Firearms bearing the Beretta name have been sold for almost 500 years.  Beretta USA Corp. was founded in 1977 and supplies the standard sidearm to the U.S. Armed Forces.  Today, Beretta manufactures, distributes and markets a complete line of firearms, accessories and apparel.  Beretta also owns and operates six retail Beretta Gallery stores worldwide. For additional information, visit www.berettausa.com.