PRESS RELEASE
Southern Police Equipment celebrates 40 years of protecting LEOs
---
RICHMOND, Va. — As the state's premier police equipment distributor, Karen Allan Ballengee specializes in keeping law enforcement officers safe. Southern Police Equipment, located on Midlothian Turnpike across from Virginia State Police headquarters, has been selling body armor, shields, bulletproof plates and ammunition — along with apparel and other police equipment — for more than 40 years.
In a field dominated by men, Southern Police Equipment stands out as one of the only police equipment distributors managed by a woman. Ballengee is the sole owner of the business, and has been fighting to supply the state with the best body armor on the market.
"There's nothing compared to this," she says, holding up one of her top-of-the-line body armor plates, which is able to withstand multiple rounds from a high-caliber rifle. "We carry what I believe to be the best in or out of the country. Our shields take multiple rifle hits, as do our pistol shields, and our vests are also cut especially for females.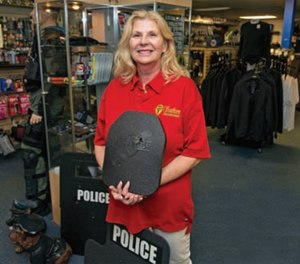 "My belief as the owner of Southern Police is that our officers should have the best, and it should be mandatory to wear soft armor."
Southern Police is under federal contract to supply the Federal Bureau of Prisons with stab vests, and under contract to supply more than 7,000 products, including body armor, shields and other law enforcement equipment, to the federal General Services Administration. Ballengee says doing business with the state, however, is often difficult — and fraught with politics. Especially when it comes to body armor.
The state's current body armor suppliers are based mostly outside of Virginia, she says, and they have a stranglehold on contracts to supply armor to law enforcement. Her equipment is as effective if not superior — Southern Police is a distributor for the premier body armor manufacturers in the U.S., Survival Armor and ATS — to what's currently available on the market. In the process, Ballengee says, the money state taxpayers are spending to protect our police officers is being sent outside the state, and in some cases outside the United States.
"Our body armor is actually better priced than what they have today," she says of the state's law enforcement officers. "We exhausted our resources trying to talk to the state, the top state officials. Now we have a call in to the governor. No luck there yet, either."
Based in Chesterfield, Southern Police also sells firearms and supplies to the general public — but Ballengee's passion has always been protecting the protectors. She also sees an opportunity to make our schools safer with bulletproof doors and possibly desktops, if she can get anyone in Washington to listen.
"If we can do all of these things for our officers," she says, "can you imagine what could be done within our schools to protect our children?"
About Southern Police Equipment
Southern Police Equipment is a family - operated business established in 1971. Owned and operated by Karen Allan Ballengee, whose goal has always been to offer the best quality products and sales representatives available.

Request more info from Southern Police Equipment
Thank You!