PRESS RELEASE
Walther Arms extends 'Shoot Safe and Look Good' promotion
---
FORT SMITH, Ark. – Due to popular demand, Walther Arms is extending the deadline for the Shoot Safe and Look Good promotion! Consumers now have an additional month, through August 31, 2023, to purchase a new Walther Rimfire handgun and receive a free pair of Leupold Payload performance eyewear.
Don't forget to submit a valid receipt showing the purchase within the timeframe along with a picture of the box (serial number included) at the following link: Walther Rimfire & Leupold Promotion - Shoot Safe and Look Good
"Summer has always been a time for having fun, so why not expand upon that by adding more time to hit the range before the summer ends? Because we've had such a great response from consumers and our retail partners, we've decided to extend our Shoot Safe and Look Good promotion through the end of August," said Rob McCanna, CEO of Walther Arms Inc. "It's very exciting when you are not only promoting responsible firearm practices and safety, but also giving back to those who continuously support the brand. It doesn't hurt to provide more opportunities to practice, get great gear, and have some fun along the way."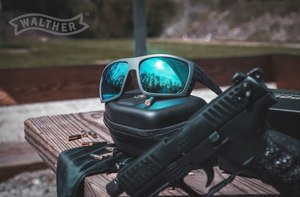 Walther .22 Rimfire Models Included:
*This promotion does NOT include the Colt 1911 .22 series or the Hammerli Tac series.
Promotional Details:
The consumer must submit a valid receipt showing their purchase of a new Walther .22 Rimfire model within the giveaway dates/timeframe (between 06/30/2023 and 08/31/2023). Submission of a picture that shows the label on the box, including the serial number, is also required on or before September 31, 2023. Performance eyewear redemption will take 2-5 weeks for processing and handling.
Only one redemption per serial number is allowed. Multiple redemptions will be allowed to consumers who purchase multiple pistols. Dealers are also encouraged to submit a redemption for their consumers if assistance is needed. Consumers must be over the age of 18 to participate and follow all state, local and federal regulations.
Walther Arms Inc. reserves the right to modify, change, deny or discontinue this rebate at any time for any reason.
About Leupold Payload Performance Eyewear:
The Payload was designed for anglers and outdoorsmen who live life outside. Featuring Lens Ventilation and In-Fused Polarization, the Payload maintains a clear image while eliminating glare. Combine that with ANSI certified frames and ballistic-rated, shatterproof lenses, and you've got unmatched protection and clarity that every outdoor athlete demands.
ANSI Z87+ is a ballistic rating that meets or exceeds ANSI high-velocity impact standards for eye protection using prescription lenses. MSRP: $189.99
About Walther
"It's your DUTY to be READY" is a message of sincerity that Walther must build the best performing firearms. It is a message to every shooter who understands the importance of firearms safety and the inalienable right to bear arms. It is a message to clearly and concisely show that Walther is doing everything in its power to support shooters everywhere with not just the absolute best in firearm innovation and performance but also access to the best training and informative firearms community. History has shown Walther's dedication to this message, beginning in 1886 and continuing today, with the innovative spirit that builds off the invention of the concealed carry gun by creating duty grade weapons such as the PDP and world-class rimfire products such as the P22 and WMP. Walther will continue its long tradition of technical expertise and innovation in the design and production of firearms to meet the demands of any customer. Excellent service and superior quality will continue to be benchmarks of Walther's success.

Request more info from Walther Arms, Inc.
Thank You!