Spotlight: CMC Government Supply a reliable, affordable one-stop shop for all police equipment
Customer service provides a personal touch that police appreciate
---
Company Name: CMC Government Supply        
Headquarters: Dallas, Texas
Signature Product: Law Enforcement Security Products
Website: http://www.cmcgov.com/store/pc/home.asp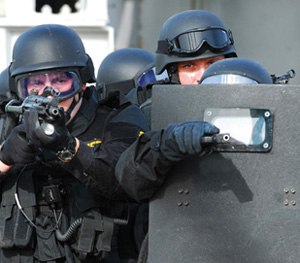 CMC Government Supply is an authorized distributor for a wide variety of specialized products, from firearms and firearm accessories to ballistic armor, K-9 training accessories, less lethal weapons, optics, scopes, medical products, flashlights, eyewear, and much more. Most of their products are used for military, intelligence, homeland security, law enforcement, public safety and general government applications.
Where did your company name originate from?
CMC was founded in 1988 as a company providing analytical consulting services to both government and commercial customers. As we evolved the company over the years, we adopted the name CMC Government Supply which better describes our focus on supplying government end users with the best quality products at low government prices.
What was the inspiration behind growing your company? 
Our government customers kept asking us to add more and more different products to our assortment because they liked our customer service and our fast response time to their requirements. Over the years we have evolved into the company we are today. Currently we offer over 200,000 unique products to all of our customers nationwide.
Why do you believe your products are essential to the police community?
They are essential because they help to keep those who put their life on the line for us daily as safe as possible. Our professional law enforcement and public safety customers could not do their job as well as they do without the products we supply them every day.
What has been the biggest challenge your company has faced?
The biggest challenges we have faced were in response to several tragic events in our nation. Over the years, several of these events have created a huge demand for but not enough product available to meet the demand of our law enforcement customers. We worked in partnership with our manufacturing partners and vendors to prioritize shipments to our law enforcement and first responder customers. We take pride in the fact that we supply our customers with what they need as soon as possible. The positive result was that we met all of our promised delivery windows and have experienced growth and matured in the process.
What makes your company unique?
There are three main things that separate CMC Government Supply from most of the other distributors who supply law enforcement and public safety customers.
First, CMC is unique because all of our law enforcement customers have direct access to our president and owner. We are not aware of any other supplier that has their top executive available to work with any agency at any time to take care of their needs and get things done quickly. 
Another unique benefit CMC Government Supply offers is the direct relationships we have with the manufacturers of the products we supply law enforcement. We have been able to supply customers with products others have not because of these relationships we have with our product vendors. 
Last and most important is we have credentialed police officers on our staff in direct sales and training roles.  We have the expertise and can serve Public Safety better because we have full time employees who have served as full time police officers, SWAT operators and are still credentialed reserve officers today.
What do your customers like best about you and your products?
Of course we have to have low, competitive pricing to earn our customers business, but we go way beyond just being the low price supplier. Customers like our fast response time to all of their requests. In addition to our full-time staff, the owner of CMC is always available to assist them in expediting any of their requests. They also love our customer service, where you actually get a live person to talk with. The fact that we are a small business and have a personal touch rather than having to work with someone who can't get the job done quickly is a common compliment we receive.  Working with our sales staff, customers can see that we have something better to offer than just a low price.
What is the most rewarding part of serving the first responder community?
It is a great community to be a part of. We are proud of not only our employees who protect and serve, but all of our customers who protect and serve every day. They are often called on to do things that most citizens would not even be able to think of doing.  We have come to know them on a first name basis and many are like family to us.  The greatest reward comes in knowing that we are providing them with the best products available, at the best price possible and faster than anyone else so they can be safe and go home to their loved ones each and every day.
Do you support any charitable organizations within public safety?
We do support our first responder charitable community. Most recently, we donated hundreds of Limited Edition T Shirts to the Guns & Hoses Foundation of North Texas 13th annual Boxing Tournament. The Guns & Hoses Foundation of North Texas provides financial support for the families of men and women who have lost their lives in the line of duty while protecting ours.
Is there any fun fact or trivia that you'd like to share with our users about you or your company?
Our president has a book that is ranked #149,087 in the Amazon Kindle Store.
What's next for your company? Any upcoming projects or initiatives?
We have some great plans for the future.  In addition to hiring more law enforcement professionals and adding some exciting new product lines as we grow, we plan to continue doing what we do best, reaching more public safety departments and agencies and supplying them with great products and our famous low pricing.