Guns, firearms accessories and training gear to check out at SHOT Show
Duty gun cameras, dry fire training, CQB in a box and much more
---
While I put some manufacturers on my SHOT Show "must-see" list, others come to notice when I walk past their booth and see something that catches my eye.
On my first day walking the show floor, I saw things I really didn't expect. Let's see what I found.
Viridian
This company is known for its green lasers, but they make a whole lot more. As Viridian President and CEO Brian Hedeen said, "This SHOT Show will be the best ever. We have big new product announcements coming soon." I visited them in booth 10617.
Viridian's FACT Duty Gun Camera features an HD camera, microphone and 500 lumen tactical light with a removable, rechargeable battery (Figure 1). The FACT Duty is available with or without an integrated laser and interfaces with popular BWC video management software. The camera turns on when the firearm is drawn and cannot be disabled by the officer. Unlike a BWC, the gun camera stays focused on the officer's target and provides crucial audio and video data when a deadly force incident occurs.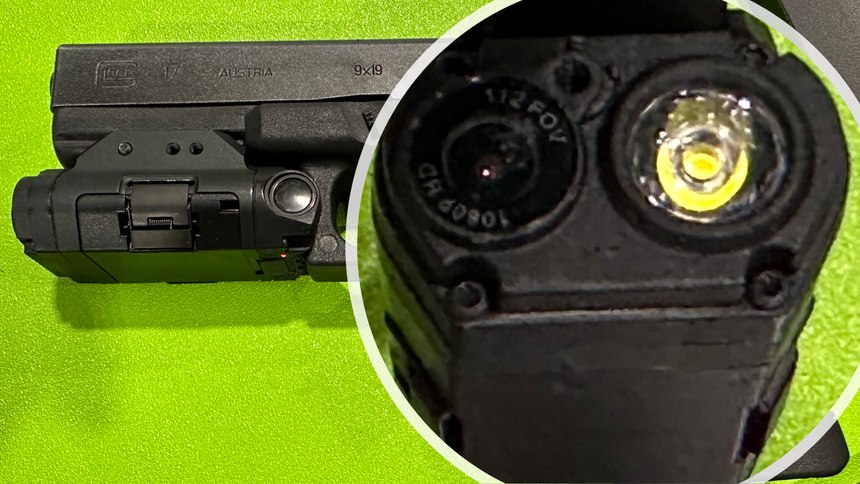 Figure 2 shows the soon-to-be-released RFX 45 GDS (green dot sight) up top with a C5L laser/weapon light on the rail. This closed emitter sight shares its shape and size with the ACRO – and has the same mounting footprint. It features a 24 x 15.5 mm objective lens with unlimited eye relief, has a 5 MOA green dot with fully multi-coated glass and 10 brightness levels (8 visible - 2 night-vision). MSRP is $459 and an RMR and Glock MOS plate are available.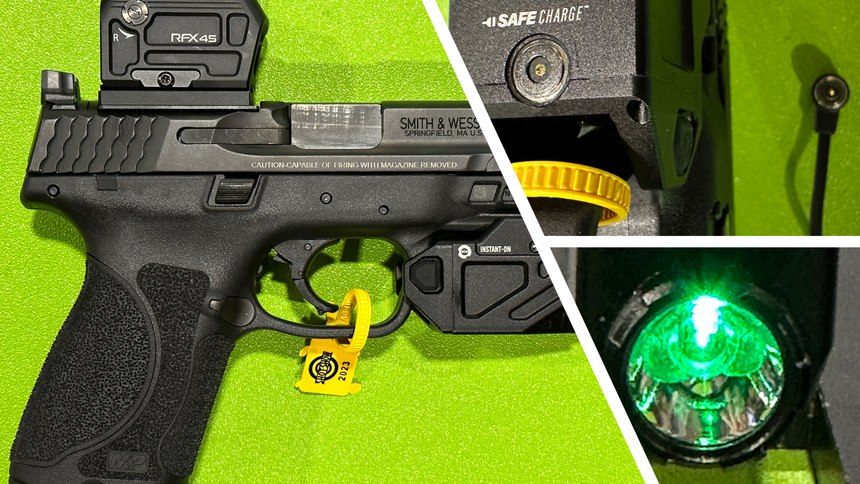 I was really pleased that Viridian's C5L laser/weapon light with SafeCharge magnetic charging system puts the laser behind a "punch out" in the light's reflector up top – close to the bore to decrease parallax error, unlike brands that put the laser below the light. The C5L is an 850-lumen tactical light with an internal rechargeable battery and features manual activation buttons or INSTANT-ON when the weapon is drawn from a TacLoc holster. MSRP is $229. Viridian also is in booth 20053. 
DryFireMag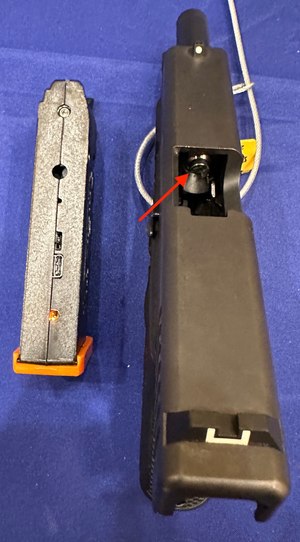 I covered DryFireMag on one of my first SHOT Show visits. The company makes a magazine that resets your trigger every time it is pulled when inserted into the magwell of a compatible firearm. Why is this important? If you do dry fire practice on a firearm that is not DA/SA, you or someone else needs to rack the slide every time – and this can lead to bad muscle memory that will cause you to throw good ammo away with every shot on the range or when defending yourself.
A "live" trigger is especially important when learning to draw from holster, and with the increase in people getting their carry permits, this is a huge market.
When you draw from holster, you want to know whether your first shot is on target. To this end, they have released the Smart DryFireMag (figure 3), which in addition to resetting the trigger also activates the included laser cartridge, letting you use it with many laser targets on the market.
The DryFireMag mobile device app lets you set the number of rounds in the mag to force reloads, or you can enable "Hollywood mode" so that your mag never runs dry. MSRP for the system is $270. Since I am such a huge fan of the Laser-Ammo target system, I'll be dropping by their booth today to see if I can talk them into a partnership with DryFireMag. Stay tuned! DryFireMag is in booth 31501. 
Laser-Ammo
Speaking of Laser-Ammo, they had two booths this year: 20557 in the law enforcement section and 14854 in the consumer section. I am a huge fan of the company's training products and used them to keep me up to speed when the ranges shut down at the beginning of COVID-19.
New for law enforcement are their CQB in a box and Shot Body systems (Figure 4). Both have been in development for nearly three years and can work separately or in concert. 
The CQB (Close Quarter Battle) in a box mounts three modified versions of Laser-Ammo's consumer-level laser shot detection system on a body-sized cutout that is mounted on a stand that can be placed nearly anywhere. The body can be rotated to make it appear to be peeking out from behind cover. Pre-cut Laser-Ammo targets can be slotted into each sensor unit, or white paper with markings can be used. LE MSRP for a 3-pack is $2,100.
The Shot Body system is based on traditional laser tag concepts, but with a twist. It consists of a MOLLE vest and six 2" LED-driven shot-detecting sensors along with a laser cartridge that works in any gas-operated recoil-simulating firearm.
Laser-Ammo's extensive intellectual property is built into its laser cartridge and sensors. Like all Laser-Ammo cartridges, the visible or invisible laser beam is modulated with a digital code. In the Shot Body system, the codes are used to define the "color" of the shooter for marking. Think paintball where different shooters use different colors so that the evaluator knows who hit who.
By swapping the endcap on the laser cartridge, the sensors will light up red, yellow, blue, green, or pink when hit. But they don't just light up, they blink for the number of times they were hit by each shooter. So, you might see one sensor blink pink three times and green twice. The sensors can be programmed for 1 shot to kill (e.g., head or heart shot) or 3 shots to kill (e.g., abdomen).
Sensors can be placed on lower extremities and set for bleed out when hit. If the victim can place a tourniquet on the limb and reset the sensor within two minutes, they live. If not, the player bleeds out from their femoral artery, the sensor lights up white, and they are out of the game. The idea is to train LE to self-treat and stay in the fight. LE MSRP is $900 for one cartridge and 6 sensors. Additional laser cartridges can be bought separately.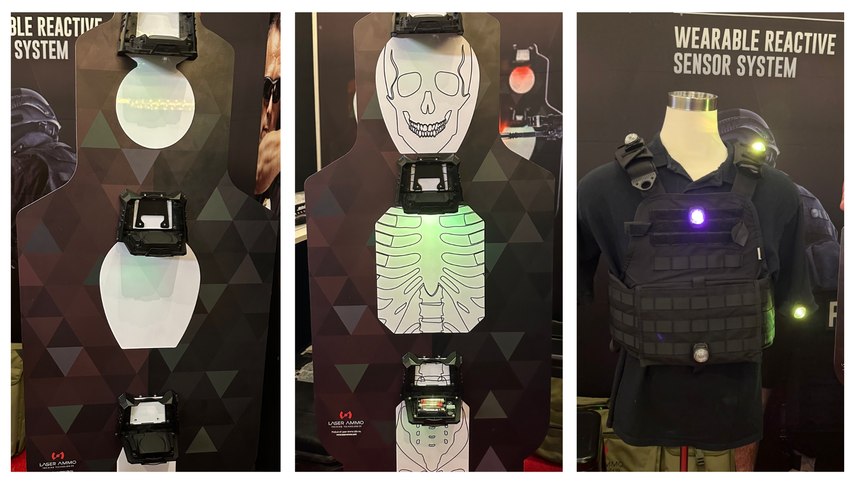 Mesa Tactical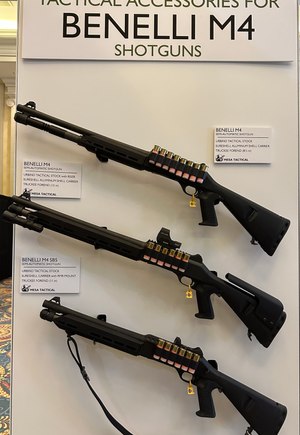 Mesa is one of my must-see vendors because I am a huge fan of scatterguns and have them as my first choice for home defense. Many agencies that swapped shotguns for patrol rifles several years ago now are making space for both in their patrol cars.
First up is the Truckee Forend (Figure 5) for Benelli M2/M4 and the Beretta 1301 semi-autos. The M-Lok compatible aluminum forend has glass-filled nylon end caps and is designed and manufactured in the USA, which steers you clear of Section 922r of the US Code.
In case you aren't aware, Section 922r of the US Code, Title 18 is a regulation that pertains to building or modifying a semiautomatic rifle or shotgun from imported parts. This law impacts importers, manufacturers, gunsmiths and anyone else who assembles their own firearms – with no carve out for law enforcement. The forend is available in 8.5, 11 and 15" for the Benelli (MSRP $110-$150) and 13" for the Beretta (MSRP $140).
Also on offer is Mesa Tactical's integrated SureShell side saddle with an integrated RMR footprint RDS mount (more footprints are coming!) for the Beretta 1301 Tactical (Figure 5). MSRP is $90-$110.
For those of you who like stockless, short-barreled shotguns, Mesa has the FALLON rail w/SureShell Carrier for short guns, available for the Mossberg Shockwave and Remington TAC 14, with the TAC 13 version shipping soon (Figure 6). MSRP is $195-215.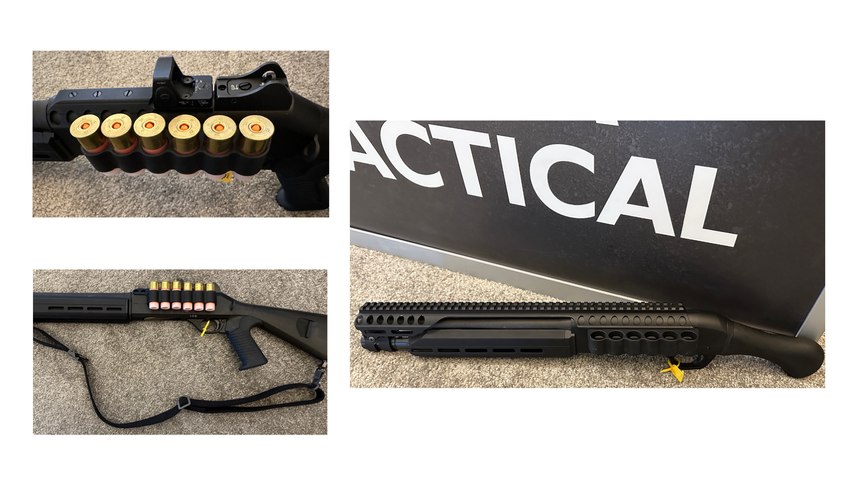 Staccato
While many agencies spec a more mainstream duty sidearm for their patrol units, hundreds of agencies have approved Staccato 2011's for on- or off-duty carry. I spent some time at the range with Long Beach (California) Police Department Rangemaster Sgt. Pat Dogherty. Pat tells me that in his opinion, "Staccato has revived the 1911 as the quintessential carry gun for law enforcement."
New for 2022 is the highly anticipated CS, which some may think is simply a smaller version of their concealed carry C2. But the CS is a completely new firearm with patent-pending innovations that I believe may be incorporated into the rest of the line in the future:
A much narrower magazine, grip (1.2") and frame (1.45" at the safeties) with a "loss" of only one round from the C2 which has a 1.3" grip and is 1.5" at the safeties.
A fluted barrel to dissipate heat faster.
The rails are now continuous and the arrows and oval show off the carbon cuts and oil groove for improved self-cleaning and oiling.
Easily removable Dawson toolless recoil spring.
Tactical grip pattern, more like the 2022 grip on their full-size models.
Even though this $2,499 firearm looks small, I had no problem knocking down plates and hitting steel at multiple distances that I would not have thought possible. Staccato reps know that everyone is waiting for their pre-orders, and they said they will begin shipping in the next couple of weeks.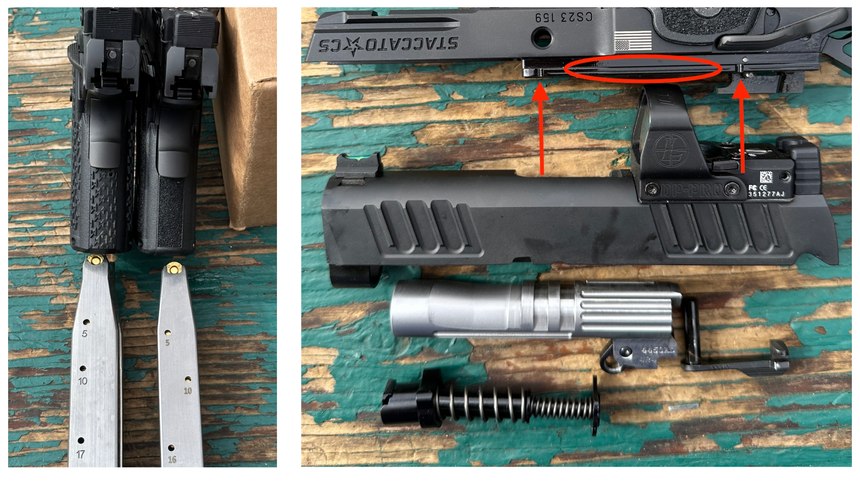 Stay tuned for more SHOT Show coverage from Police1 as my fellow columnist Lindsey Bertomen and I hit the show floor running.

Request product info from top Police Firearms Training companies
Thank You!