Q&A: Navy veteran and industry expert on live-fire training, future tech
Learn how a former Navy search-and-rescue swimmer turned his love of service into a career supporting law enforcement and military personnel in one of the most innovative live-fire training companies in the world
---
The following is paid sponsored content by Meggitt Training Systems.
By Police1 BrandFocus Staff
Those who commit their lives to their country often carry that spirit of service into their civilian lives.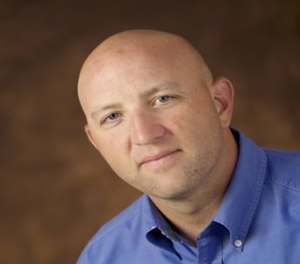 This is true of Meggitt Training Systems VP Jon Read, who is a former U.S. Navy search and rescue swimmer and CONREP for the U.S. Army Corps of Engineers, where he built live-fire ranges before joining the company.
Here, Read shares his thoughts on how a spirit of teamwork led him to a career at one of the most innovative live-fire training companies in the world.
How did your naval experience and training prepare you to be a business leader at an international live-fire and virtual training company?
The training the military provides each of its members really prepares you to be successful in your future endeavors.
My experience as a search-and-rescue swimmer in the U.S. Navy taught me to never quit and to persevere no matter what the task.
It also taught me how to work as a team, depend on your team, and support team members. This lesson provides you with the foundation for success.
What does it mean to help lead a company that is known for decades of innovation in both simulated and live-fire training?
It is an honor to be associated with such a prestigious company. Our customers, as well as our employees, are the best in the world, and it is a pleasure to serve them.
In 1926, Meggitt's legacy company, Caswell International, launched the world's first target system. How did this invention revolutionize live-fire training?
With the first target system, trainers and trainees were able to maximize their time and perfect their skills. This holds true today and continues to advance with technology.
What is the relationship between Caswell International, a trail-blazing live-fire company, and Meggitt Training Systems?
In 2003, Meggitt acquired Caswell International. The acquisition was based on Caswell's reputation as an innovator in the live-fire shooting industry with the first patented bullet trap and the first production target system.
In 2008, Meggitt merged Caswell and Firearms Training Systems (FATS) to create Meggitt Training Systems. This merger capitalized on Caswell and FATS synergies to provide both live-fire and simulation training as an integrated product offering.
In 1989 the company launched another innovation: the GranTrap rubber bullet trap. How does this help live-fire ranges be more efficient?
The trap provides maximum versatility, allowing customers to use the range in a dynamic fashion by approaching targets in close proximity.
Customers can also mine and recycle the spent rounds in the trap, providing a revenue offset for the customer.
In 2011, the company introduced a revolutionary new product for the industry, the XWT, the world's first 360° wireless target carrier. How did this invention change live-fire training?
Meggitt's XWT moves along a rail system, powered by an internal direct-drive, dual-motor system, with anti-static wheels for quieter, smoother operation. A rechargeable battery automatically charges via a self-docking station. The XWT's unique closed-track design provides smooth target transportation, without collecting lead fragments, casings or other debris.
The XWT provides a quiet, smooth and low-maintenance, easily operated and programmable – which is essential for successful training and usability.
Why do law enforcement officers need regular live-fire and virtual training?
Both arenas provide the opportunity for real-world scenarios to be rehearsed in a safe training atmosphere, and ensure the practice of proper techniques required with today's law enforcement training.
Meggitt Training Systems offers both live-fire and virtual training solutions, essential for the successful preparation of law enforcement officers in real-world situations.
What is a live-fire trend to watch?
LEO shootings have been in the news lately, highlighting the need for judgmental training with both new officers and existing officers. We have a combined live-fire/virtual judgmental product that provides officers training in a safe environment to hone their skills using loaded firearms and making quick decisions.
In addition, we're investing in research and development to provide officers with the most advanced virtual training scenarios and systems to create that heart-racing feeling, usually only experienced in the field during pursuit.
What products can we expect from the company in the next five years?
Meggitt Training Systems is leading the way in weapons training solutions today -- and in the future. We are designing data-rich solutions to provide officer training analytics for further weapons training improvement and readiness in the field, dubbed the Range Master Control System.
To learn more about live-fire and virtual training, visit Meggitt Training Systems. 

Request information from Meggitt Training Systems
Thank You!