It's about camaraderie, not competition: Where firefighters and officers get fit and have fun
The 'Olympics' for public safety officers and firefighters is an event of kinship and connections
---
Sponsored by California Police Athletic Federation
By Yoona Ha, Police1 BrandFocus Staff
When police officers and firefighters mingle off duty, it's often under tents with foldout chairs and the smell of cigars and hot dogs wafting across the green at a summer barbecue. But this laid-back approach isn't the only way public safety pros build camaraderie.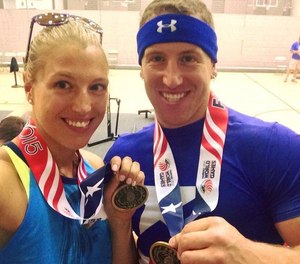 Since 1967, California law enforcement agencies and now a growing number of police and fire departments across the United States come together to compete and build relationships through sports. From basketball to cornholing, officers and firefighters can compete in over 70 sports categories at the annual United States Police & Fire Championships.
For California law enforcement agencies, the 'Olympics' for public safety officials is a familiar event that was once known as the California Police Olympics. Founded by a San Diego Police Department lieutenant who wanted officers to improve their physical well-being and build rapport with other agencies, the 53-year-old nonprofit organization that runs the event evolved over time, and the scope of contestants has expanded to include officers and firefighters from all over the country.
Not a sports standout? That's OK.
It's a common misconception that individuals who participate in the Police & Fire Championship games are professional, accomplished athletes who double as law enforcement agents by day. In fact, Edmund Russell, a former Los Angeles Police Department sergeant and treasurer of the California Police Athletic Federation, hears that a lot.
"You don't have to be or feel like you're in top physical condition to join the games. We're more focused on building a community and accomplishing something together," Russell said. "Personally, I've been competing in the games since 1988 when the former Police Olympics were held in Bakersfield, California. My first World Games was in Melbourne in 1995."
Unlike the actual Olympic games, this event also includes a wide range of nontraditional Olympic activities such as dodgeball, indoor soccer and even billiards. (Check out the full list of sports on their site.) The program is open to full-time or honorably retired law enforcement officials, including border protection, corrections, customs and probation officers and firefighters in the U.S. There are 3,000-plus medals up for grabs across 2,100 divisions, weight classes and categories, and an increasing number of agencies (450 and more) compete year after year.
A firefighting duo takes action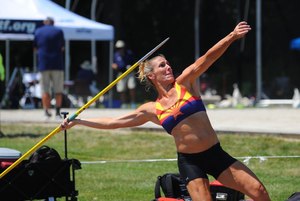 Just a few years ago, Sara Shisslak, a paramedic and engineer for Tempe, Arizona, considered herself a former athlete who was looking for opportunities to get back into the game. But in 2011, she heard about the United States Police & Fire Championships from a friend who played ice hockey and recommended that she try running track for an upcoming competition.
"I pitched the idea to go to the games in New York to my brother, and when we went, we had such an amazing time," said Shisslak. "I needed to find something that motivates me outside of work, and the games became that kind of opportunity."
So she tapped into her upbringing playing soccer and running track, and her college experience as a thrower on Arizona State University's track and field team, and started competing in the annual games with her brother, Erik Shisslak, who's also a firefighter. In 2011, the brother-and-sister team placed in 10th in the Toughest Competitor Alive event, which takes place over four days through eight phases, from a 20- foot rope climb to a 100-meter swim.
Fast-forward to 2017: The Shisslaks struck gold and became the first U.S. team in 2017 to win first place in 16 years.
"I remember us being so proud of each other for pushing ourselves and sharing such an amazing moment as a family," Shisslak said. "But it's important for us as first responders to take the time for ourselves to be emotionally, mentally and physically healthy for ourselves."
The firefighting siblings enjoyed the camaraderie and community at the games so much that in 2012, they started their own nonprofit organization, Arizona Firefighter Athletics, to get more first responders to compete in the U.S. Police & Fire Championships by helping them finance the cost of participating.
"The best advice I can give to anyone who's interested is to do the hardest part first," said Shisslak. "Get registered for the games and put yourself out there to take advantage of this amazing experience."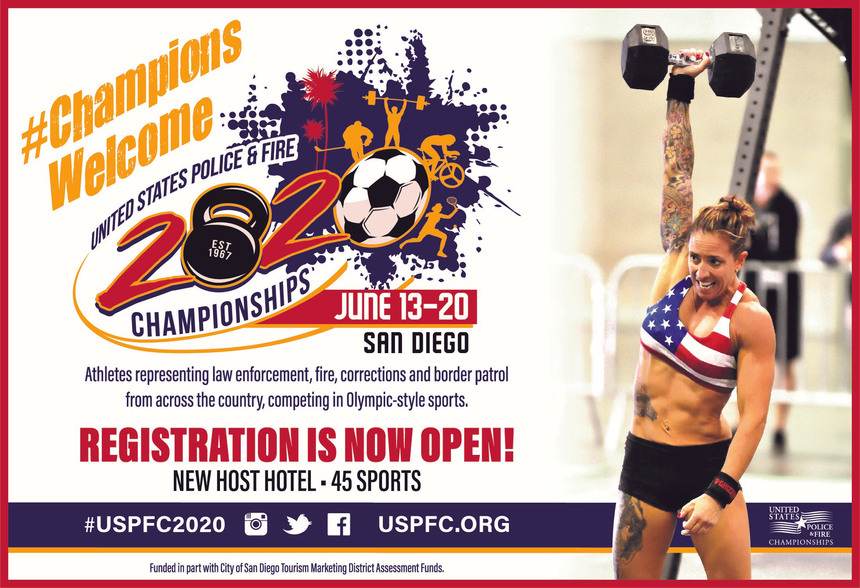 This article was funded in part with the City of San Diego Tourism Marketing District Assessment Funds.

Request information from California Police Athletic Federation
Thank You!