We take care of our own: Enter your agency's safety or wellness program in the National Officer Safety and Wellness Awards
Through the Destination Zero program, NLEOMF and DOJ help cops come together to encourage and support officer safety and wellness
---
Sponsored by National Law Enforcement Officers Memorial Fund
By Police1 BrandFocus Staff
More than 100 law enforcement officers have died in the line of duty so far in 2019. Although this number marks a drop from the previous year, it remains a sobering statistic. Destination Zero, a national officer safety and wellness program, aims to keep that number falling. Its goal is to provide law enforcement with successful strategies for reducing line of duty deaths and injuries while also supporting safe and healthy working environments.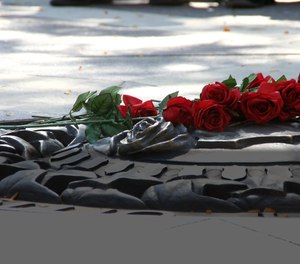 Funded by the Department of Justice, the program is a collaborative effort between the National Law Enforcement Memorial and Museum and the Bureau of Justice Assistance. It was inspired by the need to do more for a profession that suffers on average 150 LODDs a year, innumerable physical injuries and a growing mental health crisis.
Celebrate Your Success 
Destination Zero is designed to help agencies improve the health and safety of law enforcement officers across the country. To that end, the program is searching for successful programs and strategies through its award program, which annually recognizes four agencies with the National Officer Safety and Wellness Awards to acknowledge their safety and wellness initiatives in four categories:
General Officer Safety (personal protection, tactical training, reducing job-related injuries, etc.).
Officer Traffic Safety (reducing traffic-related injuries or deaths, enhanced driver training, adopting new safety technologies, etc.)
Officer Wellness (physical fitness, mental health, suicide prevention, stress reduction, etc.).
Comprehensive Safety (the most comprehensive and strategically implemented officer safety or wellness program overall).
The judges will consider, among other things:
Effectiveness of the program itself.
Employee acceptance of the program.
The program's ability to achieve long-term sustainability.
To be considered for the 2020 National Officer Safety and Wellness Award, you must apply by December 31, 2019. Visit the awards page for details on how to enter.
The awards will be presented in Washington during National Police Week in May, and the winners will be featured on the Destination Zero site, both for honors and so others can learn from their success.
"We have 20 winners over five years, and we are in our sixth year of promoting the program and sharing innovative safety and well-being programs to further the cause of safety, resiliency and retention," said Nick Breul, a retired officer and senior project manager for the National Law Enforcement Memorial and Museum.
This year's winning programs include a program to replace out-of-date ballistic vests, an incentive-based safe driving initiative, a wellness and resiliency unit/peer support team and a mental health program that includes an annual individual debriefing with a trained law enforcement psychologist so officers can discuss the traumas and stresses of the job.
Share What You've Learned 
More important than the awards, though, are the resources available on the Destination Zero website –the information, techniques and strategies that are being shared by police, for police. Agencies around the country have agreed to share what they've learned so that other agencies can take advantage of the information and build their own successful programs to support and protect their officers. There are over 200 resource items in the database, with more being added regularly.
By gathering this information from agencies and sharing it online, says Breul, Destination Zero has identified some of the simplest yet most effective strategies to make the job safer, including things like magnetic microphone mounts that help officers keep their eyes on the road while driving, or altering seat belts to prevent officers from having to lean over a suspect in custody. The resources also include techniques that agencies have used to improve their officers' tactical safety by supplying them with tourniquets, enhanced ballistic protection, training and easily deployable shields and weapons to address active shooters.
You can search the safety resources available through Destination Zero to find a particular topic of interest, such as peer support, suicide prevention or mental health. Several successful peer support groups programs are featured, including some that pool resources and engage different police agencies to cooperatively provide needed peer counseling and confidentiality. This way, an officer can speak to another police officer outside his or her immediate department for both empathy and discretion.
Other shared resources include speed reduction policies and electronic monitoring to reinforce safe driving habits, incentive programs that promote physical well-being, financial counseling and crisis intervention policies.
"We want those agencies that need help to use the resources available and to contact us for technical assistance," said Breul. "We are here to help them with their approach and to ensure that they have the key elements to success. We can refer them to those agencies that are similar in size and configuration to speak to their chief or sheriff about how they developed their program and what were the pitfalls and problems."
Does your agency have an innovative safety or wellness program that encourages and supports your officers? If so, Destination Zero wants to hear about it. If not, check out the site to learn what has worked for other agencies.
"This is all about saving lives, reducing injuries, helping officers have a successful career and making it to retirement," said Breul.

Request information from Destination Zero - NLEOMF
Thank You!