Why personnel shortages aren't a problem for Fort Wayne police
A text-based app powers a broad-based recruiting effort
---
Sponsored by Interview Now
By John Erich, Police1 BrandFocus Staff
The summer of 2020 was a difficult time for America's police. Departments that year were buffeted by a pair of historical challenges: the COVID-19 pandemic and public anger over a handful of high-profile deaths that boiled into a long season of sometimes-violent protests.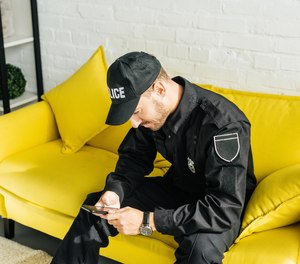 Amid those twin obstacles, many agencies found it increasingly difficult to recruit new officers. Like many jurisdictions, that was the case in Fort Wayne, Indiana. In response, police leaders embraced a series of proactive measures aimed at helping bring new talent aboard, including becoming one of the first users of the recruitment platform Interview Now.
Three years later, the Fort Wayne Police Department is near full capacity – a rarity among modern PDs – and credits Interview Now as a big part of the reason.
"You see stories about departments that are really struggling – they're short 100 officers, 200 officers. That's not us," said Officer Doug Weaver, who oversees FWPD's recruitment. "We keep pushing and stay real close to where we want to be on our numbers. I think it's a testament to staying engaged on all fronts."
Relationships are key
In Fort Wayne there are multiple fronts, including a dedicated recruiting website and social media pages aimed at drawing new members. But central to it all has been Interview Now, a text-based platform that streamlines and facilitates communication to help recruiters not only keep in easy touch with potential candidates, but shepherd them in a focused way through the steps that turn candidates into officers.
With Interview Now, departments can quickly add and contact candidates interested in joining, prescreen them, answer their questions, develop rapport and keep engagement high to sustain their initial interest. Candidates experience a responsive process that keeps them informed, actively helps them along and generally makes them feel valued. At a time when those seeking law enforcement jobs have lots of options, it's a way for departments to distinguish themselves and personalize a hiring process that can be impersonal and slow.
"The way society has moved to texting, it's worked out well for us," said Weaver. "Even folks who have participated with us but not made it all the way through often tell us how well the process went, how good the interaction was, how professional everybody was and how quick we were to answer."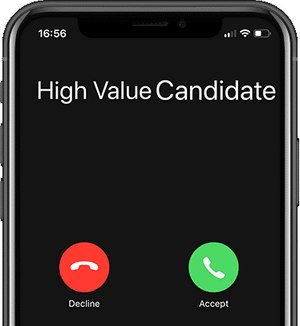 The key to that feeling of goodwill is one-on-one relationships. While Weaver is FWPD's only full-time recruiter, he's backed by a team of colleagues, all active patrol officers, who serve as assigned points of contact for candidates and guide them through various steps of the process. This creates a type of mentor relationship that can last well into employment.
"We looked at some of the research around how the military recruits, and they found no matter what they did, they couldn't replace that relationship the recruiter had with somebody enlisting," Weaver noted. "So that's what we try to achieve, that one-on-one kind of relationship."
Interview Now offers a range of features to supplement the efforts of those recruiters. Beyond individuals, they can sort candidates and bulk two-way text-message groups; screen, prequalify and fast-track candidates based on their own criteria (e.g., college degree, foreign-language proficiency); connect candidates to recruiters with live phone calls and schedule text-back requests; send invitations and track attendance at events; and track their department ad spending and analytics. The company has also paired with Rockbot TV to air departments' video recruiting ads at participating gyms locally and at more than 2,200 locations across the nation. 
FWPD builds a pipeline
Interview Now calls its approach "mobile-first recruiting": a fast-moving, high-touch process that's primarily driven by personal devices. Its strategy acknowledges the realities of today's job market – requiring resumes by mail or email and responding weeks later is going to cost you good candidates – and also takes the edge off the wariness some people may have about engaging with police.  
"The whole idea of Interview Now is to get that quick engagement with candidates," said the company's CEO and cofounder, Rob Cate. "Being able to start the process from your phone and then continue it on the phone makes things go a lot faster and easier."
The text-based approach especially resonates with younger workers. The open rate for messages sent via Interview Now is 99%, and the response rate is more than 50%, with an average reply time of six minutes. Prospective recruits can join the candidate pool in various ways, including by texting in or being added by departments if they've signed up at an event or made contact some other way.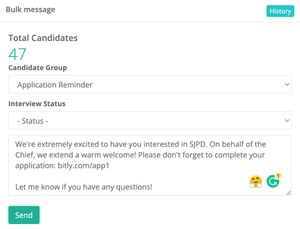 Beyond recruiting for today's needs, FWPD has also leveraged Interview Now's group functions to identify and engage with candidates for tomorrow – developing a kind of pipeline approach that reaches out early and cultivates for the long term.
"We may go to a college or career fair and have an 18-year-old come up and express interest," explained Weaver. "Well, if you're not 21, I can't help you, but what I can do is give you some resources. I'll give you our website and some things to look at. And if you text into Interview Now, I'll put you in a future contact list. Then in three years you'll get a text from me that says, 'Hey, you reached out in 2023 and were interested in working for our agency. You're now eligible to apply. Are you still interested? What questions can I talk to you about?'"
It works similarly for those who struggle with fitness. FWPD developed its FORT (Future Officer Readiness Training) program after seeing unprepared candidates fail the department's physical testing. It essentially allows delayed entry, military style, while prospects who struggle with a practice fitness test bring themselves up to snuff. Interview Now keeps them linked to their recruiters and peers as they prepare. The recruiters monitor progress and offer advice and encouragement through the process.
It's an ounce of preparation that's paid off.
"We had some people who failed the practice test and just outright told us, 'I really thought I could do it,'" Weaver said. "By the third FORT meeting, we noticed a handful had improved tremendously and were passing the minimum standards. These are applicants we might have lost without this program, because they would have showed up ill-prepared, failed and maybe never come back. Now we have them prepared for at least that one portion and invested in coming back for it."
What are you getting for your spending?
Money always matters to limited public safety budgets, and Interview Now additionally provides users with referral and advertisement analytics to evaluate how their efforts are paying off. That starts with basic measures like how many candidates are in the pool, in active contact and getting hired. It tracks incoming traffic sources, with a lead-capture function to capitalize on interest from departments' social media and websites. Departments can create an unlimited number of these, using QR codes or sharing direct links to funnel users, and know exactly who's coming from where. That lets them emphasize the sources bearing the most fruit.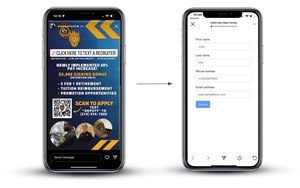 Fort Wayne's department recently began doing this. Under a new recruitment project called "My City. My Department. My Campaign," partner organizations in the community can request free unique QR codes from the department. Placed on those entities' websites or other materials, they steer interested prospects to the PD and tell Weaver's team where they originated.
The department is "using the program to build on the relationships we've already built in our community through community-oriented policing," Weaver said. "Our goal is to connect with businesses, organizations, churches and interested citizens to help us identify and connect with potential qualified applicants they believe would be good public servants in our city." That also gives those stakeholders a voice and an interest in the types of citizens who might become police and ultimately helps the department better reflect its community.
Interview Now also provides monthly performance-tracking reports that help leaders evaluate their efforts and ROI and identify areas for improvement.
"A lot of departments are starting from the place of, 'We need to advertise and spend money to get people to come to our department,'" Cate said. "But they're not yet thinking about, 'How do we measure results? How do we measure success?' They've not had to think that way before."
FWPD is among the agencies thinking that way now. In addition to using Interview Now's broad analytics capabilities, Weaver and his team track other key data as well – for instance, maintaining a spreadsheet with more granular details about referrals.
"That just provides more data about where they come from," said Weaver. "Was it a friend who sent them, or a family member? Was it an officer or their family? Was it a Fort Wayne officer or someone from another agency? Because if that agency is telling people about us, we might want to go advertise in their jurisdiction.
"I think it's important to constantly be evaluating everything you're doing, even with Interview Now. And when I sit down and look at it – was our applicant pool bigger or smaller than last time? Did this or that ad work? – I ask if Interview Now made things easier and better. And every time, I find it worked exactly like I needed it to work. I'm able to communicate with people extremely fast, and that's what's important right now."
For more information, visit Interview Now.
READ NEXT: A Texas sheriff is beating the hiring crunch with the help of a new tool 
Request information from Interview Now
Thank You!