Policing drones are on the rise, but can they share information fast enough?
3 officers share how one video streaming app is changing the game
---
Sponsored by LETS Corp.
By Yoona Ha for Police1 BrandFocus
During COVID-19 lockdown, cities like Paris and New York are seeing a new type of officer on the prowl: drones.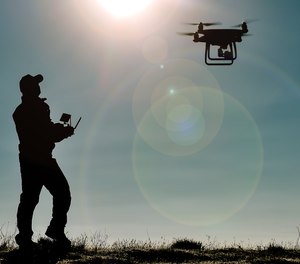 Besides making sure that people are staying far apart, law enforcement-controlled drones act as eyes in the sky for search-and-rescue operations, videographers for surveilling large events, and traffic coordinators, just to name a few. As drone technology evolved, so did its applications in law enforcement. A 2018 survey by the Police Executive Research Forum revealed that of 282 departments surveyed, 47% already used drones. The report also highlighted a pervasive information gap among officers on best practices for getting the most out of their drones.
Policies and procedures for policing drones are still very much a gray area in law enforcement. Not surprisingly, advice on best practices for using drones to an officer's advantage is few and far between. To find out how agencies today have developed their drone programs, Police1 interviewed officers from Elgin, Illinois, Oconee County, South Carolina, and Fullerton, California.
In Elgin, Illinois, drones are the new road accident investigators
In Elgin, Illinois, a city just northwest of Chicago, police drones started taking off when they began documenting traffic-related accidents and crime scenes.
Sergeant Marcy Kogut works with a crew of eight officers who make up the Elgin Police Department's drone program. Several years ago, when the department started using drones, it began by using them to respond to calls for missing individuals and natural disasters.
When the agency expanded its use of drones into documenting evidence at crime scenes and traffic scene reconstructions, it saw a perfect use case. Today, Kogut said drones easily stand-in for traffic units that used to come out and measure by hand using tape and chalk.
"We used to have traffic units come out and do the measuring by hand, but now they did away with that, and now we're using drones for traffic reconstruction -- it's significantly faster and safer," said Kogut.
That meant doing away with the chalk marks, tape measures and laser scanners to measure the accident. As a result, long delays in road or lane closures aren't as needed when drones can pop in and out to take photos in a fraction of the time humans would take.
Another benefit of turning to the skies for help, according to Kogut, is officer safety. Without traffic units stuck in highways and roads, officers are out of harm's way from vehicles whizzing past.
"Another key component is being able to share the drone's imagery with other officers as it's happening," said Kogut. "LETS' video app was very user-friendly and easy for us to share with our command center, and that's why we went with it instead of others out there."
Why live streaming matters
The Fullerton Police Department's Unmanned Aeries System (UAS) Team started less than a year ago. But even in those ten months, drones already proved their value, according to Sergeant Brandon Clyde.
As a member of the department's UAS Team, Clyde said he learned many lessons along the way. He shared two examples of critical takeaways. One, make sure your drones can share video with your live stream. Two, make sure you have a way to share that footage with others in real-time.
But his team quickly found LETS' Drone Streaming app to be a game-changer for the department.
"The app allowed us to stream wherever we could be, whether it's offsite, on a rooftop, or wherever," said Clyde. "We can now easily share situational awareness that the drone captures back to the command post, therefore avoiding costly resources to share that data back and forth securely."
Another bonus of using the Drone Streaming app that Clyde pointed out was its link sharing feature.
"Now, whether it's a gang unit, narcotics unit or a special enforcement detail, all we need to do is send a link over to send them the footage they need," said Clyde. "It's been a huge asset and success for our different units."
Whether it's to gather intelligence or rescue, officers at Fullerton Police Department said getting better visibility always helps them strategize and deploy resources more efficiently.
In Oconee County, South Carolina drones fly to save lives
Search and rescue missions aren't the only areas where the Oconee County Sheriff's Office uses drones. Now a little over two years old, the unit has deployed drones to help officers respond to high risk, high stakes scenarios like barricaded armed suspects and tornadoes.
"A few months ago, we had a F4 (the second most intense) tornado come through Seneca and it really damaged the area," said Captain Ken Washington, who leads the team behind the county's drone program for the sheriff's office. "We were able to fly the drones and get footage of the area and search for people who were injured."
Not only did Washington's team get comprehensive footage of the area, but, when people were stranded in their homes due to downed power lines and trees, Washington's team used live drone footage to safely guide emergency personnel to those locations.
Another example Washington shared involved using drones to respond to high stakes calls like armed fugitives in hiding.
One call involved a suspect who was suspected to have weapons hiding out in his home. Using a drone, officers were able to quickly find the suspect and assess any safety threats.
"Office safety is huge, and so we've sent in drones before officers would go in and search first to give officers a heads up on whether the suspect has a weapon or has his hands up in a corner. It basically allows us to collect a whole lot more intel than having an officer go in and put himself in harm's way," said Captain Ken Washington, who has worked in law enforcement for over 20 years.
Not just for agencies looking to launch their drone program
What makes LETS' Drone Streaming app "iconic," according to Washington, is the ability to share the drone's streaming footage with many different audiences. "Officers can be in the office and see what the drone is seeing in real-time. It's been such a huge help," he added.
Before using LETS' app, officers had to get creative about syncing audio and video from the drone footage and quality was often an issue. Having these files in two different locations and with lower quality could sometimes result in challenges in court.
"If the video and audio quality is not good, then the defense might argue that it's not their client, and so as a supervisor, I said there's got to be something better. That's when one of my supervisors asked if we can check out the app LETS had," he recalled.
And that's one of the best decisions he and his team made for advancing Oconee County's drone unit.
Visit LETS Corp. for more information.
Read next: How Sacramento crisis negotiators ditched their clunky 'throw' phones, and why you should, too

Request information from LETS©
Thank You!