PRESS RELEASE
Axon announces orders for 12,000 TASER Smart Weapons
---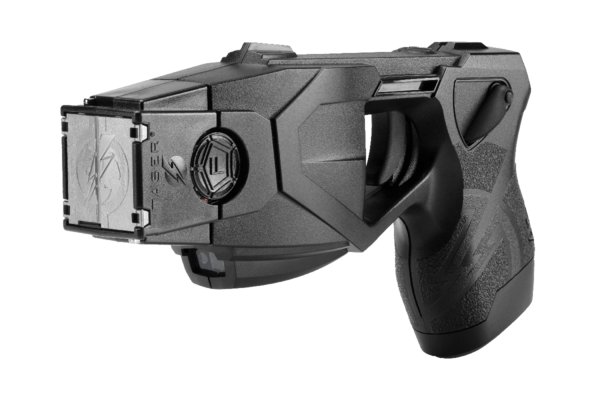 SCOTTSDALE, Ariz. — Axon (Nasdaq: AAXN), the global leader in public safety technology, today announced the receipt of multiple orders for its TASER X26P and TASER X2 Smart Weapons. These orders were received in the fourth quarter of 2017 and the first quarter of 2018 and are expected to have shipped by the end of the first quarter 2018.
"We are dedicated to developing technology that makes the world a safer place and where every officer has the best technology and training to minimize the chances of a deadly encounter," says Rick Smith, Axon CEO and founder. "We're greatly encouraged that most of these orders for our life-saving equipment utilized our TASER 60 payment plan that provides a new, simpler alternative for allowing Smart Weapons to be a budgetary line item providing better financial visibility."
Significant orders were received from the following domestic agencies:
Allegheny County Police Department (PA): 200 TASER X2 Smart Weapons, TASER 60
Broward County Sheriff's Office (FL): 725 X2s, Officer Safety Plan (OSP)
Dallas-Fort Worth Int'l Airport Police (TX): 150 X2s, TASER 60
East Baton Rouge Parish Sheriff's Department (LA): 200 X26Ps, TASER 60
Flagler County Sheriff's Office (FL): 180 X2s, TASER 60
Georgia Department of Community Supervision (GA): 100 X26P Smart Weapons
Hawaii Police Department (HI): 175 X2s and 175 TASER CAM HD Records, TASER 60
Henderson Police Department (NV): 425 X26Ps, TASER 60
Houston Police Department (TX): 600 X2s
Idaho State Police (ID): 175 X2s, TASER Assurance Plan (TAP)
Indianapolis Metropolitan Police Department (IN): 750 X26Ps
International Order: 497 X2s
International Order: 439 X26Ps
International Order: 100 X2s
Jefferson County Sheriff's Office (AL): 500 X2s, TASER 60
Lancaster City Police Department (PA): 150 X26Ps, TASER 60
Lee County Sheriff's Office (FL): 370 X2s
Lexington Police Department (KY): 154 X2s
Louisville Metro Police Department (KY): 111 X2s
Melbourne Police Department (FL): 169 X2s, TASER 60
Miami-Dade Police Department (FL): 706 X2s
Mobile County Sheriff's Office (AL): 140 X26Ps, TASER 60
New Hampshire State Police (NH): 150 X26Ps
New York City Police Department (NY): 1105 X26Ps
New Rochelle Police Department (NY): 110 X2s, TASER 60
North Richland Hills Police Department (TX): 115 X26Ps, TASER 60
Oakland County Sheriff's Office (MI): 100 X2s and 100 TASER CAM Recorders
Oklahoma City Department (OK): 305 X2s, TASER 60
Orlando Police Department (FL): 800 X2s, TASER 60
Overland Park Police Department (KS): 169 X26Ps
Pima County Sheriff's Office (AZ): 100 X2s
San Diego County Sheriff's Department (CA): 100 X2s
Seattle Police Department (WA): 120 X2s, TAP
Suffolk County Police Department (NY): 180 X26Ps
Texas Department of Public Safety (TX): 125 X2s
Topeka Police Department (KS): 212 X2s, OSP
Unnamed Domestic Agency: 900 X2s, TASER 60
Washtenaw County Sheriff's Office (MI): 197 X2s
Wilmington Police Department (NC): 150 X26Ps, TASER 60
About the TASER 60
TASER 60 is a 5-year annual payment plan that integrates warranty coverage for an agency's current TASER Smart Weapons, as well as on-site spares so officers experience zero downtime. The yearly payment plan allows agencies to reliably budget for their TASER CEWs during a 5-year period.
About the Officer Safety Plan (OSP)
Axon's Officer Safety Plan combines our most popular products into one simple bundled contract. OSP historically included a 5-year term, a Smart Weapon, an initial Axon camera plus two camera upgrades, full warranty, repair and replacement coverage, and unlimited Evidence.com storage. Going forward, OSP will also include Signal Sidearm at pricing of $109 per month per officer.
About Axon
Axon is a network of devices, apps, and people that helps law enforcement become smarter and safer. Our mission is to protect life. Our technologies give law enforcement the confidence, focus, and time they need to keep their communities safe. Our products impact every aspect of an officer's day-to-day experience:
In the field - Our Conducted Electrical Devices offer a less-lethal intermediate use of force response and our body-worn and in-car cameras collect video evidence to capture the truth of an incident; and our mobile applications enable simple evidence collection.
At the station - Our secure, cloud-based digital evidence management solution allows officers and command staff to manage, review, share and process digital evidence using forensic, redaction, transcription, and other tools.
In the courtroom - Our solutions for prosecutors make collaborating across jurisdictions and agencies easy so that cases can be resolved quickly.
We work hard for those who put themselves in harm's way for all of us. To date, there are more than 187,400 licensed users from around the world and more than 195,000 lives and countless dollars have been saved with the Axon Network of devices, apps and people. Learn more at https://au.axon.com/ or by calling (800) 978-2737.
Axon, Axon Body 2, Axon Citizen, the "Axon Delta" logo, Axon Network, Axon Signal Vehicle, and Evidence.com are trademarks of Axon Enterprise, Inc., some of which are registered in the US and other countries. For more information, visit https://au.axon.com/legal All rights reserved.

Request more info from Axon
Thank You!