4 ways to get ready for a laser scanner grant
Prepare data and build partnerships now to ease the application process when grants are announced.
---
Sponsored by FARO Technologies
By Audra Thomas for Police1 BrandFocus
One of the most important strategies for a successful grant application is to start early and gather data to support your proposal. Many administrative and program development tasks can be worked on months in advance, even if you haven't identified a specific grant to apply for.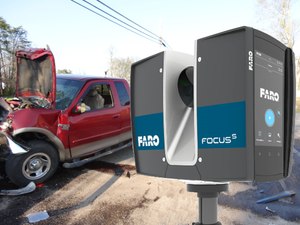 Here are four things you can start working on now to get grant ready.
1. Collaborate
You may initially seek a laser scanner to do accident reconstruction for your traffic safety unit, but have you thought about the other applications for such technology? In the public safety context, laser scanner systems are helpful for forensic crime scene reconstruction, emergency management planning and arson investigation.
Depending on the size and location of your jurisdiction, you may consider collaborating with other city/county departments or working with neighboring communities to share the technology as a regional asset. This approach can widen the potential funding sources and make the project more appealing to funders.
2. Gather data
Grants for laser scanners are mostly state or federal funding streams, both of which focus on evidence-based solutions that address specific problems in your community. Use data – the more local, the better – to describe the problem and the anticipated impact that the technology will provide. To get a sense of what your agency's problems are, review previous after-action reports for insight into the data and circumstances where a laser scanner may have been useful.
The data should be relevant to the type of grant you are seeking. For example, if you are applying for highway safety funding to use the laser scanner for accident reconstruction, you'll want to provide the following information.
Describe the problem:
The number, types and location of accidents in your jurisdiction.
The cost and time it takes to investigate accidents using your agency's current methods.
How road closures related to traffic investigation impact street cleanup/repairs, roadway congestion, economic activity, etc.
Safety concerns for personnel.
Describe anticipated outcomes:
Cost and time savings to the department(s).
Ability to reopen roads faster for commerce and community access.
Overall efficiency enhancements to the criminal justice system due to more compelling and accurate evidence (i.e. reduced trial time and associated costs).
If you're unsure about how to calculate anticipated outcome data for your agency, talk with other departments that have laser scanners to learn about their experiences since adopting the technology. Also, this is a good time to reach out to the district attorney's office, forensic lab and the city street division to get their input and ideas about how a new laser scanner could impact their operations.
3. Prepare early
Even if you haven't decided on a specific grant to apply for, there are tasks you can do beforehand to help the grant application process go smoothly:
Find out if your jurisdiction is registered with the System for Award Management (SAM). As a law enforcement agency, you will need to apply as the unit of local government (i.e. the city or county) because they ultimately oversee your agency's budget and will accept the award on its behalf.
SAM registration can take a few weeks and is required for all federal funding streams, including those that are "passed through" to states (and are often the source of your state's traffic safety grants). Many agencies find SAM confusing or must navigate a local bureaucratic process to get the correct information, which is why we encourage you to start this step early so there's not a delay when a grant application opens.
Identify the potential sources and types of data you'll need for your grant proposal. While each grant application has its own requirements, it's a good idea to start thinking about data even if you haven't identified a specific grant. Laser scanners have many different applications, so there are a few different avenues that can be pursued for grant funding. Once you've identified how your jurisdiction could use a laser scanner, reach out to stakeholders and ask them to start thinking about what data they currently have, which will make it easier for them to identify and pull the information if a grant opportunity becomes available.
Find out what other grants your department already receives and what grants the department is targeting for other projects. This helps in two ways. It may help narrow the potential pool of grants if your agency is allocating a specific grant for a specific purpose. Second, it allows you to see if there's another project in the queue that aligns with the laser scanner request, which means your department could apply to just one grant for both projects.
PRO TIP: Keep lines of communication open with other city/county departments. If both the sheriff's office and district attorney's office have laser scanner projects, you can target the same grant with a joint proposal – just be sure to submit only one application.
4. Avoid common mistakes
If you have selected a grant to apply for, confirm that no other agencies in your jurisdiction are also applying to the same grant. Most grant systems will only accept one application per cycle from the same applicant, but they will often consider multiple projects within the same application. This means that if your department is requesting a laser scanner and the prosecutor's office is requesting computer upgrades, you must submit a single application or risk both applications being invalidated.
Don't forget about the local match requirements. We talk about what to costs consider in your laser scanner project budget elsewhere in this guide, but did you know that most grants require a recipient to provide a local cash match? In fact, many applications require you to describe how you will meet the match requirements, and sometimes you'll need to work with budget planners to get more details. When preparing your grant strategy, be sure to figure out where that money will come from before you apply.
Avoid thinking in a silo. Collaboration with other departments in your local government and/or with neighboring law enforcement agencies is critical. Unfortunately, many agencies don't consider the cross-disciplinary uses for the desired technology, and they research and apply to grants with only one purpose in mind. Keep an open line of communication with other departments involved in public safety activities – you never know where a grant may become available.
By taking a collaborative approach, gathering relevant local data, preparing early and avoiding common application pitfalls, you'll be ready to prepare a strong application for a variety of grants.

Request information from FARO Technologies
Thank You!