Prepare for laser scanner grant application success
Check off the needed elements to submit a winning proposal, including why you need the tools, how they will benefit your operations and who will manage the application process
---
Sponsored by FARO Technologies
By Samantha Dorm for Police1 BrandFocus
Are you ready to start putting together a proposal to fund 3D scanning technology for your agency or jurisdiction? Here are a few items to consider, starting with the type of request.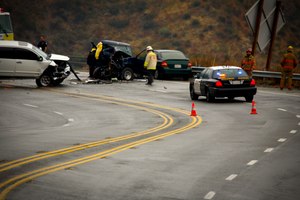 Why do you need the technology?
What kind of funding request you intend to make is based on three categories – implementation of new equipment, equipment replacement or expanding capacity of the program. Here are the key questions for each:
Implementation: How are crime and traffic incident scenes currently being processed?
By writing out the steps currently taken to document evidence and associating that process to an amount of time and estimating the cost per scene, it will be easier to create a clear problem statement to validate the need for the technology.
This process should also aid in the development of a cost-benefit statement by showing how it would improve efficiencies in the department and save money along the way.
Replacement: Why is the technology being replaced?
"Replacement" implies that your department has experience with this type of technology and that you have success stories to go along with statistics that will aid in the justification for financial support.
The department must provide insight for the grant reviewer as to why you can't just use the equipment you already have. Maintenance logs will provide an important component of this section.
Also, if the technology you are currently using is outdated and no longer supported by the vendor, it is possible that the data collected could be inadmissible in court. How would that impact cases?
Expanding Capacity: Is the expansion related to internal or external needs?
If considering expansion of your existing program, grant reviewers need to understand the basis of the request. Is your department processing more scenes than it did at the time of the initial purchase? If so, what factors contribute to that increase? Some departments see an increase in crime (provide crime statistics to back this up), while others may have decided to utilize the technology for other issues such as accident reconstruction or as a part of safety planning in schools or critical infrastructure within their jurisdictions.
Expansion of capacity could also be linked to providing service to other areas. Under this scenario, mutual aid agreements may need to be in place when you submit the grant proposal. Partnerships score higher. Making equipment available to other agencies or having the same software in the prosecutor's office will enhance efficiencies, as well as your chances for a successful grant application.
What's in your proposal budget?
Many departments get fixated on how much money they can apply for under a specific grant. Departments that have had the most success focus on how much is needed to complete the project correctly. In addition to the equipment purchase, do you need to budget for training? Are there on-going warranties or service agreements that need to be factored into the budget? How will you store the items? Are special cases needed to protect the equipment, especially when used in the field?
Note: It is possible that your department may need to apply for more than one grant to secure the necessary funds. The budget process allows key staff members to make informed decisions regarding pursuit of grants or if local funds can be directed to the purchase of components of the budget. For example, the department may agree to pay for the training if the grant can cover the purchase of the equipment.
Department Practices
Keep in mind that successful acquisition of technology may result in the need to create additional documentation in the form of policies and procedures for its use. Does your agency have a written policy regarding evidence processing, storage of evidence or access to evidence? These all may need to be revised to include the desired technology.
It may be helpful to review existing policies prior to submission of a grant proposal to ensure that compliance will be met or to develop a timeline for the creation of new policies that will be consistent with the equipment purchase.
Technology Mandates
Does your county or state require law enforcement to use specific technology? Unfunded mandates happen all the time. Use them to your advantage. Cite the language from the mandate and the deadline for compliance in your grant application to elevate the importance of your request.
Administrative Grant Readiness
Federal and state grant applications are generally submitted online. Enrollment into the necessary grant portals can take three or four weeks to complete. Get started early!
Check with others in your department, along with your city/county/state finance office to determine if the needed accounts are already set up before creating new profiles.
Be sure to keep good notes about data and resources, as well as program portals, websites and passwords.
Be prepared
The steps involved in applying for a federal award include:
1. Applying for, updating or verifying the DUNS Number.
2. Applying for, updating or verifying the EIN Number.
3. Updating or verifying the SAM Number.
4. Establishing an Authorized Organization Representative (AOR) on Grants.gov.
5. Submitting an initial application in Grants.gov and the funding agency portal. (COPS, GMS, etc.).
A success story
The police departments of Hurst, Euless, Bedford, Colleyville and Grapevine (in the Dallas-Fort Worth area) work together to investigate traffic incidents as the CRASH team (Combined Reconstruction and Crash Specialist of HEB). In 2017, the group successfully applied for a Justice Assistance Grant with the assistance of PoliceGrantsHelp and purchased a FARO FocusS 350 scanner and Freestyle3D handheld laser scanner with the award.
"FARO was instrumental in providing a detailed quote, product knowledge and the support needed to obtain the necessary funding," said R. Ryan Rider, Hurst Police detective and CRASH coordinator. "Grant funding is an instrumental tool in assisting agencies with additional budget dollars to obtain the current advanced technology needed in crime scene documentation."

Request information from FARO Technologies
Thank You!