How technology can enhance crime scene investigation techniques for narcotics
Being able to test for drugs at the scene of an arrest allows officers to protect themselves and spot the guilty while saving time and money on lab tests
---
Sponsored by Smiths Detection
By James Careless for Police1 BrandFocus
It's an increasingly common arrest scenario. A suspect is busted with a clear plastic bag (or bags) of unknown powder or pills in their possession, and the arresting officer needs to identify the contents during the arrest to see if charges are warranted.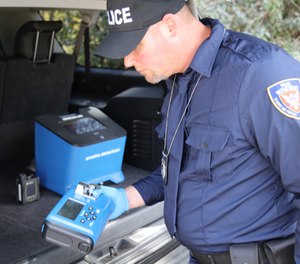 The problem is that one white powder looks pretty much like another. Meanwhile, opening the bag for a closer inspection could expose the officer to toxic chemicals.
"In Arizona, officers have gotten sick because of exposure to unknown drugs," said Joshua Lee, a detective in with the Mesa PD and an instructor with Grand Canyon University's criminal justice program. "The rule of thumb is this: When you can't immediately identify the drug, don't open the bag."
The good news: Thanks to advances in technology, officers now have access to a suite of chemical identifier devices specifically designed for field use. These portable devices can tell officers what they are dealing with and do so with a degree of accuracy and documentation that will stand up in court. This enhances the officer's ability to investigate a crime efficiently, while keeping their health and safety in mind.
Using light to identify chemical signatures 
Some chemical identifiers rely on Raman spectroscopy to identify an unknown substance. In plain language, this means shooting a laser at a substance, even while it is inside most clear or semi-transparent glass or plastic containers. The laser will cause the substance to emit a unique energy signature, much like a chemical fingerprint, which is measured by the chemical identifier.
These measurements are compared against an onboard database within the device. This allows the substance to be identified, with the answer displayed on the chemical identifier's screen. Depending on the database loaded, a Raman spectrometer can identify drugs, explosives or other dangerous chemicals without the container ever being opened.
"These devices are proving to be very beneficial out in the field, because we're starting to see a lot of fentanyl, and you don't want to open those bags," said Lee. "They are also able to identify pills."
The best part: These chemical identifiers do their work with proven, documented degrees of accuracy, which typically eliminates the need for expensive, time-consuming laboratory tests after the fact. The data they provide is legally sound, helping officers make better arrest decisions in the field that more accurately separate the guilty from the innocent.
Identifying substances in the field 
Smiths Detection offers a range of devices that allow officers to accurately identify unknown substances on scene while helping reduce their potential exposure, increasing safety.
The company's ACE-ID handheld chemical detector is one such device. ACE-ID uses Raman spectroscopy to conduct non-contact analysis of unknown substances through translucent and semi-translucent containers, such as plastic and glass. It is useful for quickly identifying drugs and explosives on the scene.
The device uses Orbital Raster Scan technology to diffuse its Raman laser energy to reduce the risk of burning drug samples, heating/igniting explosives and detonating energetic materials. But even with this safety feature, ACE-ID can identify solids (pills), powders, gels and liquids in seconds. (Wearing gloves is still recommended for the safe handling of sample containers.)
ACE-ID is designed for easy one-handed operation, with onscreen instructions that allow for minimal training. It is certified to MIL-STD-810G standards for use in harsh conditions and high temperatures.        
"ACE-ID is well-suited for use by officers who need to identify unknown substances safely during arrests," said Chris Weber, Ph.D., a technical solutions engineer with Smiths Detection. "They can do this without ever opening the container."
A suite of tools
ACE-ID is part of a family of detection tools made by Smiths Detection that also includes:
Target-ID, a portable infrared analyzer that can identify drugs and narcotics in the form of powders, liquids, gels, pastes and solids, with an onboard database, which can be updated to include emerging designer drugs and local variants.
IONSCAN 600, a portable trace detector that can test for the presence of unseen substances, including narcotics and explosives.
Basically, these three devices work as a supportive suite of tools for arresting officers. The IONSCAN 600 can analyze swabbed samples off door handles and other surfaces to see if there's a hint of illegal substances. The ACE-ID can then give officers a general sense (down to 10% of a total sample content mixture) of what a substance is, even when inside a semi-translucent container. Then the Target-ID can confirm for the officers what these substances are with lab-quality precision.
As the opioid epidemic continues, officers are encountering potentially dangerous drugs like fentanyl on a regular basis. Target-ID, ACE-ID and IONSCAN all include updated narcotic libraries that can match results with numerous variations of fentanyl, which can pose a significant risk to officers. While these tools can improve investigations by protecting officers and expediting field-based narcotics identification, it's important to note that officers should always follow their agency procedures and protocols for handling unknown substances.
With the ability to quickly and safely determine the nature and concentration of substances found at the scene of an arrest, tools like the Target-ID, ACE-ID and IONSCAN 600 can substantially enhance the investigative effectiveness of officers in the field by producing scientific evidence, which should lead to more effective prosecution.
About the Author
James Careless is a freelance writer with extensive experience covering law enforcement topics.

Request information from Smiths Detection
Thank You!