5 things to look for in your next body-worn camera system
Extended battery life, improved connectivity and the ability to record after the fact are key advantages offered by the WatchGuard V300 bodycam from Motorola Solutions
---
Sponsored by Motorola Solutions
By Police1 BrandFocus Staff
Body-worn cameras have become a must-have for many police departments across the country. But performance varies, and battery life is a serious challenge, especially when overtime and unexpected emergencies stretch officer shifts beyond eight hours.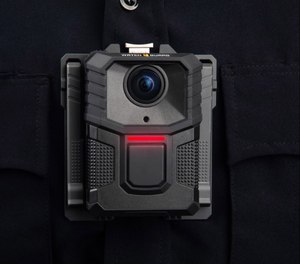 The new WatchGuard V300 body-worn camera from Motorola Solutions addresses this critical challenge and more. The V300 features a detachable 12-hour swappable battery pack to enable continuous operation, as well as 128 GB of memory, secure wireless uploading and the ability to capture video after the fact.
Read on to learn five ways the WatchGuard V300 continuous-operation bodycam addresses the essential needs of law enforcement.
1. BETTER BATTERY LIFE
The V300 offers a rechargeable, detachable, 12-hour battery, so officers need not worry about exhausting battery life when on shift. Each officer can keep an extra battery on hand for unexpectedly long shifts, extra shifts or part-time jobs where a body-worn camera is required.
The easily swappable battery helps officers remain operational continuously while they are in the field: Rather than returning to the station to check out a fresh bodycam, simply remove the low battery in the camera, pop in a fully charged spare and you're good to go.
"Battery life is the single biggest issue for agencies operating body cameras," said John Kedzierski, senior vice president of the Motorola Solutions video security solutions group. "Historically, body cameras could not be used beyond a full shift until they were charged for four hours. The WatchGuard V300 allows officers to snap on a spare 12-hour battery pack to seamlessly extend operation into overtime, extra shifts or part-time jobs."
2. SHARE CAMERAS TO STRETCH EQUIPMENT BUDGETS
The swappable batteries also enable continuous use of the WatchGuard V300 bodycams so that they can be shared between officers. This way agencies can stretch their budgets by purchasing fewer cameras than they have officers.
Because the V300 detachable battery can charge without being attached to the camera, fully charged spares can stand ready in a docking station for a quick shift change. A camera can be returned at the end of one shift, electronically reassigned using the Evidence Library Rapid Check-out Kiosk and immediately checked out with a fresh battery pack to another officer just arriving for the very next shift.
3. RECORD AFTER THE FACT
A body-worn camera is only useful if it's turned on. The WatchGuard V300 body-worn camera addresses this issue with patented Record-After-the-Fact technology. Should an officer fail to press "record" in the heat of the moment, RATF ensures that the camera is constantly recording and allows that footage to be recovered.
In fact, RATF can be used by authorized personnel to recover video days after an incident. This feature ensures that evidence is never missed by recovering critical footage that would otherwise be lost.
4. SECURE, WIRELESS, AUTOMATIC UPLOADING
The V300 can be docked in the patrol vehicle to download footage automatically and send critical video back to headquarters while still in the field, saving officer time and reducing the administrative burden.
With encryption at rest and in transit, the data is secure at all times. Video files are encrypted on the device, and the files can be wirelessly uploaded to cloud-based or on-premise evidence management systems via wireless networks like LTE and FirstNet.
The V300's docking station transfers files rapidly to get the bodycam back in service as soon as possible.
5. VEHICLE INTEGRATION
The WatchGuard V300 body camera can also be integrated with Motorola Solutions' 4RE in-car video system. More cameras on scene – all connected and synchronized – enable officers to capture video of an incident from multiple vantage points.
Associate one or more V300 bodycams with the 4RE and all the cameras will work together as a single system to record every incident from all aspects, with collaborative activation and synchronized playback. With these integrated camera options, officers can trust the WatchGuard V300 body-worn cameras and the WatchGuard 4RE to provide impartial witness.
Visit Motorola Solutions for more information.
Read Next: Is this new dashcam a Wayback Machine for law enforcement?

Request information from Motorola Solutions
Thank You!