How can your department shift the culture of evidence management?
Agencies can improve efficiency and effectiveness by making several key changes
---
Sponsored by Tracker Products
By Courtney Levin, Police1 BrandFocus Staff
An integral part of police investigations, evidence management has changed in the last decade as technology evolves and public perception shifts. Where the legal system once regularly garnered trust from civilians, law enforcement agencies now find that their every move is under scrutiny.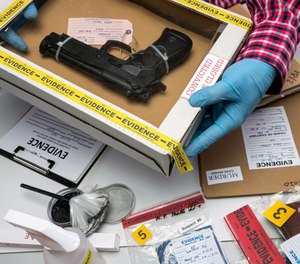 Knowing that the collection and storage of evidence, along with chain of custody procedures, could be called into question at any moment, departments should do everything they can to ensure the integrity of their evidence management.
When you combine public misgivings with the growing need for consistency across departments nationwide, you have a real urgency for change. While many agencies recognize the opportunity for improvement, the challenges surrounding evidence management are complex. So, where do you start?
"Evidence loses value if people don't trust the chain of custody that supports and surrounds that evidence," said Shawn Henderson, executive director of Evidence Management Institute. "The only way to build a strong, stable chain of custody is to implement measures, structures and systems that support and increase the level of integrity of evidence and the chain of custody."
Identifying precisely which measures and structures are needed in your department isn't a one-size-fits-all process, however, agencies nationwide may relate to the following concerns.
RUNNING OUT OF ROOM
In our highly digitized society, not all pieces of evidence have made the switch from paper. Boxes of files and shelves of photos, documents and other digital evidence stored on CDs are still somewhat commonplace in departments around the country, taking up valuable space and contributing to larger problems.
"We've got a lot of agencies using extremely antiquated technology that's not helping them facilitate the management of evidence," said Henderson. "The net result of that is we have evidence rooms that are just packed to the gills and there's no room for new evidence." Such crowded storage rooms may contribute to additional problems including evidence loss or mold contamination.
Further exacerbating the issue is the confusion over when to dispose of evidence. Henderson said that officers often have a "submit it and forget it" mentality, removing themselves from future contact for the rest of the custody period. Officers aren't providing input on how and when to dispose of evidence, resulting in evidence lingering on shelves indefinitely, resulting in overcrowding.
"In most evidence rooms across the country, probably 70% of the items stored inside of those rooms could be disposed of," said Henderson. When evidence managers are left on their own to make disposal decisions, they often default to keeping items out of an abundance of caution.
DIGITAL CONSIDERATIONS
Using digital methods to manage evidence is about more than just clearing shelf space. A room full of CDs certainly isn't effective when you're limited on storage, but the data on these older forms of media might not outlast the need to store the evidence. The shelf life of a CD is between five and ten years, and if you need to retain evidence for a longer period, you may run into some problems.
Opting for a digitized evidence management solution can also save departments time, as every step can be streamlined. "It's much easier to use an evidence management system or a software tool than it is a series of emails or forms that go out and in," said Henderson.
Today's technology utilizes cloud storage, effectively halting the need to find room for the never-ending inflow of evidence. It also provides greater mobility with programs that can be accessed at any location with an internet connection. Instead of being tethered to a desk, evidence managers can work from their smartphones.
FORMALIZING BEST PRACTICES
Evidence management involves far more than storage or accessibility considerations. Yet with such a multi-step process required for each piece of evidence, guidance on suggested best practices is sometimes scarce.
The National Institute of Standards and Technology is a department's best resource when it comes to biological evidence, but to date, there are no national standards for other types of evidence.
Some agencies provide state and local guidance for physical and digital evidence, but methods vary by jurisdiction. If an evidence manager is looking to change the culture around evidence transparency, education is one of the best places to start.
In addition to implementing the NIST best practices for biological evidence, agencies should consider how a digital solution could streamline each step in the chain. A system that integrates automation, security and accountability, Tracker Products can take a single piece of evidence and consolidate it into one form that can be tracked from collection to disposition.
"We don't look at our software in silos as far as just checking off a box or accomplishing an individual task," said Max Helmer, director of marketing at Tracker Products and former combat medic in the Army National Guard. "We look at it from a 360° perspective to make everything more efficient and effective."
SHIFTING THE PARADIGM THROUGH EDUCATION
Tracker Products has partnered with Evidence Management Institute to help agencies build a roadmap to creating sustainable, efficient and effective evidence operations. They take a hands-on approach to changing the culture of evidence management through education, demonstrating how departments are doing it right and where there are opportunities for improvement.
As a first step in evaluating your evidence operations, Tracker Products and EMI offer an E-Health Check. It's not a big investment in time, said Helmer, and gives departments multiple key performance indicators as to how their agency is doing.
In addition to EMI's training and consulting efforts, agencies can connect with other evidence managers through a dedicated Facebook group and take part in EMI's webinars, listen to their podcasts and more.
"To us, it's not just software. There are real live people on the other end of this, whether it's stakeholders within the law enforcement community or victims of heinous crimes," said Helmer. "This all really matters. And it's vitally important that we get it right."
Visit Tracker Products for more information.
Read next: Total Evidence Management Solution with Tracker Products
Request information from Tracker Products
Thank You!