How your body-worn camera system can improve situational awareness and enhance officer safety
From livestreaming to mapping positions to sending an alert if an officer goes down, advanced features and a sophisticated platform do much more than record video
---
Sponsored by BodyWorn by Utility
By Laura Neitzel, Police1 BrandFocus Staff
As more jurisdictions mandate that law enforcement officers wear body-worn cameras to record interactions with citizens, the focus has been on how bodycams increase transparency and accountability. But one thing that should not be overlooked is how a body-worn camera system – with the right features – can enhance situational awareness and increase officer safety.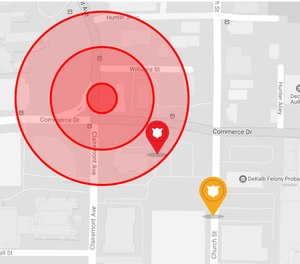 Jason Dombkowski, former chief of police of West Lafayette Police Department in Indiana and director of law enforcement relations for BodyWorn by Utility, recently held a discussion with three law enforcement professionals to discuss how their departments are using safety-enhancing features on their BodyWorn camera systems.
Inside mount
A key feature of the BodyWorn camera is that it is mounted inside an officer's uniform. Not only does the secure internal mount provide for a more stable image, it keeps the bodycam from falling off or being pulled off during an altercation.
"As we know, with the work that our officers do, sometimes those cameras get knocked off, and sometimes at the most inopportune time," said Chief Dave Hayes of the Louisville Police Department in Colorado. "With those cameras tucked safely away in shirts and jackets, it makes everybody safer."
CAD activation
When a police officer is involved in a critical incident, his or her attention needs to be focused on the situation. Starting a camera recording might not be top of mind. To take this responsibility off the shoulders of the officer, the BodyWorn camera system can be programmed to activate recording based on department policy and triggered automatically by actions like the patrol vehicle door opening or lights and sirens being turned on, or by the type of call.
"As a cop is bailing out of their car to address an armed subject, they don't have to worry about turning on a camera because the camera will turn itself on based on CAD prioritization of the call that they were dispatched to," said Will Johnson, former police chief in Arlington, Texas, and now chief of police for BNSF Railway Police Department.
Departments can also set up a geofence so the bodycam automatically starts recording when the officer enters a predefined geographical area or action zone. Not only does the geofence alleviate the need to manually start a recording, it provides an extra measure of safety.
BNSF Police uses geofences to know when their officers enter into certain locations, says Johnson, an important feature for officers whose dispatching coordinates are often classified by miles rather than municipal boundaries or platted, zoned locations.
Geomapping was a key factor in Johnson's decision to equip BNSF Police with the BodyWorn camera system.
"The GPS precision by which we can monitor our staff and make sure that we can guide resources in a mutual aid environment to their location based on proximity in a mapping solution was extraordinarily important," he said.
Real-time GPS mapping
Knowing where your officers are and whether they are recording can provide critical safety information for command staff. BodyWorn's AVaiLWEB platform, among other capabilities, maps officer and vehicle locations based on GPS data from officer's bodycams or in-vehicle cameras.
"We're able to pull up the actual body cameras on a situation wherever the officers are deployed," said Tom Naughton, a sergeant with St. Louis County Police Department in Missouri. "We can see who's recording, who's not recording, we can see where their vehicles are positioned. That gives us a real-time mapping advantage as well, so commanders and supervisors that are on the scene at the staging area can see where any gaps of coverage on containment might be located and redirect personnel as needed."
Video playback and livestreaming
Viewable from any browser, AVaiLWEB not only lets command staff view officer and vehicle positions, it allows them to immediately access and play back bodycam and in-vehicle camera footage and livestreams.
By equipping a tactical robot with a bodycam and livestreaming video, St. Louis County PD gives their special operations units a preview of a location.
"It gives a tactical advantage to the officers. They can see what they're going to walk into, what type of obstacles might be in the way, what the layout of the house or structure looks like," he said. "It gives them real-time information and a little bit more of an advantage before they just reach the door and go in."
Officer Down alerts
Another safety-enhancing feature of the BodyWorn camera system is the BodyWorn Down feature. In the event an officer goes prone in the field, BodyWorn Down starts an automatic recording and sends an alert to nearby officers and a call-for-help message through AVaiLWEB that includes the officer's GPS coordinates.
This safety feature was an important consideration for Johnson, whose officers often patrol alone.
"The officer down feature clearly added value, from our perspective," he said, "so that we could have that extra layer of notification to our dispatch center should one of our officers activate that security feature by being in some sort of physical altercation."
St. Louis County PD recounts two instances where the BodyWorn Down feature alerted command staff and nearby officers that an officer went down:
In the first, an officer had a medical emergency. When Naughton got the alert, he initiated a livestream of the officer's BodyWorn camera that allowed him to see what was happening. The GPS mapping also allowed them to pinpoint the officer's exact location in the parking lot of a large apartment complex.
In the second instance, an officer went prone in order to give medical aid to an unresponsive driver.
"We livestreamed his camera, and we could see that he was giving aid to a subject behind the wheel of a car," said Naughton. "So, we were able to notify our dispatch again and let them know exactly what was going on. We gave them his location because of the GPS, and we were able to dispatch the responsible police agency for that area, as well as EMS. So, the BodyWorn Down not only helped an officer in our first example, but a private citizen in the second one."
Hayes shares similar instances in which his officers in Louisville have set off the BodyWorn Down alert while administering CPR to a citizen. The system allows an agency to make adjustments so the officer safety alarm isn't routinely activated in medical response situations, but he says those calls served as a great reminder that the feature is there in case an officer does need help.
A worthwhile investment
Beyond the value of body camera footage to alter suspect behavior, keep officers accountable and provide transparency to the community, body camera systems like BodyWorn by Utility with advanced features can give law enforcement officers unprecedented situational awareness and significantly enhance officer safety.
"Being able to augment the officer's awareness with technology and extend the support that the dispatching center can offer is critical," said Johnson. "At the end of the day, all of us are trying to keep our staff as safe as possible. So, when we think about how we create enhanced officer safety, we do it through policy, we do it through training, and we try to do it through technology."
"Anything law enforcement can do to keep first responders safe also makes the community safer," adds Hayes.
"I think deep down all of our community members throughout this country want our law enforcement officers to be safe, because those are the folks that are keeping them safe," he said. "And I think it's a good investment."
Visit BodyWorn for more information or to watch the webinar on this topic.
Read next: Best practices for implementing a body-worn camera program

Request information from Utility
Thank You!