Is this new dashcam a Wayback Machine for law enforcement?
The new in-car video system from Motorola Solutions makes it easy to capture video from the vehicle, including recording after the fact
---
Sponsored by Motorola Solutions
By Police1 BrandFocus Staff
Dashcams provide critical evidence for law enforcement. Unfortunately, they are too often limited to a single perspective that misses important information. But what if you could capture more of what happens?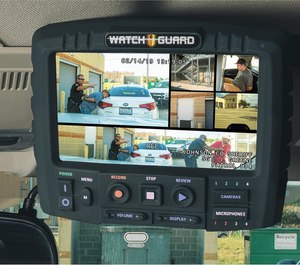 WatchGuard 4RE in-car video from Motorola Solutions provides a more complete picture, with multiple camera options and integration with WatchGuard V300 body-worn cameras to capture the activity from various angles on any given scene.
WatchGuard 4RE is designed specifically for law enforcement and addresses key concerns that many police users have experienced with previous technologies. The system is easy to install and operate, with high-security storage and upload, plus advanced features to help officers stay safe and efficient. Here's how:
Designed to capture the police point of view
WatchGuard 4RE is designed specifically for law enforcement. The system is simple to use, even in high-stress, rapidly unfolding situations, with an intuitive touchscreen and action buttons that enable operation by touch.
The system can be customized for your agency's requirements, whether you need a zoom lens or a wide-angle panoramic camera. The 4RE Panoramic X2 video camera provides two recording options:
The primary HD camera to capture detailed footage from the front of the vehicle.
The HD Panoramic Strip camera to provide a wider view when needed.
Other options are available with the 4RE system to provide a 360-degree view around the police vehicle, including an infrared cabin camera, side/rear-facing cameras and high-definition Zero Sight-Line or Mini Zoom cameras to detect license plates of vehicles stopped in front of the patrol car.
But even a panoramic camera can't capture everything – especially when suspects are on the move. That's why the WatchGuard 4RE has been integrated with the WatchGuard V300 continuous-operation body-worn camera to provide a more complete view.
Associate one or more V300 devices with the 4RE and they'll work together seamlessly as a single system so that every incident can be captured from all aspects, with collaborative activation and synchronized playback.
Mission-critical functions: ALPR & RATF
The WatchGuard 4RE system provides two mission-critical functions beyond the core video recording capacity. The first, automated license plate recognition, helps officers gather actionable intelligence and boost their situational awareness to keep them safer in the field.
Intended for use during traffic stops, ALPR reads the license plate of the stopped vehicle and compares it against databases to determine whether the vehicle is stolen or associated with an outstanding warrant.
"Our customers tell us traffic stops can be dangerous because they are so unpredictable," said John Kedzierski, senior vice president of the Motorola Solutions video security solutions group. "Using analytics, we can now provide officers with real-time information about the stopped vehicle before they exit the patrol car, enabling them to distinguish between a routine traffic stop and something potentially more serious."
ALPR also promotes increased public safety. According to the IACP, 97% of car thieves are charged with additional crimes, often while using the stolen vehicle. Using the new ALPR capabilities to identify a stolen car can help officers stop additional crimes before they happen.
The second mission-critical function enhances the system's recording capabilities. The WatchGuard 4RE introduces Record-After-the-Fact technology that gives agencies the ability to go back in time and recover video from events, even if the record button was never pressed in the moment. This important tool enables investigators to retrieve video footage and recover critical evidence.
Data management and security made easy
WatchGuard 4RE can be configured to upload video evidence with no officer intervention. Wherever there's a network, the 4RE can upload video evidence automatically, quickly and securely, whether via FirstNet LTE, local WiFi or simply the strongest available signal. The system also provides livestreaming capabilities to give command staff the ability to monitor threats and act in real time.
Its dual-drive architecture provides secure data backup and transfer: Recordings are encrypted and saved to both an internal hard drive and a removable USB drive that is locked behind a cast zinc door.
But capturing video is only half the battle: Agencies must also be able to manage and analyze it. To help agencies manage data storage costs, the WatchGuard 4RE records incidents in both HD and standard definition simultaneously.
Agency leaders can assign event categories that determine which files are kept and in what resolution to minimize file sizes, storage costs and transfer time for low-priority events. For example, video evidence for an assault should take precedence over a recording of a simple traffic offense. With the event categorization, the system knows the difference and which file to send first.
Once the video has been captured and uploaded, Evidence Library 4 enables your agency to watch synchronized footage of both body-worn and in-car video (with GPS and time-stamped data), redact video and audio, link events and manage cases.
It's more important than ever to capture video evidence of law enforcement operations. Look for a system that captures the fullest possible picture, provides critical information in the field and makes it easy to upload and manage video files securely.
Visit Motorola Solutions for more information.
Read Next: 5 things to look for in your next body-worn camera system

Request information from Motorola Solutions
Thank You!