What frustrates cops on the job? (infographic)
From poor management to politics to clunky software, officers share what gets under their skin
---
Sponsored by Mark43
By Police1 BrandFocus Staff
We recently asked readers about the day-to-day operational frustrations they face on the job and what measures their agencies can take to improve job satisfaction and reduce stress. Download this infographic to find out what we learned, and how your experience compares.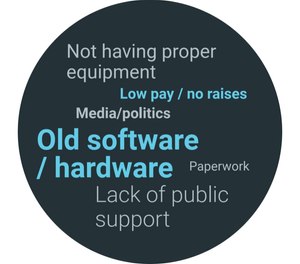 What you'll learn:
What officers say frustrates them most on the job.
What agencies can provide to reduce stress levels and improve overall job satisfaction.
How the software tools officers use every day contribute to job stress or satisfaction.
Fill out the form below for your free download:
Download the infographic: What frustrates you on the job?