How the ATF aims to prevent violent crime with new mobile ballistics lab
The National Integrated Ballistic Network affords investigators the ability to compare their ballistic evidence against evidence from other violent crimes
---
By Michelle Taylor
Reprinted with permission from Forensic Magazine.
Approaching 20 years old, the National Integrated Ballistic Network (NIBN) from the ATF just got a modern makeover.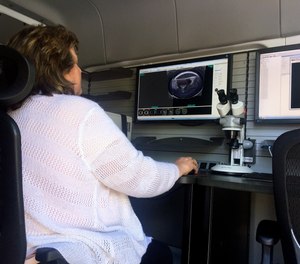 In 1999, ATF established NIBIN to provide federal, state and local partner agencies with an automated ballistics imaging network. Still today, it is the only national network that allows for the capture and comparison of ballistic evidence.
Many police agencies find NIBIN vital, as it affords investigators the ability to compare their ballistic evidence against other evidence from other violent crimes on a national, regional and local level, thus generating leads that would rarely be revealed absent the technology.
And now, NIBIN is on the move – literally.
In May, the ATF debuted a mobile laboratory van with NIBIN capabilities and dispatched it to Baltimore, marking the first time it was used in a major metropolitan city.
The timing was serendipitous in that from January to April 2017 Baltimore experienced its highest murder rate in history. But, authorities are now receiving federal help.
"[Local and state police departments] use NIBIN to input either shell casings recovered from crime scenes or test-fired crime guns that have been recovered from a crime science or off a person," ATF Special Agent David Cheplak told "Forensic Magazine." "Ballistic information is gathered based on specific properties left on either the shell casings or on bullets fired from crime guns. It's almost like a fingerprint the weapon itself leaves behind."
That ballistic information is stored electronically and will initiative a "hit" when evidence from one gun crime matches new evidence being input into the system for a separate – but possibly related – crime.
Putting NIBIN on wheels allows the ATF to:
1. Supplement already existing equipment in a city like Baltimore, who already has the equipment and system, but can always use the extra hands;
2. Bring the van to jurisdictions that don't have the technology and have not been able to use the program in the past.
Baltimore's problems
As of May 1, 2017, there have been 108 homicides in Baltimore this year, giving 2017 the unwanted moniker of the city's highest murder rate ever, per capita. Compared with 2016, violent crime is up by 23 percent this year. Homicides, shootings and robberies have all increased by double-digit percentages.
So much so that Baltimore Mayor Catherine Pugh was driven to publically ask for federal help.
She got her wish, although not only because she asked for it.
"There was always a plan to bring the van to Baltimore first," Cheplak said. "It had nothing to do with the mayor's comments per say. There has been a spike in violent crime, but also the proximately to Washington D.C. The van was developed and kept at our national lab in Maryland, so Baltimore was our first logical stop based on proximity. It was fortuitous that the mayor made the request and we were already on our way."
Cheplak said although the Baltimore PD is well-versed in the process of loading shell casings into the NIBIN system and retrieving information in 48 to 72 hours, this mobile unity – based solely on its mobility and initiative – seeks to deliver a "hit" in a shell casing or firearm within four hours.
That kind of timescale is critical when detectives are trying to get possible murderers off the streets.
For example, if Baltimore police arrest a man who has a gun on his person, typical procedure is to take the suspect to the district station for an interview. While he is being prepared for the interview, the gun cam be taken to the mobile unit, test-fired inside the van, and a result can be put into the system. If there's an immediate hit, detectives now have information they didn't have during the initial arrest.
"Detectives can walk right into the interview and say, "we caught you with the gun, which is a misdemeanor, but we know the gun we just caught you with is connected with a murder." Investigatively, it gives feedback to detectives within hours, rather than days or weeks or even months for cities with a backlog," Cheplak explained.
Ultimately, even if one crime is solved based on the fact that the mobile van was able to gather timely evidence and generate a lead, the initiative will be considered a success. Of course, ambitions are greater than that.
"Our goal is to help police departments around the country understand how the NIBIN program, if used properly and in a timely manner, can help generate leads for their detectives that they normally wouldn't have," Cheplak said. "The leads that are getting generated will help solve violent crime, and ultimately prevent violent crime in the future."
Michelle Taylor is editor-in-chief of Forensic Magazine.

Request product info from top Forensic Supplies companies
Thank You!