Data-sharing in action: Close collaboration is a proven model for investigative effectiveness against retail crime
A statewide task force initiated by the California Highway Patrol has assembled cross-jurisdictional teams in areas most impacted by retail crime
---
Click here to download Police1's digital edition on empowering law enforcement through data sharing to gain access to strategies to improve investigations and ensure successful prosecutions.
In early 2019, the California Highway Patrol (CHP) initiated a statewide task force under California Assembly Bill 1065 to address the rising trend of organized retail crime.
The goal was to address the rise in crime by coordinating a statewide response while supporting allied agencies by providing investigative assistance and training.
From the onset, these goals seemed ambitious, if not impossible, to achieve. Regardless, the CHP went to work assembling three jurisdictional teams in areas most impacted by retail crime and supported by available crime data.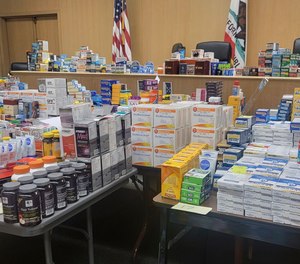 Overcoming challenges to a coordinated response
It quickly became apparent that the state's diverse representation in law enforcement would present challenges in coordinating a unified response to addressing a very specific type of crime.
First, the CHP had to overcome perceptions and concerns that the program was an attempt to expand operations in a manner one law enforcement administrator described as "mission creep."
Secondly, the CHP had to overcome the industry attitude that a state highway patrol was not qualified to lead a large investigative initiative when there are many other organizations also suited to do so. The reality is that the CHP is as much a state police agency as it is a highway patrol agency.
With over 400 full-time criminal investigators, the CHP had the resources to address the investigative workload, but the challenge was how to enlist allied partners to embrace the task force resource as a means of working together to effectively battle organized retail crime.
Open communication is key
Despite the initial challenges, the most effective solution was simple and ever-present: open communication.
As law enforcement professionals we all know that communication is key; in fact, it is a tenet of nearly all forms of evaluation ranging from that of individual employees to public opinion reviews. Unfortunately, law enforcement is plagued with a complex subculture when it comes to open communication that can be chalked up to disagreements, misunderstandings, directives, egos, or the ever-present standard of "that's just the way it is."
From an outsider's perspective, this makes no sense, but to the insider (industry professionals) it is normal. Either way, it is a major obstacle when looking to work collectively to address a goal that is likely viewed from somewhat different lenses. The only other time in recent history where communication and collaboration were as imperative was immediately following the September 11, 2001, terrorist attacks on the United States. Although communication improved vastly immediately following the attacks, it has eroded over time to be, in some cases, non-existent.
Proactive campaign to build connections
To address this concern, the CHP initiated a proactive campaign to connect with key representatives from allied agencies whose geographical responsibilities were adversely impacted by the sudden spike in organized retail crime.
In addition, the CHP stepped outside of traditional law enforcement lanes and began working closely with retailers and retail crime associations to establish new means of best practices while redefining industry standards. This was unique in that law enforcement rarely if ever, relies directly on the private sector as a means of essential force multiplication.
It was quickly discovered that retailers and retail crime associations have been fighting variations of organized retail crime for many years on their own. While this was less than ideal for the retail market, it did have a positive yield in that loss prevention and asset protection professionals have become extremely competent investigative resources, especially when coupled with advanced technologies that are generally cost-prohibitive options for law enforcement.
Strategies to mitigate, then eliminate retail crime
Ultimately, it became widely accepted that the most effective approach to combatting organized retail crime is to use a three-pronged approach consisting of law enforcement, retailers and effective prosecution. Within these three prongs are supporting elements, such as retail crime associations like California Organized Retail Crime Association (Cal ORCA) and industry advocacies like the National Retail Federation (NRF).
Over the past four years, organized retail crime has evolved to address strategies implemented by law enforcement and retailers to combat theft. A successful mitigation strategy is based on understanding the concept of elimination versus management. If the response strategy is to eliminate organized retail crime, it is likely supported by unrealistic goals or metrics. However, if the response strategy is to manage organized retail crime, it is much more realistic and likely accompanied by strategies and goals that are attainable. Only once the problem is effectively managed can it then be reevaluated for elimination. Even then, it is likely that crime will continually shift to stay one step ahead of effective measures such as communication, cross-jurisdictional coordination, effective legislation, and innovative technological resources.
To best address cross-jurisdictional coordination, one must understand how organized retail crime groups work. Initially, groups were predatory in locations of convenience with respect to location, product and opportunity. Working in familiar areas, seeking valuable merchandise and avoiding hardened targets were the determining factors of what, when, where and how crimes were perpetrated.
Accordingly, and over time, many of the retailers falling victim to chronic theft resorted to measures such as store closures, merchandise securement, and increasing security measures such as store reconfiguration (valuable items moved away from ingress/egress points), increasing visible security presence, and in some cases going as far as contracting law enforcement to serve as on-premises deterrents.
While these measures yielded some favorable change, they resulted in a change of tactics for theft groups, more commonly known as "booster crews." Tactics have shifted to a larger digital presence and use of internet resources to increase opportunities for profit. One of the fastest-growing, and most lucrative tactics to date, is the theft of gift cards. Whether initially removed from a physical retail location or generated through fraudulent means, gift card theft is growing at a rapid rate and enlists the autonomous nature of the internet to fence stolen cards and/or afford thieves the opportunity to purchase products by ill-gotten gains.  
To keep up with the ever-changing tactics being implemented by booster crews, it became clear that technology would play a lead role in moving forward. As law enforcement personnel numbers have continually dwindled for the five years, available resources, which include property crime detectives, have become increasingly difficult to deploy, thereby leaving an enormous void in which retail crime can flourish.
To compensate for this challenge, law enforcement has turned to technology for solutions in managing data repositories (stolen/suspicious property indexes), enhanced criminal databases, electronic surveillance capabilities, and most recently artificial intelligence offering features such as facial recognition. Retailers have been successfully using many of these technological resources for years, making cross-jurisdictional integration seamless and welcomed by both sides.
Unfortunately, crime does pay
What complicates matters most is the lucrative nature behind retail theft. The adage "crime doesn't pay" could not be more inaccurate by today's standards. The reality is crime does pay, and it pays very well.
According to the National Retail Federation's 2022 Retail Security Survey, approximately $94.5 billion dollars were lost in 2021 through what is known as "shrink." Shrink is the accounting of total product loss by means of items lost, damaged, or stolen by either human error or deliberate effort. The survey identified external theft as the largest contributor to industry shrink, accounting for 37% of all losses. The opportunity to make money, combined with lax legislation, has emboldened thieves to steal more frequently, in larger numbers, for greater take, and often with increased aggression. Accordingly, what has been experienced is the increasing presence of hardened criminal participants, who have recognized organized retail crime as an opportunity that is lucrative with very little risk of negative consequences.
With all of this considered, it is not difficult to understand why organized retail crime continues to thrive while impacting retailers nationwide. Regardless of the response strategy implemented, one thing is certain. Law enforcement must continue to work as a unified front while sharing the role with retail industry professionals. Close collaboration is the proven model for investigative effectiveness and will remain a foundational element in transitioning an incident from a matter of basic documentation into a meaningful investigation that can secure a successful prosecution. 
Conclusion
Law enforcement is a statistically based profession. Statistics are the most common metric used for validating successes or shortcomings, regardless of objective or discipline. For organized retail crime, the statistics are no different in that they reveal the impact of coordinated and focused effort geared to specifically address a rapidly growing problem. 
Since its inception, the California Highway Patrol's organized retail crime task force program has conducted nearly 2,000 criminal investigations, resulting in nearly 1,100 arrests while also recovering stolen merchandise valued in excess of $31 million dollars. While these numbers clearly demonstrate a positive impact, we must not overlook that they are merely fractional representations of the overall magnitude of the theft problem. 
An effective response to organized retail crime will require law enforcement to break from traditional methods and begin looking to newer ways of impacting crime. Key strategies such as pursuing innovative investigative techniques, establishing and maintaining effective partnerships, and leveraging industry-specific technology should be incorporated into any response protocol designed to address this rapidly escalating crime trend. 
Combining key strategies with realistic goals and expectations (problem management versus elimination) is a simple, yet incredibly effective concept that addresses a serious problem that shows no signs of slowing, let alone stopping, any time soon.     
Request product info from top Investigation Software companies
Thank You!