Motorola Solutions Enhances Law Enforcement Investigations through Ballistics Analysis and Pattern Crime Intelligence
---
Real-time ballistics image capture and analysis, and pattern crime mapping and analysis, improve and accelerate crime-solving efforts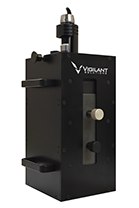 CHICAGO –  Motorola Solutions today announced the addition of ballistics and crime gun intelligence to its software portfolio to bring greater efficiency and speed to law enforcement investigations. The addition is made possible through the powerful combination of Vigilant BallisticSearch™, which provides enhanced ballistics image capture and analysis, and Vigilant CrimeSearch™, a new pattern crime mapping, data retrieval and analysis tool. When deployed together, the two solutions enable law enforcement to connect seemingly disparate crimes to identify patterns, expedite case closures and improve public safety
"Crime gun intelligence is critical to our ability to uncover associations and identify non-obvious relationships between incidents," said Sergeant Clinton Ivey, North Charleston Police Department. "During our first meeting, we asked Motorola Solutions if they could show us one test fire and one scene-collected round that was found at a homicide scene the prior day on the Vigilant BallisticSearch Image Capture Station. When utilizing the station, it was clear, with the images captured, that it was probable that these two exhibits were fired from the same weapon. Both exhibits were then submitted to the State Lab and were confirmed. From this information, a charge of homicide was then placed on the known suspect. We look forward to the installation of Vigilant BallisticSearch in the near future."
 
BallisticSearch is a portable hardware and software solution that allows law enforcement personnel to capture, analyze and compare 2-D images of fired cartridge casings (FCCs), so they can triage FCCs for identification of unique firearms and generate real-time investigative leads. The system can be deployed at the agency, within criminal laboratories or on-site at crime scenes. It offers a virtual correlation center, providing agencies with access to senior firearms examiners to perform forensic analysis of cartridge casings. The solution is priced at a fraction of the cost of traditional computerized ballistics imaging systems to help close gaps in the use of ballistics intelligence and accelerate crime investigations.
 
"Traditional computerized ballistics imaging systems are large, expensive and difficult to maintain, which means many small and mid-size agencies lack direct access to the systems and may wait weeks or months for cartridge casings to be processed at a lab," said Andrew Sinclair, senior vice president and general manager, Motorola Solutions Software Enterprise. "Vigilant BallisticSearch returns potential ballistics matches in a matter of minutes, dramatically expediting the speed, and recharting the trajectory, of investigations."

Complementing BallisticSearch and other investigative solutions within the Motorola Solutions portfolio, CrimeSearch is a pattern crime mapping, data retrieval and analysis solution. It automates how agencies collect, associate, map and leverage law enforcement data, investigative information and forensic reporting results to advance criminal enforcement strategies and tactical operations.
 
BallisticSearch and CrimeSearch are available to law enforcement customers globally. Product demonstrations will be given at the International Association of Chiefs of Police (IACP) conference, booth #3611, from October 27-29 at McCormick Place West in Chicago.  


 
About Motorola Solutions
Motorola Solutions is a global leader in mission-critical communications. Our technology platforms in communications, command center software, video security & analytics, and managed & support services make cities safer and help communities and businesses thrive. At Motorola Solutions, we are ushering in a new era in public safety and security. Learn more at www.motorolasolutions.com.
 
Media Contact: 
Mary Alice Johnson
Motorola Solutions
Mobile: (703) 606-2413
maryalice.johnson@motorolasolutions.com

Request more info from Motorola Solutions
Thank You!